Whether you're an entrepreneur working around the clock or a parent running errands and maintaining your house, there is always something to do and never enough time to do it all. We start each day with a list of things we need to accomplish before bedtime, and relaxation is rarely included there.
It's hard to relax when you're always busy. There are so many demands on our time that it can be tough to find ways to relieve stress. This is why we often turn to relaxing with a good book, or taking the occasional vacation. But have you thought about other ways to add more serenity into your life? One tried-and-true method is by making simple adjustments to your home that will ease stress off of you, and that is exactly what outdoor spa tubs are made for!
Outdoor spa tubs are a great way to unwind after a long, busy day and an amazing socialising spot for your next backyard party. With creating a personal space where you can enjoy some sunrays or mingle with your family, making time for relaxation in your schedule will be your favourite activity. Outdoor spas will also add a degree of elegance to your home, so let's dive into the world of ultimate at-home relaxation and learn everything about these luxurious spas.
What Types of Outdoor Spas Are Out There?

Outdoor spas are large tubs filled with water and are mostly used for relaxation and pleasure. These tubs come in a variety of types or sizes – you can even find 6 person spa models.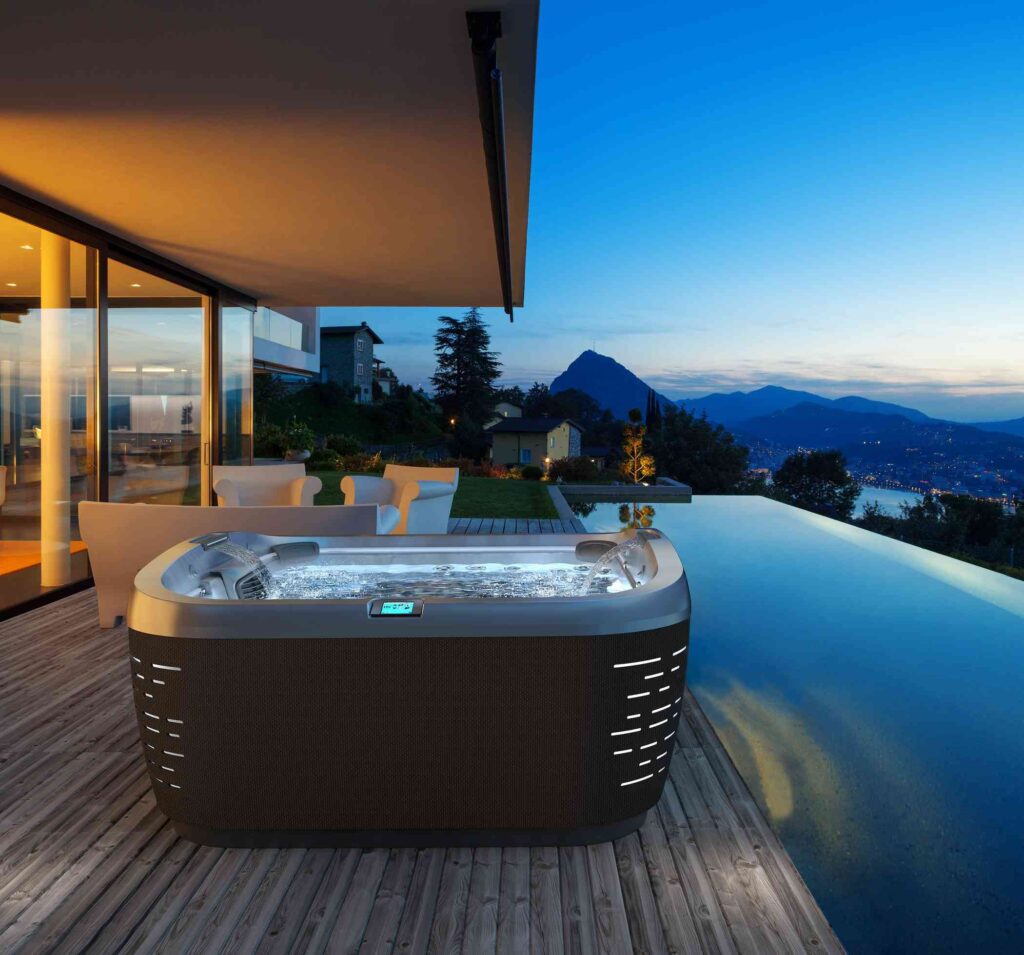 The way these tubs work is that the water is drawn through a filtering system, which purifies it and passes it through a heating system that brings it to an optimal temperature level. Once the heating process is finished, the water is thrusted out to the tub to create a massaging sensation to the person using it. The market for spa tubs gives you a wide range of styles, but as far as types go, there are 3 options to choose from.
Inflatable

This variation of hot tubs is the most expensive and easy-to-assemble model out of all of them. These tubs are usually made from vinyl or latex and can be placed on any flat and solid surface. Inflatable spa tubs are great for using over a short period of time, as they don't include a sitting bench and get uncomfortable very fast. If you're just leaning into soaking sessions, this may be your best option as it's very simple for assembling, can be transported into different locations and won't make a huge dent to your wallet.
Above-ground

Exactly as the name implies, this type of spa tub is positioned above ground and depending on the model, it can be installed permanently on a structure or a portable version you can take with you if you move out. Above-ground models offer you more powerful jets and comfortable acrylic benches for those long soaking sessions. Another great aspect of these tubs is their durability while being affordable at the same time.
In-ground

Probably the most expensive and complexly designed model, in-ground spa tubs are permanently installed tubs that can be personalised to your liking before installment. These tubs require a more intricate assembling process, as you'll need a building permit for digging a hole in your backyard. Since these tubs necessitate such a complex installment, it's better to hire a company to do it rather than doing it on your own. This will guarantee a safe environment to use it and a properly working tub.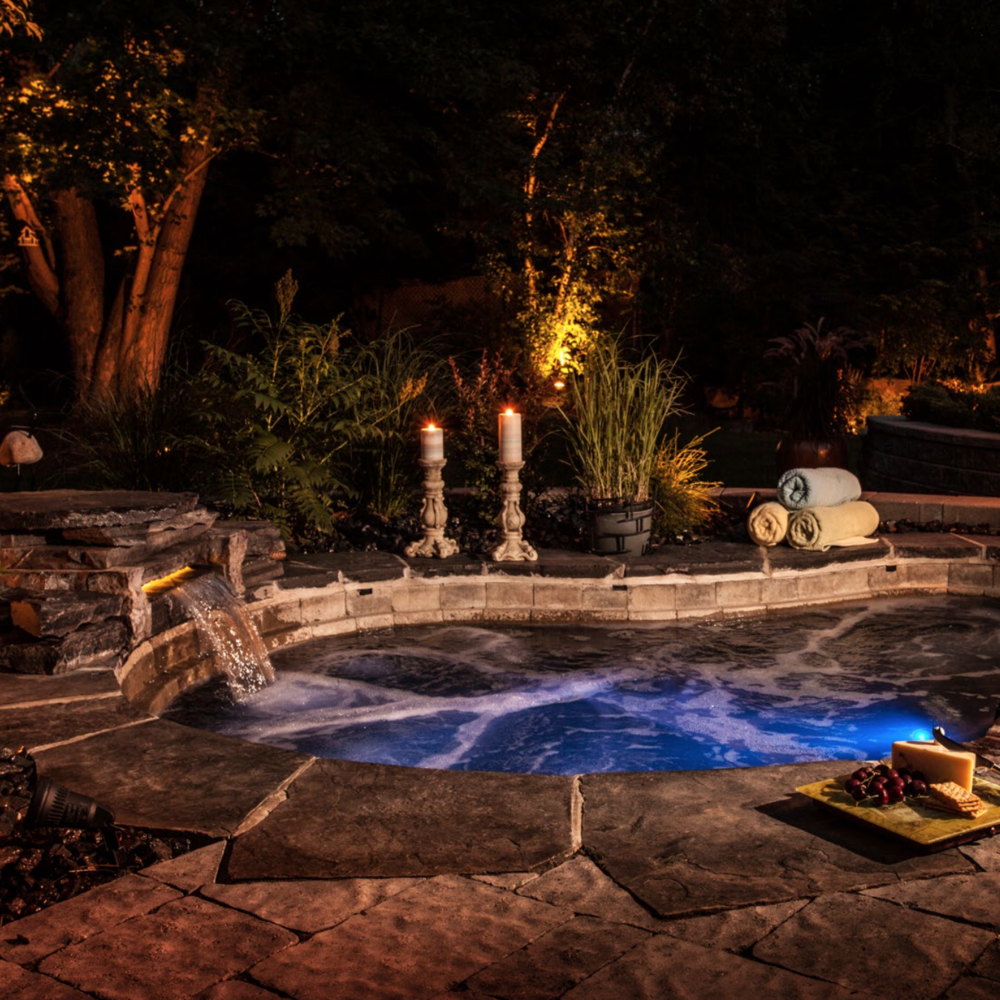 Since they are permanent fixtures of an outdoor space, these spas can boost a house's resale value dramatically. This makes them an investment that can pay off in the future. What's more, if you need a larger tub for entertaining, in-ground models are the most convenient option. You can have an 8, 7 or 6 person spa beautifully integrated within your outdoor space.
Benefits of Spa Tubs

Outdoor spas aren't just a fun way to end your evening, or a relaxing Sunday activity. The powerful water jets create a massage feeling that benefits in an array of medical issues. But we're barely scratched the surface here, so let's go all the way a spa tub can improve your life.
Improves cardiovascular health – When you emerge yourself into a body of water, the pressure increases your cardiac volume. This makes your heart work harder and healthier, therefore lowering the chances of heart-related issues in the future.
Relieves stress – Pent-up stress can affect both your mental and physical health, so the greatest benefit of these tubs is the warm and relaxing feeling you get the moment you step inside.
Alleviates pain – Apart from relaxing you mentally, the warm water and pressure from the jets can help reduce pain in muscles and joints. So if that workout left you sore to the core, a little soak in the tub will make all that pain disappear.
Promotes weight loss – A small study has shown that soaking for 30 minutes in a tub every day can help you shed off a few pounds.
Helps with anxiety – Everyday problems can severely affect your mental health and raise your anxiety levels, so a comfy and warm bath can help ground yourself and relieve any tension in the body.
How to Install Your Spa Tub

Depending on the type of spa you choose, the installing process can go from you testing your DIY skills or having to call professionals for assistance. But there are certain preparation steps you need to take, regardless of what you're installing.
First, you need to figure out where you'll be placing the tub. The location has to be a solid and leveled surface, with access to electricity and a water supply. If you're not up to making a concrete surface from scratch, a sturdy wooden panel or plastic pad are a good alternative. For electricity, you should consult a professional electrical about the appropriate wiring you'll need to plug in your tub. Some can be plugged in a standard electrical outlet, while others require a more powerful source.
Next, you'll need a water supply to fill in the tub. This step is pretty easy and it only requires a garden hose that can reach to where you've place the tub. Since outdoor spas have their own filtration system, you don't have to worry about filling it with certain quality water.
Sounds pretty easy, right? Some people have a lot of confusion when it comes to installing an outdoor tub, but don't let anyone discourage you. With a few guiding tips, you can have your very own soaking tub ready in no time!