Are you familiar with the feeling of being out on the water during a scorching summer day, with the sun taking a toll on you and your passengers? It can be exhausting and leave your skin looking like a ripe tomato. The desire for refreshing shade becomes irresistible, almost as appealing as a cold beer. To make matters worse, you had planned to spend the entire day on the water, but now you're considering ending the trip a few hours early.
If this resonates with you, then you understand why many boaters opt for a bimini top for their boats. It's an investment that boating enthusiasts choose to maximise their time on the water and protect their boat equipment, such as their marine stereo. A bimini top:
Enhances comfort and enjoyment while boating.
Allows for extended hours of pursuing your water activities.
Protects from dehydration and sunburn (while adding style and value to your boat).
But how can you choose the right option? This comprehensive guide will help you make the best purchase.
Types of Bimini Tops for Boats
When browsing the range of bimini tops available online, you'll come across several main types commonly used for boats. Here are four popular options:
Standard boat canopy as the most common type of covering, features a simple design. It consists of a collapsible frame with adjustable support poles and a fabric canopy that provides shade and protection from the sun.
Pontoon. Specifically designed for pontoon boats, this type of bimini top is wider and longer to cover the larger deck area of pontoon boats. It often features a more extensive frame and canopy to accommodate the boat's size and shape.
T-Top. A more robust and permanent option compared to standard bimini tops as it consists of a sturdy frame that forms a T-shape, typically made of metal or fibreglass. T-Tops provide ample shade and are best for the centre console and fishing boats.
Tower biminis. These canopies, designed for boats with wakeboard towers or other elevated structures, are similar to the standard ones but adjusted to fit over the observatory, providing shade to the raised seating areas.
It's important to note that there are variations and customisation options within each type, such as different materials, colours, and additional features like zippered pockets or storage options. Your bimini type choice should depend on the specific boat model, size, and personal preferences.
What to Look for When Buying a Bimini Top?
Before selecting, it is essential to consider several key factors, such as mould and mildew resistance, fabric quality, durability, climate resistance, aesthetic appeal, and ease of maintenance. These factors play a significant role in the overall performance and longevity of the bimini.
Colour
Colour choice is not merely for aesthetics but also for practical purposes. A brightly coloured one can enhance visibility, aiding in locating your boat in emergencies or preventing collisions with other vessels. Additionally, colour matching with the boat's design can contribute to its resale value.
Frame Material
The frame material of the boat bimini tops is another crucial consideration. Steel frames are ideal for high-speed vessels due to their resistance to dents and bending, while aluminium frames are suitable for smaller boats. It is also possible to opt for a combination of stainless-steel fittings and an aluminium frame through customisation.
Price
Regarding pricing, it's advisable not to compromise on quality to save costs. Investing in a reputable manufacturer ensures superior product quality and long-term performance, ultimately saving you money in the long run.
Fabric
The choice of fabric is essential as well. Look for materials that provide UV resistance and water repellence, allowing for prolonged use. Fabrics with antimicrobial and antifungal finishes help prevent deterioration and mould development on the accessory. If you have a speed boat, consider the fabric's speed resistance, with nylon being a sturdier option that resists tearing at high speeds.
Number of Bows
The boat biminis consist of bows that connect across the boat's width. These bows are known as 2, 3, or 4 bows. Out of these:
The most undersized variant, the 2-bow bimini top, is frequently used on inflatables, shorter Jon-style fishing boats, and fishing boats with V-hulls.
The 3-bow bimini top is the most commonly used style, recommended for V-hull runabouts, ski boats, performance boats, and most centre consoles.
The most oversized option, the 4-bow tops, are reserved for larger boats like pontoons or deck boats.
How to Measure for a Boat Bimini Top?
Before selecting the perfect bimini top, it is crucial to measure your boat. Taking accurate measurements enables you to choose the appropriate frame size. Begin by measuring the length of the portion you wish to cover on the craft.
Next, determine the width. Once you have resolved the bimini length, find the midpoint to establish the primary mounting points. The width should not match the boat's beam; instead, it should be within the range of the gunwale and anchor points.
The height is the final consideration. Typically, a standing altitude of 1.8 metres is recommended. This measurement refers to the distance from the boat's floor to the top rather than the height of the bimini top itself.
Bimini Top Maintenance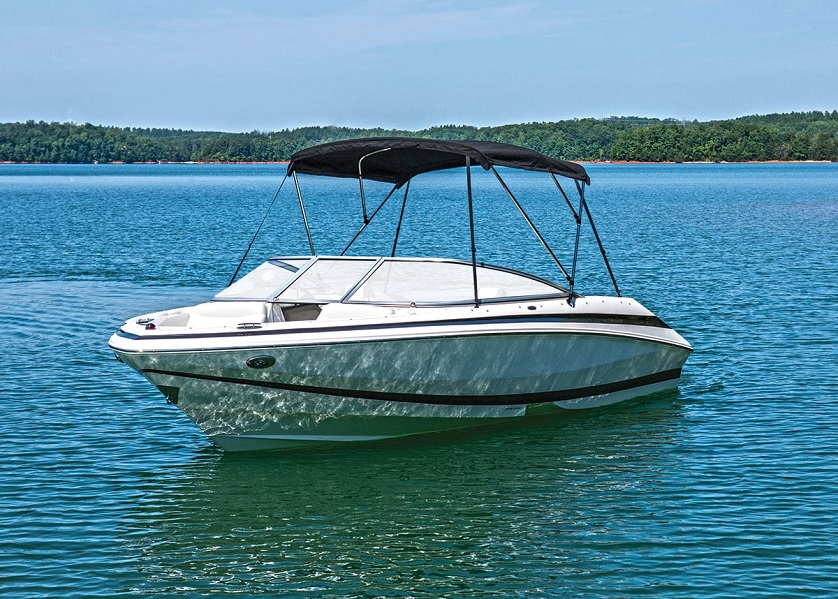 Once you get your canopy, ensure its longevity to make the most out of your investment. Please follow these care tips:
Regularly inspect and tighten all screws and fittings as needed.
Securely tighten hold-down straps.
When towing your boat, fold down the top and store it in the storage boot.
If using the top at speeds exceeding 35 MPH, we recommend using thru-bolting for added security.
Maintain the appearance of your top by regularly brushing away loose dirt or debris with a soft brush and rinsing it with lukewarm water.
Clean the top using a mild soap solution when necessary, mixed with lukewarm water. Rinse thoroughly and allow it to air dry.
Before folding the top for storage, make sure it is entirely dry.
We highly recommend fabric and vinyl cleaner for optimal results, as it's safe and effective. Please note that frequent cleanings may reduce the water repellence of certain marine canvas materials. Apply a fabric guard to restore the water repellence to its original condition.