Hiking is a very fun activity recommended to people of all ages. It is known to lower stress levels and improve mood. It reduces the risk of heart disease. It helps with weight control, improves bone density as well as flexibility and coordination. Hiking is a powerful cardio workout and it's suitable both for beginners and professionals. So, if you're a beginner, here's what you're going to need.
A Hiking Tent
The hiking tent is the first thing you need to pack before starting off your adventure. Sleeping in the wilderness is much comfortable when a tent is involved. How to choose the right hiking tent? There are different sizes of camping tents available. You can get a small tent if you're aiming at hiking alone or a bigger one if you're going with friends and family. Then again, you can also get a big one for yourself if you enjoy the extra space. Plus, you can store your equipment inside and avoid it getting soaking wet if the weather is bad.
Hiking tents are made from waterproof materials and are very easy to assemble. You don't have to be a hiker with years of experience to set up a tent on your own. Also, hiking tents are either basic or three-season tents. Obviously, the three-season tents are better. Their walls are reinforced and they offer additional protection and insulation from bad weather conditions. After all, you surely want to be protected while under the open sky.
Sleeping Hiking Mat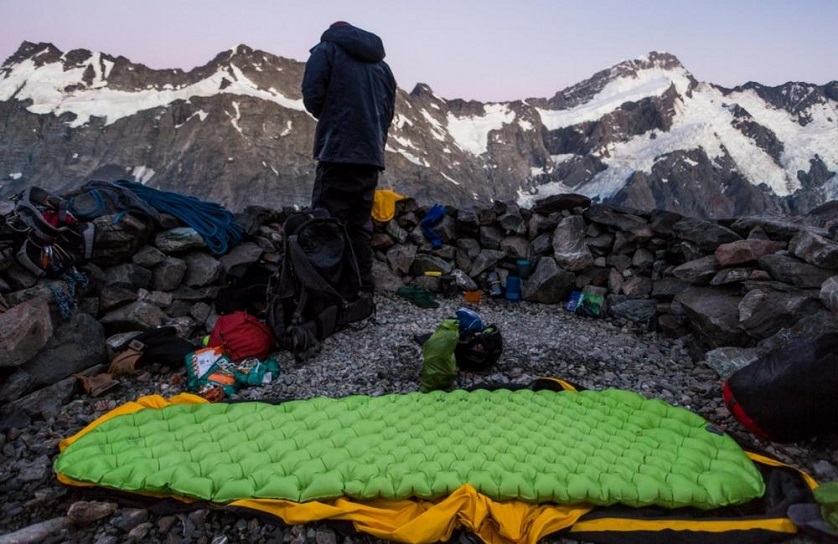 Sleeping pads are also something you shouldn't go hiking without. Aside from the tent, you're going to need a sleeping mat as well if you want to sleep in utmost comfort. Sleeping mats are soft and warm, they protect you from the cold and wet ground and make your hiking experience an unforgettable one.
There are a lot of different types of hiking mats available – self-inflating, air matt and closed-cell foam mats. You should get a hiking sleeping mat that fits your needs best. For instance, the self-inflating mat is durable and of high quality. It is recommended to serious hikers and hardcore adventurers. It inflates and deflates quickly and has a very soft outer layer that allows you to sleep and relax comfortably. The self-inflating sleeping pad is lightweight, easy to pack up and take anywhere. The hiking sleeping mat is made from strong polyester material that's waterproof and durable and it's available in two sizes: regular and large.
Air pads are lightweight, comfortable and their firmness can be customized according to needs. You can add or remove air to make the air pad firm or soft. Air pads are made from waterproof materials that at the same time work to increase the warmth and allow you to sleep protected from the cold. The downside of air pads is that they are more delicate and can get damaged more easily although you can repair minor damage with a patch kit.
Foam mats are made from dense foam and are the most damage-resistant mats out of them all. They can't get punctured and lose their shape and at the same time are lightweight, budget-friendly and great insulators. You can use the foam mats in diverse conditions and even repurpose them as sitting pads. You can place them on any surface and they won't get damaged. They are perfect for rough outdoor conditions.
Hiking GPS Systems
A hiking GPS system is a must. No matter how good you know the terrain, you should always have a working GPS system on you just in case. You never know when you're going to need it. Once upon a time, hikers used maps and compasses to figure out their location and find their way back or go to a specific place. Nowadays everything is simplified and all you need is an electronic GPS tool with rechargeable batteries that's easy to use and very accurate.
Modern-day GPS devices are waterproof, durable and fast. They are connected to satellites and provide you with real-time location information.
Hiking Clothes
For your hiking adventure, you're going to need professional hiking shoes, comfortable yet waterproof pants, multiple layers of T-shirts and jackets, a warm outer jacket and a hat. Why is layering important when you're hiking? Well, you can't really know for sure what the weather will be like. For that reason, you need to be able to take off a few layers or put on a few layers so that you don't feel hot/cold.
The jacket you're wearing needs to be waterproof so that you don't get soaking wet if it happens to rain. The hiking shoes can't be replaced with other types of shoes because they are specially made for the occasion. Hiking shoes provide you exactly with the support and warmth you need. And they have a non-slippery sole with good traction that will get you through every terrain. After all, these boots are made for hiking. And finally, the hat can protect you from the harsh sun rays but also from the rain at the same time keeping your head warm.
A Hiking Bag/Rucksack
Hiking backpacks come in different sizes. The small ones have a capacity of 30-50l, the medium ones 50-80l and the large ones 70l+. You should pick the size of the backpack according to the number of things you plan on carrying and the number of nights you plan on staying. For a short hiking trip of 1-3 nights, the small backpack will be enough. If on the other hand, you want to do an extended trip, then you're going to need a large backpack.
Hiking backpacks are made from waterproof materials and are reinforced so that they can endure the weight. They also have plenty of internal and external pockets that you can use to organize your items and avoid spending time searching for something.
Hiking backpacks are lightweight and with a big capacity to carry things. Plus, many of them have an ergonomic design so that you don't feel any pain or discomfort while carrying the bag on your back.