Hiking trips are among the most popular free-time activities in Australia, and for a very good reason. After all, what's better than enjoying the wonderful nature of our land while embracing the health benefits of walking and being out in the fresh air? It's also one of those activities that anyone can take part in, whether young or old, as long as you tailor the difficulty of the trip to your stamina and overall physical condition. But regardless of your physical preparedness, you can't go hiking without the proper gear. Especially, if it's a hike that lasts for several days or weeks.
There are many essentials to bring along, from adequate amounts of food and water to the right flashlight and a good tent. Everyone would agree that a longer hiking trip wouldn't be complete without setting a proper tent to settle down for the night and fill up your batteries so you can continue your adventure the next day. That's why we wrapped up a couple of tips on how to choose the right hiking tent for your upcoming hiking or camping adventures.
Types of Hiking Tents
Before you hit your favourite hiking equipment supplier to buy a high-quality hiking tent for your trips, it's important to get to know and understand the different types.
Freestanding
Starting from the most popular ones, the freestanding tents are usually dome-shaped and can be set up to their full potential without being staked using a sturdy pole system. Such tents are excellent for hiking trips since they can be set anywhere, regardless of the type of terrain. They're also great because their pole system is able to create enough tension to hold the tent's body stable without compensating for the available space inside.
Semi-Standing
Semi-standing tents come with a stable tent body, a pole system, a rainfly and stakes which need to be fully staked to ensure the tent's stability, even though it doesn't mean that they can't stand up on their own.
Tarp Tents
Finally, tarp tents are the type that can't stand up on their own, but they need to be supported with trekking poles and stakes instead. So, if you're a beginner in the hiking world, tarp tents are not recommended at all, since they can be tricky to set and come up with a good staking strategy to ensure a more spacious and stable tent to spend the night in.
Fabrics
Hiking tents are mostly made of materials such as nylon and polyester. While polyester can be a more budget-friendly option, know that nylon is much stronger and sturdier than polyester. Nylon is also considered a waterproof material, but since it's easily stretchable, it will expand and sag once exposed to excess water. So if you're about to go hiking in a humid area, it's better to consider getting a polyester made tent. Not only does it resist water better than nylon, but it's generally believed that polyester is also a more UV resistant fabric.
To enhance their performance, a lot of manufacturers add polyurethane or silicone coatings or blends over the hiking tents. But while the polyurethane coatings are heavier, they tend to weaken the fabric and tear easily. Also, polyurethane tends to hydrolyse over time, which can cause the waterproof coating to peel while spreading unpleasant odours.
On the other hand, a thin coating of silicone over your tent has the ability to strengthen the fabric and make it almost impossible to tear or rip it. Silicone also doesn't hydrolyse, so you won't have to deal with odours and the frustration of buying a new tent every few hiking trips.
Seasonality
When choosing from the many bushwalking tents, it's important to consider the seasonality. The market offers either three-season or four-season tents. The three-season ones are suitable for the occasional hikers who only go on a trail during milder weather conditions. Such tents feature double-wall construction, which means that the tent features mesh panelling for ventilation, as well as a separate waterproof rainfly to keep the occupants dry during rains.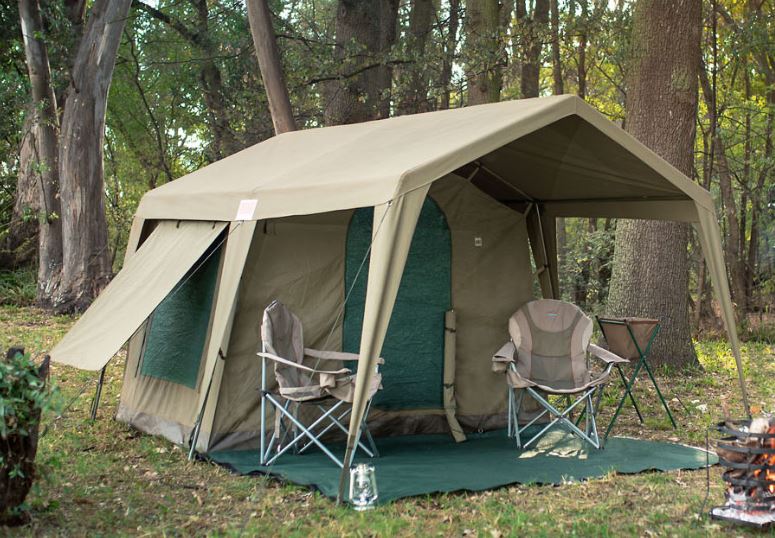 On the other hand, the four-season tents are designed to withstand even the harshest winter conditions such as freezing-cold temperatures, heavy winds and snow loads. They're usually constructed using robust poles and heavier, less breathable fabrics to keep you warm during the freezing winter nights.
Capacity and Space
Hiking tents can feature different capacity levels- from the one-person tents to those that can accommodate four people. The most commonly used type is the two-person tent since it's designed to fit two sleeping pads, which is highly sufficient for couples or if you're hiking alone but you want some extra space for yourself. But if you don't want to carry extra bulk while hiking alone, choosing from the single-person lightweight hiking tents will be more than sufficient.
The three-person ones can be also a more spacious solution for smaller families or couples that are carrying more "bulk" on the trip or for those who are hiking with a dog.
Finally, the 4-people tents are suitable for larger families and groups, but keep in mind that they can be slightly heavy to carry, so it's best to consider them if there are more people who can switch carrying the tent while hiking.
Other Features
The process of choosing a tent for your hiking trips doesn't stop by deciding on the available space, since different tents have different features that might or might not work for you. For instance, a hiking tent can feature one or multiple doors. And as much as one door can be more than enough for your single-person tent, imagine waking up to your tent mate jumping or crawling over you in the middle of the night… Doesn't sound that "tempting", right?
Also, while you're sleeping, you're (obviously) breathing, and through the process of condensation inside the tent, the air you exhale turns into moisture that stays trapped in the tent, which can make the tent's ceiling wet. This won't be an issue if your tent features a proper venting system since it'll take the moisture out and let drier air enter the tent.
Footprints are another important feature you might want your tent to have since they protect it from abrasions and damage as well as your back from sharp rocks or pine needles. A convenient footprint will also serve as a protective layer between you and the wet ground, so make sure your tent features one, or get one additionally if your tent doesn't.
Once you provide yourself with the right tent for your hiking trips, you can dive into your new mountain adventure without worrying about having a good night's sleep, even in the deepest woods.