Your home's décor can transport you at least psychologically to any location in the world. If a day at the beach is all you can think about, it's time to incorporate some things that remind you of soaking up the sun, feeling the cold ocean wind, and taking in the views.
Use Faux Views
A huge print of a coastal area on the theme hung in your front foyer is precisely what you need to set the tone when guests enter your home. Even if you don't live on the beach, you can still appreciate the scenery, thanks to a stunning snapshot. From matching photo frames that attract the eye down the hall to throw pillows that highlight accent colours from the main artwork, small elements will bring your space together.
Concentrate on the Materials in the Living Room
Incorporate the Mediterranean vibe by creating a coastal decor living room to unwind after a long day in the sun. You can quickly turn this area into your favourite spot by adding linen cushions and stools to the existing natural wood elements. Woven accent chairs will complement the materials on an enormous coffee table for a dynamic design that balances varied textures.
The coastal décor living room will be incomplete without hanging a wonderful coastal beach painting or image anywhere your seaside art catches the attention and imagination, such as above the fireplace, TV, sofa, bed, or buffet table. Consider coastal art on wood for a rustic beachy appearance.
Make a Statement in the Kitchen
Add a wall-mounted surfboard to create a stylish and functional focal point in your kitchen. Rather than storing it in the mudroom or foyer, a surfboard stand in the main living space makes a statement—and it's still easy to pull off the wall when you're ready to visit the beach. To make the surfboard design serve a purpose in your kitchen while creating elegant and causal lights, consider including rattan pendant lights, breezy white paint, and woven furniture.
However, if bohemian rooms are your thing but still want your kitchen to feel seaside cool, incorporate patterns with a sleek style to get the best of both worlds. Basic flower prints can also feel beachy if you stick to blue and sandy tones, with an occasional beach-inspired motif thrown in for good measure. Bring in patterns through kitchen window coverings if you're a fan of prints but don't want to commit to specific wallpaper.
Get Creative in the Mudroom
Mudrooms aren't exclusively for farmhouse designs anymore. You can now easily turn your mudroom into a seaside-inspired room ideal for shaking off the sand, kicking off your shoes, and unwinding at the end of a long day. Incorporate the coastal vibe by using woven baskets, which can serve as a catchall for storing daily items in flair, or Mediterranean-style tile floors that are easy to clean and hide dirt as you walk in from the beach.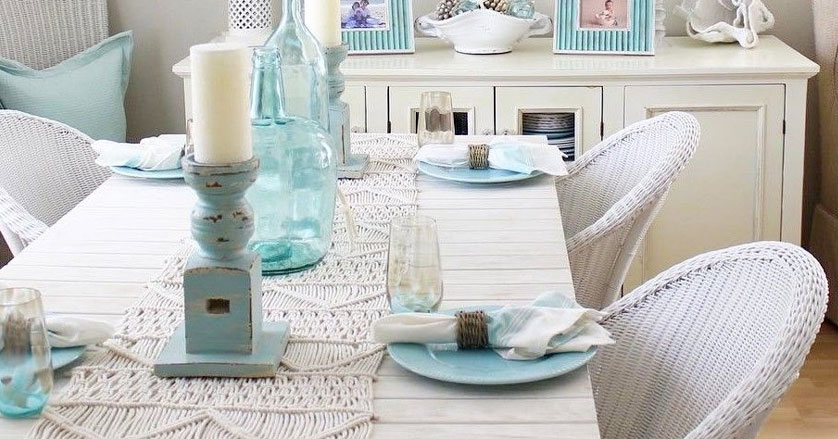 Entertain a Seaside Dining Room
With the help of pendant lighting and shiplap walls, you can quickly transform your dining area into a resort-style hangout. Implementing rattan material will make it feel like a home on its private beach, while the depth between textures will give it a beautiful focal point. Rustic wood décor, bamboo shutters, and comfy woven seats will create a tropical vibe all year.
Nothing beats watching a sunset from your dining room table while sipping a glass of wine. If you don't already have a beach house, an enormous print hanging in your line of sight will let you psychologically relocate to your little island. It also doesn't hurt to have some live plants, especially if you can see palm fronds through the dining room window.
Style Small Details for Great Finish
To make your home feel like a beach hideaway, you don't need a lot of room or a lot of décors. To make every day feel like summer at the beach, combine a jute and rattan rug, storage basket, and straw hat with a shimmering light bulb. Keep the open and airy vibe with all-white paint and an abundance of colourful décor.
Find Paradise in Your Bedroom
The bedroom's minimalism is exactly what you should aim for when decorating your coastal-inspired space. Surround your modern poster bed with shiplap walls, fluffy white linens, textured throw cushions, and a linen seat. Create a symmetrical effect reminiscent of sailboat anchors and seaside décor by hanging woven pendant lights on either side of the bed. A neutral-toned refuge like a sand-inspired bedroom is the perfect spot to throw your feet up at the end of the day.
Choose the Outdoor Furniture Carefully
For a maximalist, the outdoor dining space has no shortage of prominent elements that all work together to create the feeling of a beach getaway. Of course, the rattan light fixtures make a statement, but it's the combination of other items that sets this design apart. For a full look, a modest potted palm tree will perfectly match a large farmhouse table, bright white chairs, and precisely designed tabletop décor.
Experiment with Blue
Because blue is the colour of the sea, it's no wonder that using it in your decor will immediately transport you to the beach. For a calm atmosphere, use all hues of indigo in various designs on an all-white canvas. Choosing patterned accent chairs will bring out soothing ocean tones, while an elegant chandelier constructed of sea glass-inspired pendants will inspire memories of dining beneath rolling waves.
Design a Dreamy Powder Room
Opting for the blue seashell-textured pattern can make a big impact in a small bathroom. On the lower side of the wall, bright white wainscoting will achieve a sophisticated balance, thus making your powder room space seems fresh, inviting, and clean. Also, consider adding symmetrical hand towel hangers and a white orchid.
Bring the Cabana Charm into Your Backyard
You don't need to book a weekend in Tulum to sip margaritas under a cabana. Instead, bring the Instagrammable charm to your backyard with lush outdoor seats and a woven hanging chair or bar stools. Whether entertaining guests or resting on the weekend, wood beams above beachy blue tiles in the outdoor fountain will set the mood.
On the other hand, the nicest feature of your house might sometimes be right outside your window. If you have a spacious porch, add beachy touches like rattan hanging chairs and woven rug, paired with comfy floor pillows.