If you're a cat parent, you probably know about your little feline's exceptional curiosity and the desire to constantly go out and explore what the world has to offer. And even though cats are known for their strong intuition and natural instinct, data shows that only 20% of missing cats come back home after getting lost.
Why You Should Get a Cat ID Tag?
Yes, we already established that cats are incredibly intuitive creatures, but unlike dogs, they're not that likely to remember their way home once they get lost. This is where cat collar ID tags come in. If your lovely feline doesn't have one, then the chances for it to get returned back to you are zero, even if somebody finds it. On the other hand, a cute cat name tag won't only provide the "rescuer" with the essential information about where to look for the owner, but some of them can also deter cat thieves from stealing your cat.
ID tags for cats aren't only the safest, but they're also the simplest method to protect your feline from getting lost. As a pet parent, you have probably heard about the various tagging and chipping methods for pets, but know that they are considered the most inconvenient safety method. This is due to microchips requiring particular scanners to scan and read them.
And even though almost every vet clinic is supplied with such scanners, have in mind that not everybody who spots a "random" cat on the street will bother to visit a vet clinic and see if it belongs to someone. On the other hand, any stranger is more likely to spot even a small cat ID tag and return your cat in the most convenient way.
Finally, cat collar tags aren't only responsible for your cat's safety, but they also serve as a stylish pendant for your lovely feline's collar. The market nowadays offers a plethora of different styles and designs- from the bolder wooden tags with various textures for the brave boys to the elegant, luxury engraved tags for the lady felines. Except for being a great accessory for your cat, they can also be a great gift idea for other cat parents.
Choosing the Right Tag
If you suddenly got tempted to hit the market and explore cat collar ID tags for your lovely feline, we put together a couple of tips to help you choose the best option.
First of all, if your cat suddenly gets lost, it's essential to provide the rescuer with the most up to date information about its owner. So, make sure you choose a design that is large enough to hold all the relevant information. For this purpose, you can also consider the two-sided cat identity tags since you can incorporate more information than the basic one-sided ones.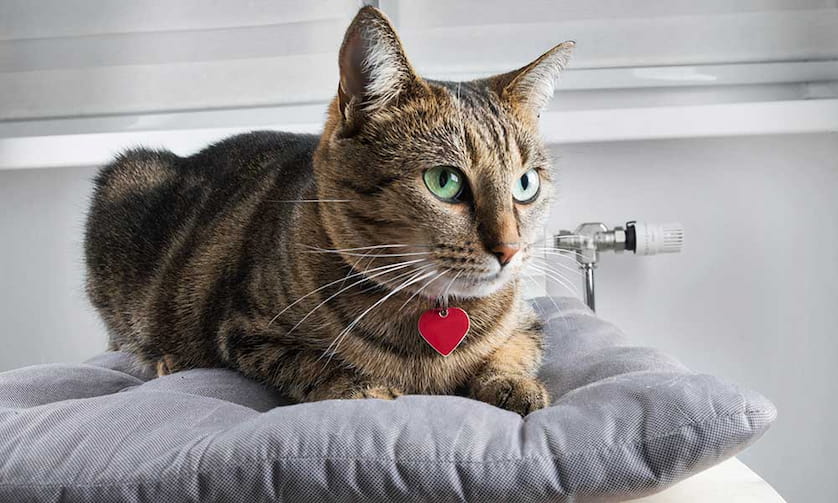 Also, don't forget to choose a stylish accessory that will look gorgeous on your cat. At the end of the day, if you were forced to wear a piece of jewellery around your neck forever, we're sure that you'd want it to be something unique as well as comfy. So, whether you want one of the fun designs in vibrant colours, or you're about to get something completely personalized, make sure it works with your feline.
Comfort being mentioned, don't forget to consider the size of the tag and choose one that won't be too heavy or too small for your feline. The tag should always be proportionate to your cat's size and breed, and allow them to make movements easily without overwhelming their necks. Also, make sure that the tag can't reach your feline's mouth, since that way it can easily try to chew or swallow it, which can lead to serious injuries and health conditions.
What Details to Include on a Cat ID Tag?
Once you choose the perfect kitten collar tag, it's time to personalize it and decide what information to include. So if you're wondering what point to start from, make sure you consider the basic information about you as the cat owner. For instance, your phone number will be the most useful piece of information for any person that finds your pet.
Except for your phone number, it's always a good idea to include your home address in case the person can't reach you over the phone. Also, if your cat manages to escape and has an accident nearby, incorporating your address can be one of the fastest ways to get them back to you.
If your cat is suffering from health conditions then make sure you don't skip emphasizing them on the tag. For instance, if your cat requires regular medications or suffers from allergies, it may encourage the person who found it to return it back to you faster. On the other hand, some conditions such as cat nuisance and even including that the cat is neutered will for sure deter thieves who are looking for breed cats to sell.
Talking about deterring cat thieves, quotes such as "I'm microchipped" are always a good idea, since, unlike the tag that can always be removed, most of the thieves are aware that stealing a chipped cat can bring great trouble.
Finally, many cat owners would go for including their feline's name on the tag, and this can be a really cute feature but only for cats that don't respond to their names. If your cat does, know that cat thieves tend to use cats' names to get their trust or to help sell them further. So, including your name and surname instead of your cat's can be a way more convenient and safer option if they get found by someone who wants to get them back to you.
Now that you know all about pet tags for cats, don't hesitate to visit your favourite online or brick-and-mortar pet store and get one for your feline.