If you want to create a unique and unforgettable outdoor environment that offers plenty of comfort and ambience while extending those long summer evenings that we all crave, then you need a fire pit table!
This versatile piece of furniture that combines a fire pit and a patio table provides convenient light, warmth, and at the same time, a level surface to put things down. Moreover, compared to common fire pits, campfires, and other exposed open flames, they are much safer.
What to Look for in an Outdoor Fire Pit Table

From sleek and contemporary designs to rustic and more decorative models, a convenient and high-quality outdoor fire pit table is the perfectly stylish way to make your garden or patio a year-round destination for gatherings with friends or family.
Since not all fire pit tables are created equal there are some important factors to keep in mind when choosing the ideal one that best complements your outdoor space and lifestyle.
Fuel Type

A fire pit table can be powered by a variety of fuels, each of which has its characteristics and burning quality. Still, the type of fuel you choose depends on your preferences and needs as well as whether you have a natural gas line that reaches your outdoor entertaining area or are planning to install one.
Propane

The most popular fuel for barbecues and other outdoor heating appliances is propane. The clear flame that propane produces makes it ideal for use in fire pit tables as well. The propane is kept in tanks that are readily attached to the fire pit table and are frequently hidden. While propane might perform better than other fuel types and provide convenience, it can be expensive to get tanks topped off regularly.
Natural Gas

Homeowners who frequently utilize their outside space will find built-in fire pit tables link to a natural gas line as the most useful option because there is no need to replace old propane tanks.
As a result, homeowners with permanent natural gas lines never have to worry about their table's electricity, but they will however lack portability. Moreover, these fire pit tables necessitate professional installation to connect a natural gas line safely, which can be costly.
Additional Fuel Types

The most fundamental way to provide heat and light outside is to burn wood. Compared to using propane tanks, this natural approach may be more economical.
On the other hand, a tiny flame is produced by the use of charcoal to give regulated, even heat. It is a quick, practical, and simple way to refuel a table fire pit.
Another great fuel option is Bioethanol which is an eco-friendly source that produces no smoke, ash, or embers, making it perfect for families. This gasoline burns cleanly and is quite safe. Gel is yet another fuel substitute that doesn't produce smoke or smell either.
The Right Size

Consider both the surroundings and the function of your outdoor space when choosing the right size. Also, take into account your space's layout, everything from the furniture placement to the environment's size, scale, and architecture.
From little 20-inch models to large-scale ones that measure 115 cm, fire pit tables come in a wide range of sizes to fit different settings. While big-scale models that reach 100-115 cm provide an impressive centrepiece inside a huge seating arrangement for the ultimate outdoor lounge, smaller ones of 50-60 cm are appropriate for more compact settings such as decks, patios, or porches.
Material Options

High-quality materials are used in the construction of an outdoor fire pit table to ensure the safety of an open, genuine flame. Therefore, a variety of materials are available, ranging from modern metal designs to rustic ones made of natural materials to match any outdoor setting.
Each type of material has undergone safety and proper outdoor use testing, and each has its special qualities based on aesthetic and practical preferences.
The sleek, contemporary design of stainless-steel fire pits makes them more expensive than other model constructions. Round and rectangular stainless-steel designs are among the many shapes that are available to accommodate any space. To avoid rust and damage from exposure to the environment, especially if you live in a humid one, look for models that have been powder coated.
Aluminium, on the other hand, has long been recognized as the best material for making contemporary outdoor furniture because of how lightweight and durable it is. Because metal does not absorb heat again, it is perfect for making aluminium fire pits. Additionally, there are fire pits made of cast aluminium which is heavier and thus sturdier material.
After being exposed to outdoor air, the majority of bronze and copper fire pit tables take on an appealing patina with a distinctive orange-brown hue that gives outdoor settings a distinctive appearance.
Styles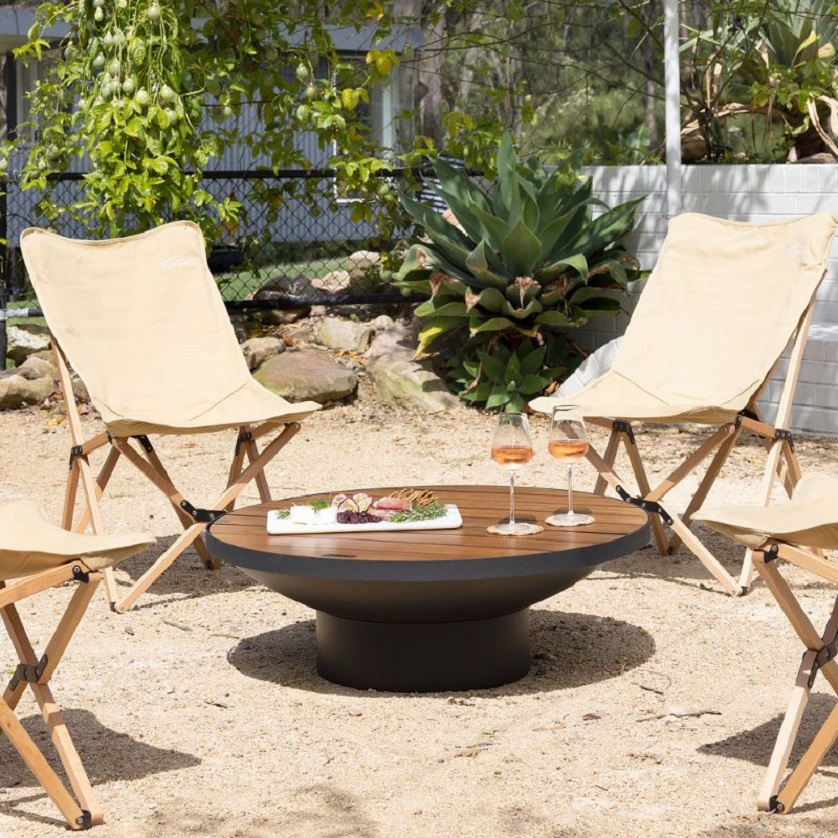 There are three main styles that contemporary fire pit tables fit under, even though they are made from a variety of premium materials and shapes.
The most popular type of firepit table is the mantel one. This hybrid shape is a blend between a coffee and bistro table and has a mid-height profile ideal for quiet chats and small meals. There are numerous accessible shapes, from round to rectangular versions, to fit any spatial arrangement as well as a variety of material constructions to match any aesthetic.
The cauldron-style fire bowl often has a spherical, bowl-like shape with a low, ground-level profile for a distinctive appearance. The circular shape spreads warmth and light in all directions, making them particularly suitable for social events, so you won't have to invest in high-end outdoor lights to add charm and character to your outdoor area any longer.
Any backyard becomes more charmingly rustic thanks to the Chiminea's distinctive shape. The chiminea often stands alone and is tall in profile. It has a spherical body that extends into a chimney-like stack on top. However, there isn't a surface in the front-loading fireplace model for putting things down, like the design of a mantel.