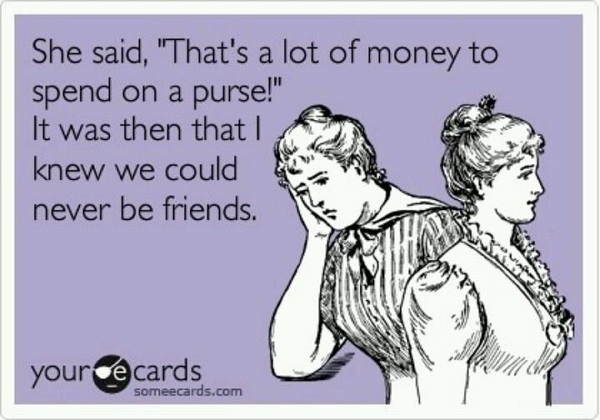 We've all experienced that immediate SOS situation when we find ourselves staring at the latest bag models out there, be it online or in our favourite store at the mall. A trendy bag is always a priority for every lady, but since finding the perfect one is as hard as a senior maths test for all of us number dummies out there, we are destined to suffer until the right one comes to us. If by any chance you're wondering why buying a bag is so hard, let me stop you right there and tell you all about the pain every girl that's ever lived has been through.
Bags come in different shapes, sizes, colours, materials and they even have different uses. They are not just a portable little drawer full of lost things with no meaningful purpose, most importantly, they are the queens of all accessories. They can save you a trip to the drugstore, because obviously you can take your headache pills anywhere you want; they can be the cosmetics kit every make up lover needs at any time; they are perfect for placing your workout clothes; they can hide unimaginable things such as keys to secret doors, magical perfumes and all kinds of utensils every modern girl needs. That's why when it comes to choosing a bag there are various things you have to keep in mind: it has to match your soul, your needs and your style.
If you're asking me and you want to save yourself some money and unnecessary worries, the womens overnight bag models are the perfect must have for every practical girl out there. And if you're not one of those and you have a bag for every activity and style, you can use them for a few day trip to the beach or as your everyday workout bag.
The spacious interior of these stylish womens overnight bag models will let you store all your belongings and still make you look fashionable. You can choose one with trolleys if you're the travelling type, a sporty one if you're a gym freak, or you can just choose the one that will match all your styles and needs. There are different models and collections to choose from and the prices are very affordable.
Your overnight bag should be a mixture of function and fashion and it has to remind you of happiness, since most of the time we use them to go somewhere nice and not to work, for example. The "big ugly travelling bag" rule doesn't apply any more because we want to stay stylish even on the road, in the gym or simply when going to a sleepover. So pack your old boring bags and go spoil yourselves with an overnight floral or a glamorous leather bag and don't worry about not taking your favourite book or your favourite jacket on the road any more. If you're going to wear an oversized bag, wear it with style, grace and a smile on your face.