Throughout the past years, we have seen a bunch of fashion trends come and go – from the iconic denim vests and waxed jeans to the weird combos of deep V neck T-shirts and drop-crotch trousers. However, whether these clothing pieces were "hit or miss", none of them would gain their popularity if they weren't topped up with a couple of iconic accessories.
Talking about accessories for men, there are also a lot of weird fashion trends that (luckily) left the fashion scene. However, just like a pair of black high heels and a red lipstick make for the timeless classic for stylish ladies, there are also a couple of accessories a classy gentleman can't be imagined without.
So, if you're wondering what the ultimate pieces of accessories are that became timeless, we wrapped up a list of the three most iconic ones every gentleman should own.
Pocket Watch

If you're looking for the most iconic accessory that never leaves the fashion scene, don't hesitate to explore the stylish watch pocket designs Australia wide fashion stores offer. And as much as many men find them old fashioned, the truth is that a real gentleman will recognise the value of this iconic piece of accessory and wear it with a lot of pride.
These watches gained their popularity in the 16th century but got a little withdrawal from the fashion scene as World War II imposed wristwatches as a more convenient option for soldiers on the fields. However, as wristwatches became widely available for the mass, the vintage pocket models stayed the number one accessory for men striving to groom a unique style as well as for those who adore the classical style of the old-fashioned gentlemen.
When it comes to styling this iconic piece of jewellery, the range of opportunities is endless as long as you're willing to experiment with your style and try new alternatives. Starting from the most iconic variant through history, an antique pocket watch could be most commonly spotted on sleeveless garments such as vests.
To achieve this old-fashioned look, place your watch in one of the pockets and loop the chain through one of the buttonholes. The button is determined by how much chain you want to hang down, while the pocket is always the one opposite your dominant hand to free it up for shaking hands or pointing at things.
If you're not the type who wears formal vests, you're lucky that you can always wear your vintage watch pocket with a pair of jeans. All you need to do is to slide the watch in your front pocket and attach the chain to your belt or belt slide. When wearing a button-down shirt, you can also loop the chain through one of the lower buttons.
Sophisticated Hat

A classy and sophisticated hat has always been a must-have if you want to achieve the look of the real old fashioned gentleman. So, don't wait to explore the wide range of elegant men hat designs to elevate your style and make you appear ultimately classy.
If you have no idea where to start from, it's important to pick a style and a colour you feel most comfortable wearing, whether it's a classic Panama hat in bright colours or a casual chinstrap hat to top up your sporty or urban style.
The classic Panama being mentioned, these men hats designs are very lightweight, typically come in bright colours and make for the ideal choice when the sun is blasting. They're made of plaited leaves of a toquilla plant, which means they're light and very breathable for your skin while making you look and feel like the ultimate fashion styler. And since Panama hats are the ideal spring and summertime accessory, they blend up nicely with lovely seasonal wear made by crisp linen, as well as your vintage pocket watch.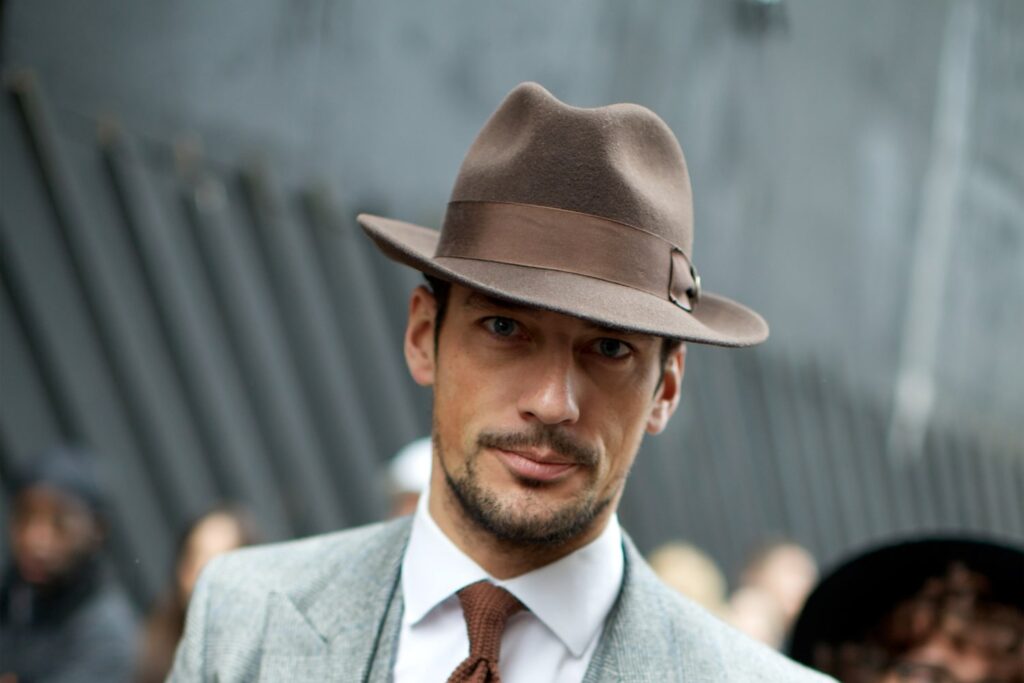 On the other hand, chinstrap hats were also a classic for soldiers, as they were first worn by the older military units throughout history. However, these hats today aren't only worn to give excellent protection from the blasting sun and cold winds, but they're also ideal to elevate your outfits and add a dose of comfort and effortless style. Wear this cap with a polo shirt for travelling, while playing golf, or simply when you want to feel comfortable and cosy in the sportiest outfits.
The list of classy hats for men doesn't end here. Stylish gentlemen also wear Trilby and Fedora caps, just like Inspector Clouseau wore in the Pink Panther films. On the other hand, the "Pork Pie" hat also makes for a stylish and cool design that goes perfectly well with every smart casual outfit you wear. Once you top it up with a stylish pair of suede or leather shoes, you'll see how you turn into the ultimate gentleman who steals all the ladies' looks.
Leather Belt

Talking about the dressing habits of true gentlemen, know that not a real one can be imagined without at least one elegant leather belt. Much like the timeless watch pocket accessory, it can elevate your look. In fact, regardless of what you choose to wear, know that an outfit without a classy belt will appear sloppy and tasteless.
However, be careful when incorporating belts in your outfits as they should always match the colour of your shoes. For instance, throw on a pair of brown chukka boots, top it up with a brown dress belt and you got the perfect outfit for the office.
When it comes to casual occasions such as night outs with your friends, you won't go wrong by wearing a classic black belt and an edgy pair of black Chelsea boots with your favourite skinny jeans. The range of different combos with leather belts is endless. As long as you match it with your footwear, you can rest assured that you'll never look sloppy.