If you're someone who likes spending time working on DIY projects on regular basis, then you most likely understand the importance of having a quality surface to work on. And nowadays, it's true that finding the right work bench is not much of a complicated task, but you still need to educate yourself a bit further on the subject in order to make the right decision.
There is a wide array of multi-purpose, budget friendly, mobile and adjustable work benches that will match your needs. But if you're looking for the best of all worlds in a work bench, the metal work bench is the safest choice.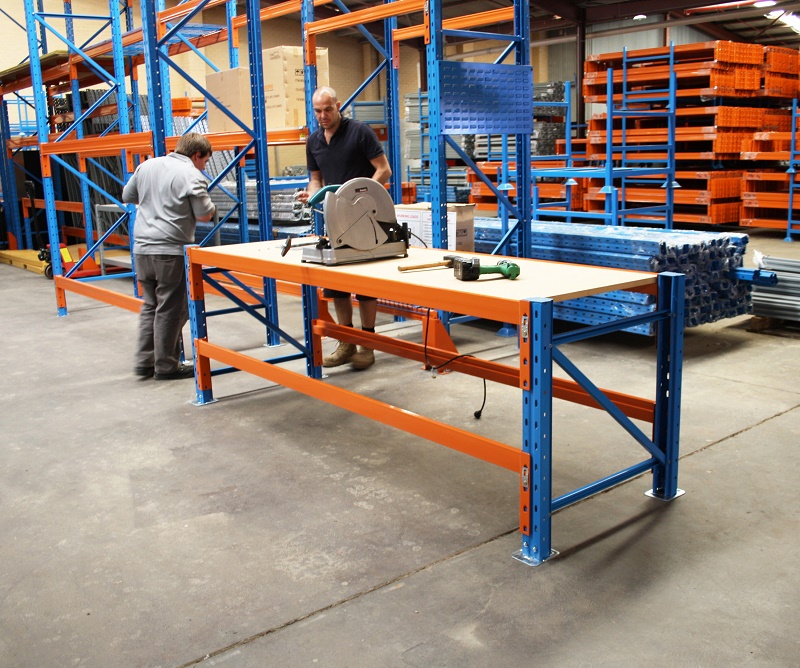 A metal work bench is a great option for tasks that require robust performances because it's built from heavy gauge materials. It can withstand constant abuse and it can be used for performing demanding tasks on it. Not only it is suitable for domestic use, it's also suitable for industrial and professional applications and it's the ideal choice for warehouses, retail stores, factories and other facilities that require a working platform and storage.
There are many benefits the metal work bench offers over wooden benches. For instance, it's relatively easy to clean and requires only a water damped piece of cloth to be thoroughly cleaned. Everyone hates cleaning up after spending hours and hours working, so it shouldn't be a hassle to clean it up. For more persistent marks, adding a little white vinegar should do the trick.
Depending on the metal it's constructed from, this bench can be much lighter than a wooden one, for example. This means that it can be moved with relative ease, making it more flexible when it comes to positioning. Speaking of positioning, metal can heat up if it's exposed to sunlight, which can make it somewhat uncomfortable to work on, so you should avoid placing it in a place that's affected by sunlight throughout most of the day.
To further narrow down your choice, you should think about whether you want the bench to have some particular features or not. For example, do you want its height to be adjustable? This question can easily be answered if you take into account who will be using the bench. If it's only you, then you won't really need it to be adjustable, however, if more people use it, strongly consider buying one that it is.
And last but not least, size matters. The size of the bench should be big enough for you to fit everything you want on it, and big enough to fit into your garage or warehouse. Bigger isn't always better, and is usually more expensive. So if you're working on smaller projects there's no need to buy a 5 meter bench when a 3 meter one will be serve the purpose just right.
reference: mrpalletracking.com.au