Are you planning to make the switch from coffee to a healthy morning smoothie? Making a smoothie in the morning is easy, quick, and delicious. The best part is that it can also be an on-the-go breakfast for those busy mornings.
A morning smoothie will not only set you up for a healthy day but can help reduce your stress level, boost your energy and make you happy. That is why as an active individual, it is crucial to include a healthy dose of vitamins in your daily morning ritual. And even though smoothies are great and have an awesome nutrient profile, they can be made even healthier with the following tips.
Pile on the Antioxidants
Antioxidants are substances that help prevent the damaging effects of oxidative stress on the body and they do this by neutralising free radicals. This prevents them from causing damage that leads to a number of diseases, including cancer and heart disease.
Blueberries are considered super-fruits because they pack a wallop of antioxidants. In fact, blueberries are one of the highest antioxidant foods you can buy. Other fruits with high levels of antioxidants include blackberries, cranberries and raspberries.
Goji berries have been used in Chinese medicine for centuries because they contain high levels of antioxidants and other beneficial compounds. They are now popular as a smoothie ingredient because they give it a sweet taste without any added sugar and also contain vitamins C and A.
However, if you can't manage to get these things into your smoothie naturally, you can try including some health food supplements. Adding well-known health food supplements such as spirulina, probiotics or maca powder can spike up the vitamins and minerals amount in your morning smoothie.
Add a Scoop of Protein Powder
Adding protein powder can help boost the nutritional value of your morning smoothie and can help you keep in shape and build lean muscle if you're exercising. First, how does protein affect the nutritional value of a smoothie? Well, since smoothies are in liquid form, many complain that they don't feel full and as a result need to eat something else shortly. But with the addition of protein powder, smoothies can help reduce feelings of hunger.
Second, proteins are the building blocks of the body, they help build muscles and affect many processes. Since many of us aren't getting enough protein from food due to a fast lifestyle or following a specific diet such as vegetarianism or veganism, adding a scoop of protein powder could be good for you.
That said, protein powders are some of the most common health supplements people use to boost their smoothies. But how much should you use? Protein powders vary widely in their concentrations, so be sure to check the label on your powder before adding a scoop. Generally speaking, one scoop equals 20 grams of protein per serving.
Always Put a Good Amount of Greens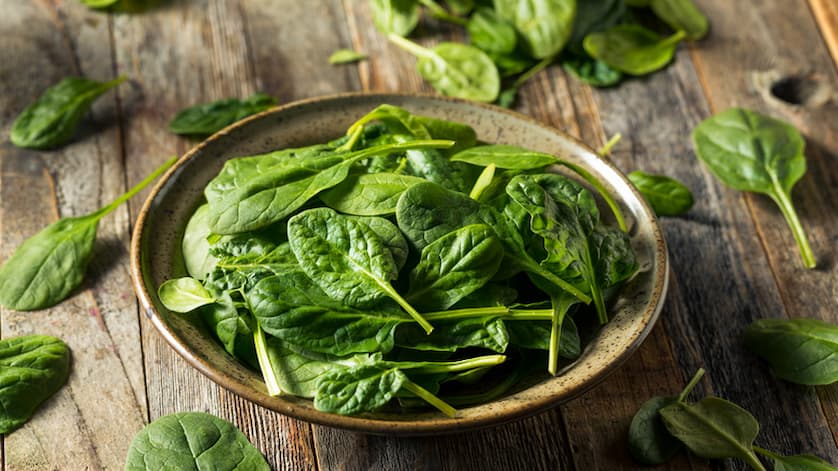 If you want to make your smoothie healthier, add a lot of greens. Be sure to add lots of greens to your morning smoothie. They taste great and make all the difference between just a good smoothie, and a great one!
With only about 30 calories for a full cup of greens, you can add them in abundance without feeling bad about it. On the contrary: you should feel good about your choice! Not only are they low in calories but they also contain high amounts of fibre, vitamins and minerals. Take spinach, for example. One cup contains 28% of your daily requirement of vitamin A and 56% of vitamin K. You can even add herbs such as parsley, and mint to your smoothie for an extra boost.
Arugula is another great green that is underrated. It's actually one of the healthiest salad greens out there with plenty of essential nutrients and very low in calories (only 5 calories per cup). It's also rich in antioxidants and phytochemicals (disease-fighting substances that are found in plants). So don't be shy with your greens!
Don't Forget Healthy Fats
Healthy fats are an important part of a balanced diet, because they reduce inflammation, help you feel fuller longer and contribute to heart health.
The fats you eat should be primarily monounsaturated and polyunsaturated, which means coming from sources such as olive oil, nuts, seeds and avocados. Saturated fats should be limited to between 12 grams and 15 grams per day. Adding healthy fats to a smoothie is an easy way to add calories, protein and important vitamins like vitamin D, A and E. If you're looking for ways to mix up your morning smoothie routine, try adding one of these healthy fats to your next smoothie.
Avocado
Avocado is a great option for adding healthy fat to your smoothies without changing the taste much at all. It makes them creamy and thick, which is especially delicious in chocolate or berry smoothies. Avocados are also an excellent source of fibre, which will help keep you full until lunchtime.
Coconut Oil
Coconut oil offers medium-chain fatty acids that help boost metabolism and aid in weight loss. Coconut oil can be off-putting if you add too much too, but if you start with just 1 tsp per day and build up gradually, you won't even notice it's there. You can also try coconut butter instead of oil, as it just has a different consistency.
To Sum Up
The bottom line is that there are a lot of ways to make your morning smoothie healthier and more nutritious. It's best advised to play around with the different combinations of starting ingredients and add-ons, to see what works best for you. Being smart about what you put into your smoothie will go a long way in making it healthier and better for you.