Although modern design may not be for everyone, people who appreciate the beautiful simplicity of sleek, minimalist furnishings and clean surfaces find it appealing. This style can be used throughout the entire home, but it works particularly well in bathrooms. Whether your whole living space is a modernist's fantasy or you just want to try out this style to create your dream bathroom, there is a formula for putting together the ideal simple modern bathroom space.
Bathroom Vanity
The modern design features minimalism. And one of the best ways to achieve this in your bathroom is by installing a sleek floating vanity. Besides looking beautiful and modern, these bathroom cabinets save a lot of floor space while also creating an illusion of a bigger bathroom. The open space beneath them allows for more light to travel through the room, visually extending the floor. Models with an integrated sink top are a perfect choice as they are easy to clean and beautifully minimalist. This style of vanity also leaves less space for dirt and dust to accumulate which makes cleaning the bathroom less of a chore. Apart from saving space, they also reduce clutter, providing the ideal storage for things like towels, hairdryer, toilet paper rolls and other toiletries.
To create more visual interest, try mixing closed and open compartments. This will enable easy access to your frequently used accessories. Another way to go is to opt for a bathroom sink vanity that is modern traditional. This modern unit features modern style legs but it still provides enough space underneath. These bath vanity cabinets look less bulky, way sleeker and more streamlined than any of their counterparts. Moreover, installing a wall-hung unit is quite simple. Want to know how to hang a bathroom cabinet? There are plenty of articles and videos that can help you do the job by yourself. However, if you don't feel like you can do it or don't have the right tools – don't try it on your own. Consulting with a professional is always a better idea.
When it comes to storage and creating an ultra-modern bathroom, a bath vanity is a relatively inexpensive solution. These units are available in just about any shape, model, colour and size. Where to buy bathroom cabinets? Any traditional bathroom shop or online store will provide you with plenty of options. Their versatility makes them the perfect fit for any bathroom style and space.
Bathroom Tapware
Try to match your modern bathroom with sleek and contemporary faucet. They tend to be more angular with sharp corners and waterfall designs. For a minimalist and streamlined design, consider a wall-mounted faucet. These are one of the most popular options in interior design due to their clean design, utility and versatility. For a more dramatic and unique look, you can choose a waterfall tap. One with sharp and angular corners will perfectly fit in a modern style bathroom. These taps use less water pressure and have mesmerizing, calming effect. Installing one will surely give that wow-factor and uniqueness to your bathroom.
The finish of the tap also has an important role in the overall look. Brushed-chrome has the same silver colour as chrome but it comes with a matte finish. This makes it a good option for people who don't like too much shine. Brass is a trendy finish but it is a better choice for traditional bathrooms. Bronze evokes a traditional and luxury feel and it is perfect for luxurious spa-like bathrooms. For a modern touch, you can choose black. Black bathroom tapware finishes are extremely popular nowadays, not just due to their mate finish and elegant look, but also because they contrast light countertops and sinks perfectly and don't get dirty that easy.
Bathroom Mirror
It is easy to overlook this detail, but a good choice of a mirror is an essential part of any well-designed bathroom. Modern bathrooms are usually minimalistic without any ornate details, so a simple bathroom mirror will fit perfectly well in this space. There are also plenty of choices regarding size, shape and style. For example, large round mirrors look chic and have a universal appeal. What makes them a good choice for bathrooms is their clean simplicity, the visual interest, relaxed appeal and softness they add to the bathroom space.
A mirrored wall will create the effect of more open space, making your bathroom feel twice the size. Here you can run the mirror literally wall-to-wall or extend it from one end of the vanity to the end of a nearby fixture. If you want to go this way, make sure the mirror fills most of the wall, otherwise, it will look like you have the wrong size mirror. Double mirrors are a great way to go if you have a wide vanity, especially one with multiple sinks. Besides serving their purpose perfectly, they will also give your bathroom an elegant look.
Framed or frameless mirror? Frameless mirrors are a popular choice because they tend to be less expensive but also stylish. They give the bathroom a modern appeal, so even people with traditional homes often choose them to achieve a clean look. They work perfectly well in modern and minimalist spaces, while mirrors with frames tend to fit better into traditional spaces.
Shower Panels
One of the easiest and biggest upgrades you can do to create an ultra-modern bathroom is to replace your shower curtain with a glass panel. This can also be done with your existing bathtub as well. Glass is clean and beautiful, eliminating the visual obstacles in the room, instantly creating larger space. If a glass door is not an option, a single glass panel will also do the style trick and prevent the water from leaving the shower area. If budget is not an issue, you can consider removing the bathtub and use only a glassed-in shower stall which is the perfect choice for people who don't like taking long baths.
If you decide to switch to a shower enclosure, you need to get familiar with the different types available. A pivot door shower provides a modern and elegant solution for corner installations. Also, this type of enclosure is the perfect space saver for smaller bathrooms. The bi-fold option is another great choice for smaller bathrooms and you can choose from a variety of sizes, styles and finishes. Sliding door showers are one of the most elegant options on the market, offering a generous showering area for people who love to wash in style. Walk-in enclosures feature minimalist design and luxury, which makes them the perfect choice for a modern bathroom. They are easy to clean and maintain and the frameless panels contribute to a minimalist and neat look.
Bathroom Lighting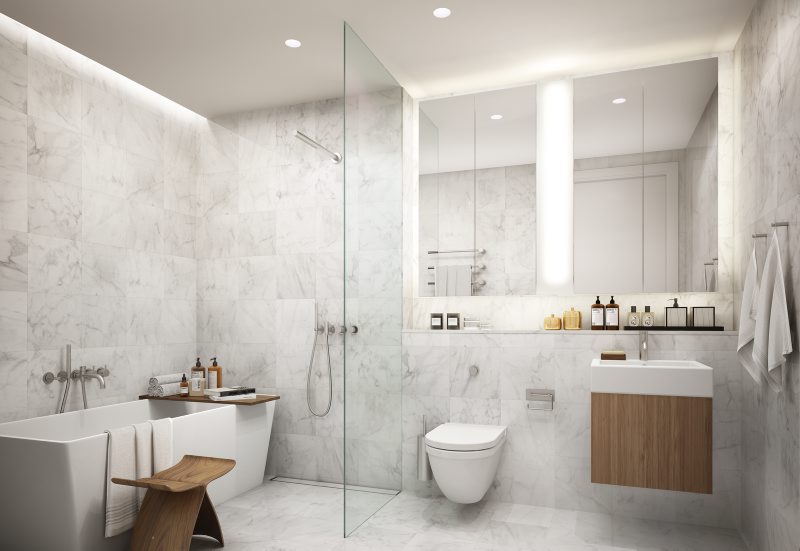 Another important piece of the puzzle when designing a modern bathroom is the lighting. It is the part that can truly create a show-stopping look but to achieve that you need to choose the right models for every use. One of the ways to go is to install recessed shelf lighting and downlights under the vanity. Recessed shelves that are illuminated with LED lights are a modern detail that gives a high-end feel to the room. Downlights are also a great choice that creates a visual illusion of more space.
Sconces or wall-mounted fixtures are one of the most popular choices when it comes to bathroom lighting. They are both beautiful and functional and generally don't take up a lot of space. These lighting fixtures are available in different forms, so you should be more careful when choosing them for your bathroom. For example, in the main bathroom where you are using the mirror for important tasks like applying make-up, shaving or putting contact lenses, it is important to choose fixtures that will provide extra light. Because of this, bathroom scones are often chosen in pairs. A pair of wall fixtures will light up your face and avoid creating unwanted shadows.
A statement pendant or a chandelier is perfect for bathrooms where the lighting doesn't have to be perfect and bright. If you love the look of a statement pendant in the bathroom but still need the functionality, consider placing the fixture in the centre of the room or over the bath. A pendant over the vanity instantly adds elegance and drama, while a pendant over the bath is another way to create something out of the ordinary. Also, you can consider mixing the ceiling fixture with a pair of subtle sconces that will make contrast and provide you with the amount of lighting you need.
The palette colour you choose, the toilet, the tiles and the rest of the bathroom accessories all have an impact on the final look of your bathroom and help to achieve a look that is modern yet functional. After all, this is the place where your day starts and ends so it's worth spending some money and effort on details to create your own space of serenity and calm in a busy household.