If you are anything like me, then you too are constantly looking for different ways to alter the interior design in your home. As my budget doesn't always allow me to buy new décor items (not to even mention new furniture) in order to give my space a new look every now and then, I make small changes in the accessories. Sometimes I find that small coffee table better fitting right next to my sofa bed, while others, I like it best when placed in the middle of the seating set. This is not much of a big re-decoration, but combined together with the change in colour of the pillows, the flowers in my vase and the different bedding, it does contribute to a change in the scenery. At least to me.
In my constant search for different ways to give my home a new look, I discovered amazing ways to decorate with serving trays. I have to confess that I don't use the serving tray much to perform its original function – serve food, but I had a few in my kitchen that I got as wedding presents. Tired of watching them just harboring dust in the kitchen cabinets, I took them out and found better ways to use them in my home. Here are a few examples of how I use them now.

To give the nightstand an organized feeling and a touch of sophistication.

To create a unique centerpiece and add a romantic feel to the kitchen.
Sometimes you may need a hard surface on your upholstered ottomans. So why not create a coffee tablescape with some table books and a scented candle to bring a nice aroma to the living room? Ottomans are very convenient pieces of furniture as we can use them for a variety of purposes in the home. If you're on a tight budget and hesitating whether you should buy one, just go online and look for an ottoman sale to find the best deal for your money.

There's really no better way to keep your bathroom essentials looking nice and organized than with a sophisticated serving tray!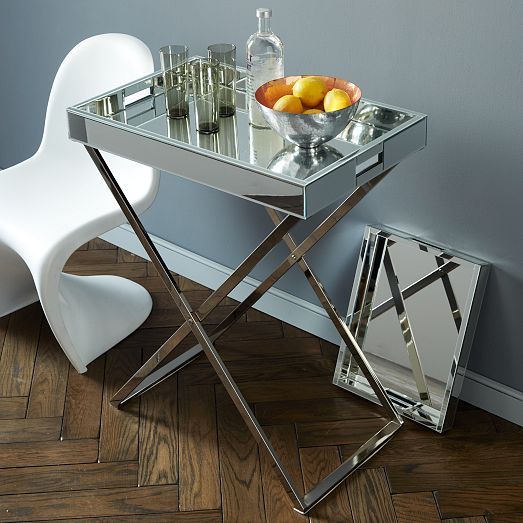 A tray on a stand can be the perfect solution for a temporary bar.
If you like my ideas of decorating with trays but don't have a nice one that you can use, know that there is a variety of modern serving trays available out there in online retailers and in local stores as well. From different shapes (rectangular, oval, square) to different materials (metal, wood, melamine, plastic) the options are endless. This means, whether you decide to shop online (I love doing that) or go to your local store, you will surely be able to find one to enhance your room décor.