Imagine having a piece of cloth that works like an accessory, a dress, a turban, a scarf and anything you want it to be. Sounds insane, but it actually exists and women around the world wear it and use it for various occasions and purposes. It's called a sarong.
What's a Sarong?
Sarongs cannot be defined as one thing, because they are many things to many people. Throughout history, the world was using different names for this piece of cloth. It was popular in ancient Rome and Greece, known as "Toga". People from the South Pacific islands of Tahiti and Hawaii call this item a "pareo". Southeast Asian countries like Thailand, Malaysia, Philippines and Indonesia call it "Surong". Indians call it "Sri" and in Africa, it's known as "Kanga.
The Indonesian name is the one that's widely used today since most of the sarongs are made in these countries. Mainly manufactured in Indonesia, ladies sarongs today are shipped and sold worldwide.
This is a simple garment and is pretty much an oversized scarf, in a rectangular shape. It comes in various colours, patterns and is made mostly of lightweight fabrics. Women love especially for the hot summer beach days. Standard designs measure approximately 167 x 111 cm, but there are narrower models that measure about 167 x 60 cm. However, it's important to mention that the bigger it is, the easier you'll be able to wrap it, tie it and wear it.
How to Wear It
There are as many ways to wear this type of scarf, as there are women around the world. You can create your own style that is unique for you.
Morrocan women, for example, wear it as a headscarf (due to religious reasons). However, they pick gorgeous colours and design to use this opportunity to make a stylish statement too. So, no matter if you don't need to wear a headscarf for religious reasons, wrapping it around your head can add an exotic touch to your style. You can simply wrap a simple scarf over your hair, or style it as a turban for an even bolder statement.
You can wear it as a dress, around your hips, as a cape over your shoulders when the weather is chillier. Literally, there's no limit to the number of uses you can get from this amazing accessory. Just pick a sarong design you love, and try these stylish and practical ideas on how to wear it.
As a Beach Accessory
Admit it, you too don't like wearing too many clothes at the beach. Every woman would choose a sarong over a T-shirt and shorts. It's a lightweight piece that doesn't require putting on. You just wrap it and tie it and that is. Most restaurants and hotels don't allow tourists to get inside in their swimsuits. Just cover your body with the garment and you're ready.
For countries with a hot climate like Australia, this is a staple beach item. It's easy and breezy and won't make you feel any hotter than it already is. It doesn't matter if you go for a laidback day at the beach or have a quick swim, warping a sarong around your swimming suit is a real time saver. You can even use it as a towel to lie down.
You shouldn't forget to take some sunscreen with you, but even if you do, you can use this type of scarf to cover yourself up and protect your skin from the harmful UV radiation. Nobody wants coming home from the beach with a painful sunburn.
Don't have a hat to protect your head from the sun? Simply wrap this versatile accessory around your head like a towel and protect it. Since this is a long garment it could easily help you cover the most critical parts of your body like your neck, back, shoulders and chest.
What's more, a lightweight cover around your body can help reduce your exposure to nasty mosquitos and bugs as well. Just put it over your arms and shoulders. This is especially helpful when the weather is hot, but you don't have much choice and have to cover the majority of your skin (without having to wear a blouse with long sleeves).
Transform It Into a Dress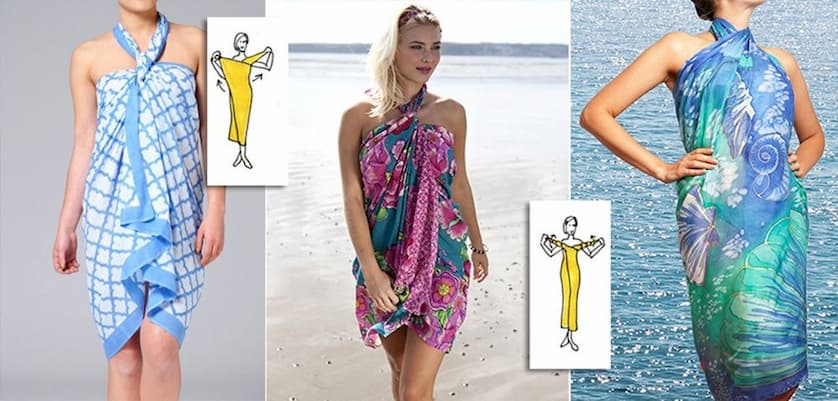 Surely, you want to know how you can make a lightweight dress out of a sarong. When it's too hot to wear anything, this garment would work as a perfect substitute for clothing. It's long enough to work as a dress, and soft and lightweight enough to keep you cool. Pick whatever colour or pattern you like and you're done.
Basically, you can wrap it around your torso or neck and make a dress out of it. If you feel like you should put something else on too, you can always wear a T-shirt and some short pants underneath. You can combine it with a jacket if it's chilly. If you're nervous that the shawl will slip off, secure it with a belt around your waist. This will add an extra stylish touch and people won't even notice that you're wearing a shawl and not an actual dress.
As a Top
You can also wear this accessory with jeans or shorts. Just wrap it around your upper body and shoulders make a cool blouse out of it. You can wrap it around your neck, and tie it in a knot at the back for a really cute top. You can also simply turn it into a crop top with a bow in the front.
The possibilities are endless, you only need to be creative and make the most of this large piece of fabric. You don't have to go to the beach to have this piece. It's ideal if you're a backpacker, camper or a hiker. You can easily pack it and it won't take too much place in your backpack or suitcase. When travelling (bus, train, plane), it's a practical thing to cover yourself if it's chilly. The great thing is that this is very budget-friendly clothing that can save you in many situations.