Do you have a hallway that seems too narrow for anything? Such spaces can be a pain in the neck when it comes to decorating. Every piece of furniture is either too big so there's no space left to turn around, or too small so it still seems empty. One thing that you could try is placing a runner rug that will immediately elevate the style and cosiness of this area in your home.
What Are Runner Rugs?
Runner rugs are long, narrow, and usually rectangular rugs that are used for places in your house where there's a lot of traffic. They can come in different sizes according to your need, but they're always smaller in width than in length.
You could use runner rags for your kitchen, bedroom, and staircase. But the place where they truly shine is the hallway.
The Perfect Fit for Narrow Hallways
Hallways are the first thing that guests see when they come to your house. This is your first chance for a good impression. You don't want your home's introduction to be cluttered with unnecessary things, but you don't want it to be bare and cold either. A runner rug would be a happy medium. If you want your hallway to appear more spacious, choose a narrower rug so there's more space on the sides of the rug. This will give the illusion of a wider and open space.
Protects You and Your Floor
How many times have you slipped on a new wood floor parquet? Because of various reasons, certain surfaces can become very slippery. You can fix this problem by simply placing a runner rag over the floor and protect yourself and your loved ones.
Floor damage, especially in high-traffic areas like hallways, is a common thing. New scratches and scuffs emerge each day. Moreover, dirt brought from outside can be a great nuisance to clean every time someone comes in. To prevent this from happening and keep your floor in good condition for longer, buy a durable and stylish hallway runner rug and save yourself some trouble.
Design
Design is one of the most important things when it comes to choosing the ideal hallway runner rug. You want it to match the overall style of your house and make your hall presentable and welcoming.
If your style is contemporary and simple, an undecorated or monochromatic runner rug would be the right choice. But if you still want to add a visual element in a sophisticated way, geometric patterns can give you that clean, modern look.
Oriental design rugs have the most intricate look with geometric patterns, medallions in different shapes and sizes, or some floral motifs. There can be one, dominant pattern in the middle, or it can be repeated throughout. These rugs can be referred to as Persian, Turkish or Egyptian, depending on their origin. They can contain cultural symbols or be the product of modern creativity. Their colours are rich and strong, like green, red, brown, and yellow. Because of their elaborated design, oriental rugs would perfectly complement simple, plain hallways.
Abstract rugs are an excellent way to express your artistic side and individuality. They don't specifically have a pattern, but they can have more free shapes, lines, and splashes of colour. Neutral hues or bold ones, the choice is yours. Match them with the background for a harmonious look, or make the abstract rug to be the statement piece in your hallway. With today's technology, any design you have on your mind can be transferred onto a rug. This is your chance to turn your favourite abstract painting into a modern hallway runner.
Materials
Various materials are used to make rugs. It's a difficult task to pick the right type of rug which will suit your home décor. It depends on your needs and preferences. Here are some of the fabrics available and their pros and cons, so you can decide on the best solution for your hallway runner rug.
Natural Fibre Rugs
These rugs are made from natural fibres, produced by plants and animals, which makes them sustainable. Their colours usually vary from light to dark brown and they give that earthy and warm tone to your house, but some of them can be dyed.
Jute Rugs
Jute is the most affordable material. It's easy to clean from dirt, although it absorbs moisture. Compared to sisal and seagrass, it's less durable. For a softer touch, it's blended with wool. Its pattern helps cover some small stains and dirt, so it's easily maintained without worrying about every little spill. It wouldn't be the best choice if you have cats because they can scratch it, and it fades if exposed to sunlight.
Cotton Rugs
Cotton is probably our favourite material for clothing. We know how soft and absorbent it can be. This applies to cotton rugs as well. Make sure to clean them quickly if you spill something on them because of their highly-absorbent nature which makes them harder to dry. They are very durable and comfortable, and their designs are unlimited.
Hemp Rugs
Hemp fibres come from the fast-growing hemp plant. They're durable, hard, and strong, and the rug can be a bit coarse at the beginning but it softens with time. Hemp rugs can have distinct complicated patterns and they can come in different shades of brown. They can be dyed and might start shedding after some time.
Wool Rugs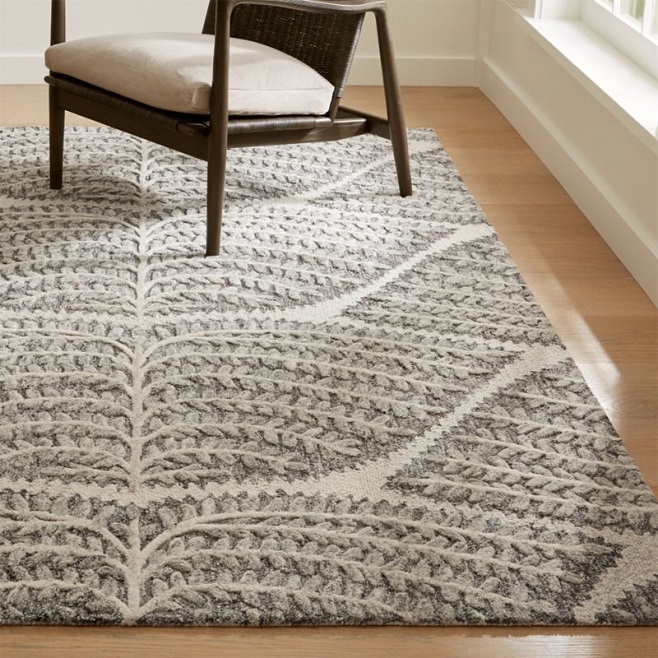 Woollen rugs are typically made from sheep fleece. This fibre doesn't allow dirt to settle which makes them easy to clean with a vacuum cleaner. These rugs come in infinite designs and colours because wool is easy to dye. They are best for dry areas, and are highly resilient which means that they always go back to their original shape.
Sisal Rugs
Sisal fibres are the strongest ones, and this makes the rugs very durable and not easily torn. But they are easily stained, so you might want to be careful with spills. After some time, they can become slippery. These rugs are a good choice if you own any pets because they are able to withstand scratches.
Seagrass Rugs
The rugs made from seagrass aren't affected by water, they're not absorbent and are mould and stain-resistant. They're not as soft as jute but are softer than sisal. They are extremely durable but wouldn't be the greatest choice if you are going for colour because they can't be dyed. If exposed to direct sunlight, they won't fade.
Synthetic Fibre Rugs
These fibres are manmade. They are more affordable and can come in any design that you can think of.
Polyester Rugs
This synthetic fibre is the most used one and the least expensive. It's lightweight, good for moist areas, and easily washable. They can be designed to look like other natural-fibre rugs, such as wool and sisal.
Nylon Rugs
This is the most durable out of the synthetic fibres. A hallway runner rug made of nylon is soft and easy to maintain because it doesn't let stains soak in. After some time, the rug can start to flatten, but it's nothing to worry about because steam cleaning will help get it back to its original form.