Nothing Beats a Good Roadtrip
Well, it's been a strange year alright. From the way it started all the way up until now, it had all the ups and downs associated with a typical annum, just dialled up to 11. Now that Christmas is right around the corner, we can take a breather and a much-deserved break. Unlike the rest of the world, Christmas falls in summer here Down Under, so you might as well take the time to clear your head by going on a cross country caravan road trip. Just pack your loved ones, fix up the old caravan with some new equipment and hit the road for a few weeks of rest and relaxation before the new set of challenges thrown to you by 2021. What new equipment you may ask?
Bike Racks
It's safe to say that wherever you'll end up exploring, you're not going to be driving everywhere. There are lots of beautiful small towns, national parks and stretches of coastal road in our great country, so packing a couple of bikes would be prudent, and you can't bring your bikes without caravan bike racks.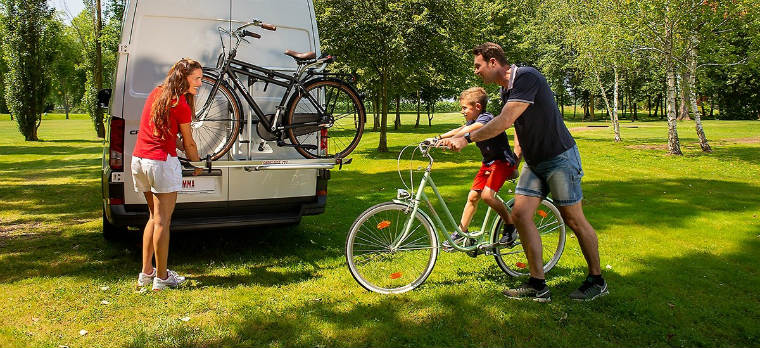 Camper bike racks are a simple invention, they're just a metal fixture that can be attached to all matter of motor vehicles and motorhomes that can hold the load of several hundred kilograms of weight. The fixture is usually made of aluminium (strong and lightweight metal), and contains several holes through which cables get attached that secure your bike. This makes the main feature of quality caravan bike racks simplicity. Very few moving parts, they don't cost much and yet make sure your bike is safe and secure through all those kilometres of road. Depending on the size of your vehicle and the amount of bikes you are planning to bring with you, you are going to need to pick the right type of caravan bike rack.
The smaller ones are more multi-purposed. They are compatible with L track fittings and have the lash capacity of 340kg, with a breaking point of 680kg. The aluminium alloy tracks that are about 610mmx28mm in size, include 4 adjustable anchor points (2 per track) and can be mounted easily with a couple of 10x35mm bolts.
The mounting tie-down cables are made of a strong polyester webbing that can be adjusted from 1.2 to 4.5m in length and can lash up to 270 kg, with a breaking point of 240kg. They have coated S-hooks at both ends and when combined with the motorhome bike rack, are great for securing bikes, motorcycles, jet skis and heavy cargo.
The larger XL version is a more bike oriented and are of a different design. For starters, they can be fitted on all A-frame caravans without the need for drilling or extra assembly. They carry up to 3 bikes, have a load capacity of 55kg. The design is slicker though, due to its compact-ability and the lack of tie-down cables. This type of bike rack is collapsable and can fit inside your caravan's compartment when the elements aren't in your favour and can be taken out with very little haste.
Kitchenware
With the bikes all tied down, now you have all your necessary modes of transport with you. Now you need food. Not for them, but for yourself. You can't eat take out through all of your trip and as a matter of fact, you really shouldn't. Not only is it not the healthiest option, but you can save so much money by fixing up your caravan kitchen with some new pieces of kitchenware. A mini-fridge here and a couple of cabinets there and you'll have movable luxury dining on the road.
First on your shopping list is a good mini or not-so-mini fridge. You will need this appliance, especially in summer if you don't want your caravan to smell like rotten food. Camper fridges use less power and are designed with camper sizes in mind to ensure that they fit nicely.
A few pots and pans and plates and bowls are also not a bad thing to invest in. Find the compact smart space models of these items to ensure not only that you use up your cabin space wisely, but that they won't clink and clank all the way through your road trip.
And 800 W microwave oven and you're all set for your movable gourmet kitchen. Modern microwaves being what they are, their cooking options have vastly expanded, meaning you can use it for most if not all of your on-road food preparation.
Portable Solar Power
With all these fancy appliances running, you're going to need some way of powering all of them. Gas generators are an option, but the clean energy alternative is always better. The combo of solar panels and a deep cycle battery is not only the most eco version, but also the most multipurpose no-noise, no-smell, no clutter version. Solar panels, especially during the summer, produce huge amounts of energy that can either be used instantly to power your motorhome, or stored in deep cycle batteries and used during the course of the night or potential cloudy days. Such power abundances allow you to have extra luxury electrical items such as laptops, TVs, lighting and ventilation without the need to find RV parks or siphon someone else's power.
Sun Screen and Camping Gear
With all of these things in place, now you can relax and go wherever you want to go without sacrificing any form of comfort. Now you can finally start to have fun by caravan camping at will.
For these, you might need some basic gear such as: water containers, waste water tank, fire-starting equipment, a flashlight, a trash container and some other camping essentials. Hack, pack a baroque, not everything you eat needs to be barbecued. Have some fun while you're out under the stars.
As for the daytime star, aka the Sun, a good caravan sunscreen is not a bad investment. It can provide you with a cool shade during the days when you're not driving and can also function as a privacy screen in case of a mass camping site. And with that last piece of equipment, you're ready to get things rolling.