Most men usually don't pay much attention to skincare. They think that washing the face with a little water in the morning or when showering will do. Some might have tried soaps or other all-purpose products, but let's face it, skincare is important for everyone. Not only does it keep your skin healthy, but also it makes you feel good. We all know that feeling of freshness after our skincare routine. It's enough to boost our mood after poor sleep or a rough day.
Deciding what you need to start your skincare routine can be confusing. There are a lot of products, and the key is in picking out the right ingredients. It's possible to care for your skin and keep it simple. You don't need to use 10 different products every day.
Skin Types
What ingredients your skin needs, depends on your skin type. There are typically five types but the boundaries between them aren't so clear-cut. You may be somewhere in-between. If you aren't sure, there are different tests that you can find online to determine your skin type or go see a professional.
Normal – It's not oily nor dry, there's no excess oil and breaking out, and no large visible pores;
Dry – Flaky, tight, rough, and less hydrated skin with more wrinkles;
Oily – More oil in the T-zone, breakouts, and acne;
Combination – Oily on the forehead and nose, dry on the cheeks and chin;
Sensitive – Gets irritated by many products or weather conditions, it's red, itchy, and dry.
Men Skincare Must-Haves
No matter what type of skin you have, there are some essential men skincare products that are easy to implement into your everyday routine.
Cleanser
Using a facial cleanser is the basis for building a skincare routine. It cleans the skin from extra oil, dirt, sweat, dead cells, and the products that were previously applied. Without washing your face, all of those things would just build up, and no other products will be able to penetrate into the skin. There are many men skincare products to help you clean your skin perfectly.
Ideally, you need to cleanse your face twice a day, in the morning and in the evening. Cleaning helps hydration which is important for maintaining the elasticity of the skin. In this way, the skin is protected from early ageing and wrinkles. But there's also excessive cleaning with strong products that are too harsh for your skin type and do damage by causing dryness and breakouts. This is why learning more about your skin is important.
Dry and sensitive skin will benefit from creamy or oil-based lotions because they are gentle and hydrating, without drying out your skin even more. Oily skin prefers foams, gels, and granular cleansers.
Toner
After cleaning your face comes applying toner. This is a valuable step for those with oily and acne-prone skin. Toners help balance the skin's PH which can be disrupted after cleansing, close the pores to stop dirt entering your skin, and remove oils. They are usually applied using a pad or cotton ball, and leave your skin feeling fresh and without large pores or shine.
You should look for natural ingredients like aloe vera, lavender, arnica, witch hazel, and green tea that are all known for their soothing effect and antioxidant properties. Avoid toners that contain alcohol, fragrances, and even benzoyl peroxide or salicylic acid which are found in products for fighting acne but are irritating for many people. You can go for a super green skincare routine to ensure that everything you put on your face is safe and gentle.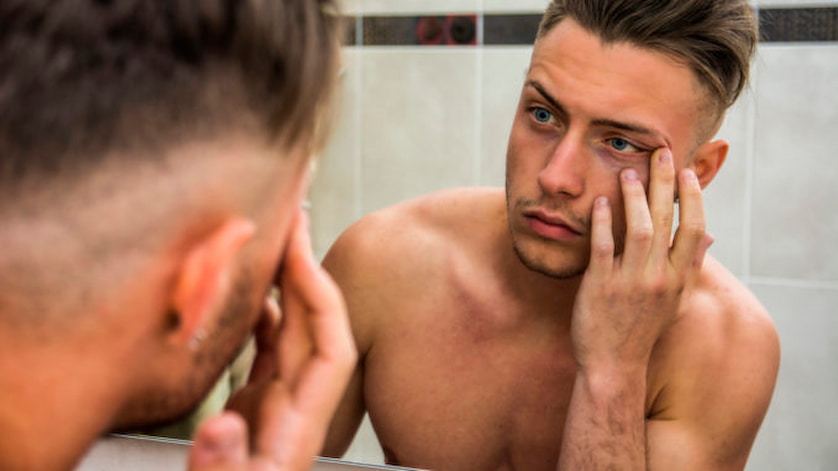 Moisturiser
Moisturisers play a major part in men's skincare routine. Many skip it because of that heavy feeling that creams can leave on your face. But there are light formulas in the form of gels or lotions that really do wonders for your skin. They keep it hydrated and retain water in the cells, which means the skin will look young and wrinkle-free for a long time.
Those with oily skin tend to dry out their skin and don't use a moisturiser. Although you might think that drying the skin will prevent it to become oily, it's actually the opposite. The glands produce more oil to balance out the skin, creating shine and leading to acne. A little bit of moisturiser will help the skin maintain moisture and reduce skin problems and blemishes. It's vital, especially after hot showers that leave the skin dry, so you may want to lower the temperature of the water for your next shower.
SPF
We all know that the sun is bad for our skin but we leave sunscreens only for a day at the beach. Wearing sunscreen every day protects us from UV rays that cause skin ageing and cancer. Other products may contain SPF but in small amounts that aren't enough for protection. Sunscreens offer full protection and can have other ingredients to boost your skin's healthy complexion. They help maintain an even skin tone by preventing dark spots and discolouration from the sun.
Night Cream
Using the same moisturiser for day and night is okay but giving your skin more of what it needs during the night will really make a difference. It's when we're sleeping that the skin produces more collagen and regenerates itself. The men skincare products for the evening routine should contain peptides, hyaluronic acids, retinol, and vitamin E. Peptides are needed for the production of collagen and elastin that reduce wrinkles, keep the skin elastic, and improve the skin barrier which fights bacteria and toxins. Of course, you should always make sure that the ingredients agree with your skin type.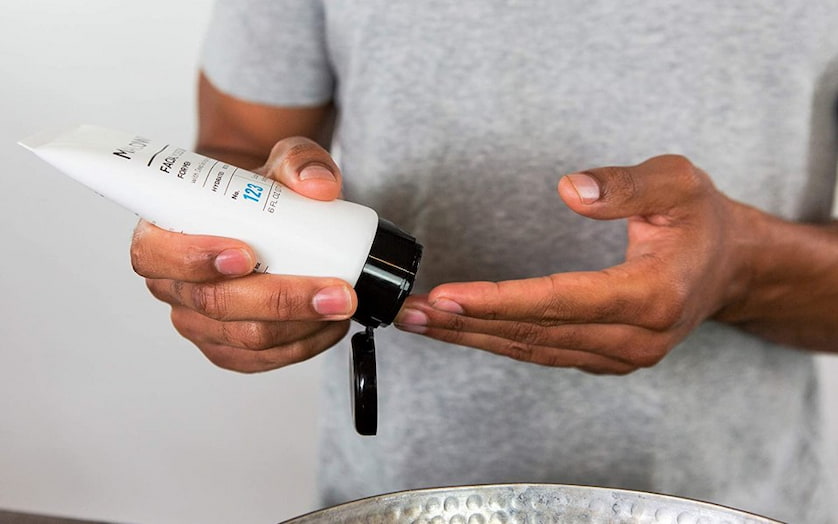 Additional TLC for Your Skin
If you want to take your men's skincare regimen to the next level, there are a few other products worth trying.
Exfoliator – Because men exfoliate when they shave, using an exfoliator may be too much for the skin. Depending on your skin type, you can exfoliate before you shave or once or twice a week to get rid of dead cells.
Eye Cream – The skin around the eye is thinner and dries more quickly. If you're fighting dark circles or puffy eyes, eye cream is a useful addition to your routine.
Mask – There are different masks to try if you need to solve additional problems like skin prone to excess oil, clogged pores, or breakouts. They'll give you extra support by deep-cleaning your pores, brightening dark spots, and absorbing oil.
Serum – They have a higher concentration of ingredients and are absorbed by the skin more quickly. This means that you'll have visible results for a shorter time.
What More Can You Do for Your Skin?
Shave Right
Shaving irritates the skin especially if low-quality razors and shaving creams are used. Your skin needs soothing after the trauma it experiences from shaving, so products without the proper ingredients aren't working well for your skin.
Eat Right
We know that maintaining a healthy diet when we're busy is almost impossible to do, but eating fruit, veggies, nuts, and drinking enough water supplies our body with antioxidants, vitamin C, and other important nutrients for youthful-looking skin.
Exercise
Sweat opens our pores and cleans them, increased blood flow carries nutrients to the cells, and exercising helps us de-stress. All of this is super important for glowing and clear skin. Just wash your face and body after working out because you wouldn't want clogged pores from leaving on the sweat, dirt, and bacteria.