Staying cool in the sweltering Australian summer is tough, especially on the road! Sure, you can turn on the air conditioner, but that means relying on a noisy generator to keep it powered through the hot hours. Moreover, not all caravans have an air conditioner – in fact, small ones usually don't which further complicates things.
Good news? There is hope as long as you have access to a 12V power source. Numerous portable caravan fans are available these days and they offer efficient, economical cooling wherever and however you set up camp.
What to Look for in 12v Caravan Fans?
If you're on the lookout for the perfect cooling solution for your next summer camping trip, a flexible and portable low-voltage 12v caravan fan will keep the air moving inside your camper vans and make all the difference between a sweaty night and a cool, great night's sleep!
However, many people struggle with finding the right caravan fan for their motorhome because they're not sure what to look for! For that reason, the following guide takes into account all the important factors one needs to consider when purchasing a caravan fan as well as some of the best fans on the market today and why.
Power consumption
Knowing the power consumption or how much current a 12v fan or cooling device draws is crucial when choosing one for your caravan while camping. Normally, this will be specified in amps and listed in the product specs. The smaller the current draw, the better for unrestricted camping.
A battery with a 100 amp-hour capacity can theoretically run a fan for 100 hours at 1 amp or 1 amp per hour. That fan will consume 10 amp hours, or 10% of a 100 amp hour battery if it's left running overnight for 10 hours. That might not seem like a lot, but when you take into account the power requirements of all your other 12V devices, the total soon mounts up.
Types
When picking the ideal type of 12v caravan fan the main question to ask yourself is whether you want to purchase a portable fan or permanently attach a fan to your RV. Moreover, consider where you plan to use the fan. Are you merely looking for it to keep you cool as you sleep or do you spend a lot of time in a small space where you have to keep everyone comfortable during the day? The following types might be exactly what you've been looking for:
Mountable caravan fans give you the freedom to mount wherever you need them. Choose a 12v fan with cables if you need permanent mounting.
Portable fans, on the other hand, might be relocated anywhere you need to cool off because of their small size and portability!
Oscillating caravan fans rotate as they move to circulate air over the entire space.
A caravan fan with a light is proof that brands have nowadays gone the extra mile when it comes to comfort and style to provide you with the ultimate camping experience. You can get all the necessities for a warm summer night when opting for this type of fan!
Whatever type you decide on, keep energy efficiency and lightweight construction in mind!
Speed Fans
A variable speed fan may be costly but it's a worthwhile investment as it comes with several undeniable benefits. During the day, you can turn up the chilly air, and at night, you can lower it down. Their power draw ranges from 0.13 to 0.36 amps, depending on which of its three-speed levels you choose. This implies that you could run two-speed fans continuously at maximum power throughout the whole night and still not run out of power!
Best 12v Caravan Fans for Cool Summer
As a place to start, check out the following 12 v fans that are not only energy efficient but work and will make your free camping trip much more comfortable this summer.
IceOCube FanTastic Rechargeable Cooler
With conventional AC & DC charging choices, the FanTastic IceO Cube 12V Portable Evaporative Cooler has an integrated rechargeable battery. You can use the IceO Cube for up to 6.5 hours on a fully charged battery. You can also use the accompanying 12v converter or 240v mains adaptor to power it directly. You will undoubtedly stay cooler for a longer period thanks to your lightweight and powerful design.
Designed to cool compact spaces, this unit will fit neatly on your dining table directed at the back of your RV to cool things down before bed at night, or while enjoying a cheeky snooze during the day after a difficult morning at the beach.
Add cool or iced water for cold cooling! The cooler has a 1.2-litre water capacity that it uses to generate chilly air. You must monitor the levels using the gauge on the front of the device because it consumes 150ml every hour. Unclip each side of the cooler and lift it by the top handle to access the water tank, which is located at the bottom of the device. Fill it up, then put the unit back on and securely clip the side latches into place. To provide different amounts of airflow the cooler comes with two fan speeds, high and low.
Caframo Sirocco II
The Caframo Sirocco II is produced in Canada and has a stellar reputation among vanlifers. The Caframo Sirocco II is the most recent model in their series of luxurious campers. It has a more user-friendly switch control setup than its predecessor, which makes it much simpler to use.
Its lengthy motor life and extreme quietness make it one of the quietest caravan fans on the market and the perfect choice for campers who want to blend in. Moreover, it's one of the most energy-efficient fans worldwide ideal for use both during the day and at night thanks to its three-speed settings and LED light. What more to ask for!
The fan's swivel design, on the other hand, makes it easier for a 360-degree directional airflow and convenient storage. Given all these benefits the Sirocco II is one of the must-have camping essentials for those who are looking for a high-quality, energy-efficient, and quiet fan.
Transcool Portable Evaporative Cooler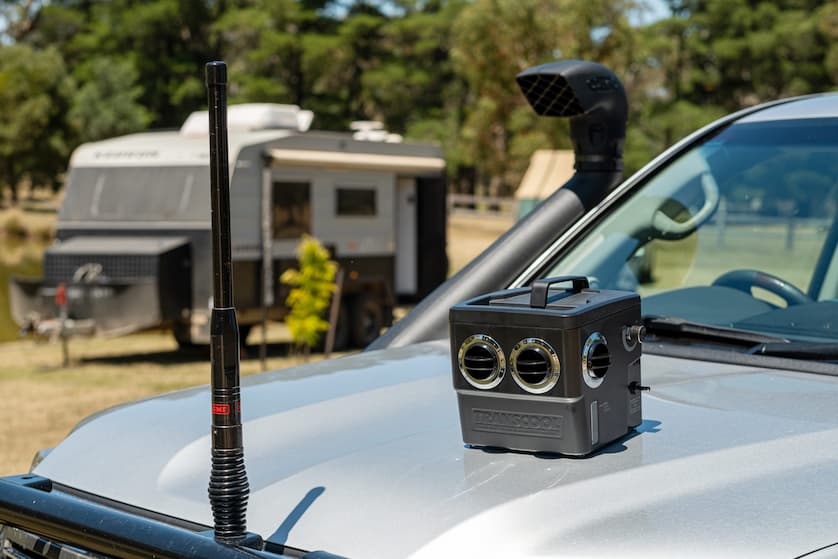 Evaporative coolers were the only means of effective cooling during the summer when there were no air conditioners! Science is an easy subject here: You put cold water in the cooler's tank, and the fan cools the water by blowing air across pads that have been saturated with water. Simple and highly efficient.
These evaporative coolers are making a major comeback in recent years because they use very little energy. The Transcool is a fantastic illustration of technology that has been scaled down for use as a 12V caravan fan. It's a little plastic box with four outlet vents and what appears to be a sizable computer cooler fan on one side.
It has a lengthy power wire with a 12V cigarette lighter connection at the end and a 240V – 12V converter. The appliance also comes with an external auxiliary water tank that is plumbed in at the side to allow for longer operating times.