Camping is one of life's simplest pleasures—good for your mind, body, and soul. But if you decide to grab the chance to escape the city, disconnect from the rat race and reconnect with nature, you need to be adequately prepared; for without the right gear, the great outdoors isn't so great.
Picture this, you're enjoying the sunset, blissfully unaware that you forgot to bring some sort of light. Moments later, after the sun goes down and the dark begins to engulf the trail, you notice that all those snaps and videos of the pink skies have drained your battery, and you can't use your phone's flashlight to illuminate your surroundings.
Suddenly, you're stuck in an unpleasant situation where every tiny critter sounds bigger, and the owl hooting is unusually spooky. If you had a torch, lantern or headlamp, your way back would've been much safer and more pleasant. To avoid this scenario and keep the adventure going after nightfall, you need to put the lighting at the top of your checklist.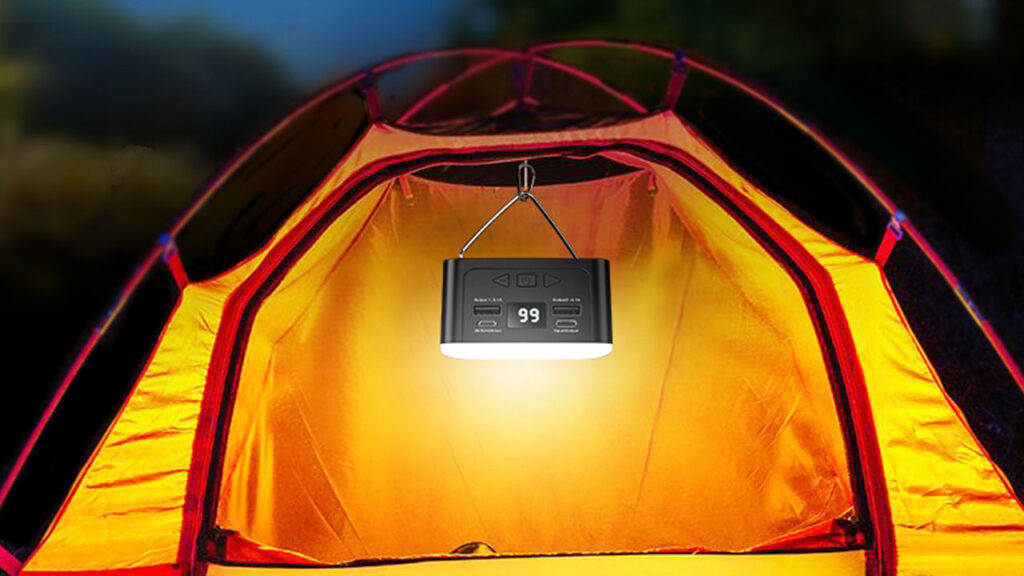 Which Light Is Best for Camping?
Since everyone enjoys different outdoor activities, it'd be hard to single out one type of light as best. For some, it's a hands-free headlamp, and for others, it's a handheld tactical torch. Certainly, the smartest way to go about it is to bring along several options. That way, if your main source of illumination malfunctions, you always have a backup you can rely on. With that being said, let's jump straight into some of the most widely used lights for camping.
USB LED Lighting
Affordable, practical and versatile, there are many reasons why USB LED lights deserve a top spot on the list. An innovative approach that eliminates the hassle of buying and replacing batteries, while providing a reliable and efficient way to light up the adventure.
If you like the idea of having a rechargeable device at hand, you should explore some of the camping USB LED lighting solutions available online and in stores. Although the first thing that comes to mind is probably a desktop reading lamp, USB LEDs come in many forms, shapes and sizes.
From convenient lanterns for tents to high-output systems for campsites, all the way down to pocket-friendly keyrings and handheld torches, there's something for every need and situation. Should you decide to buy USB LED light devices, here're some of the most popular picks of campers Australia-wide.
Klymit Everglow USB Light Tubes
If you're looking to shed weight from your pack, the Klymit Everglow Tubes are down for the challenge. Ranging from 55g to 113g, these inflatable lights are an ultralight solution, perfect for any camping adventure. Easy to use and multipurpose, you can use the Everglow tubes as directional and lantern-style lighting.
Zempire Megadome V2
The Megadome will set a lovely ambience in your tent or campsite with its warm, diffused output. Easy to use and hang from just about anywhere, it provides great functionality with the added benefit of long 45 hours run time. Another great thing about the V2 is that it doubles as a power bank for your phone.
OZtrail Comet USB Campsite Light
For large areas requiring ample illumination, look no further than the OZtrail Comet USB light. This easy-to-assemble system comes complete with mounts and a bag for convenient storage. Featuring a powerful LED light source with a reflector and an extra-long cord, it's suitable for lighting up a whole campsite or for activity-specific use.
LED Lenser K6R Rechargeable Keyring Torch
Small yet mighty, the K6R Keyring torch will tear a hole into the darkness with its impressive 400 lumens packed in a compact, intuitive design. Durable, lightweight, and handy—it's the ultimate backpack or keychain accessory.
Battery Powered Lights
Remember that bit about batteries being a hassle? Well, if you're going off the grid or don't have a 12V USB adapter in your car, battery-powered LED lights are the next best thing. And since LED isn't a power-hungry technology, these lights won't leave you in the dark so quickly.
Similar to the convenient USB LED lighting counterparts in terms of design and brightness, battery camp lights make a great backup source of illumination you can use anywhere and anytime. Going to the toilet at night? Staying up light reading? Looking for your keys in the back of the car? They can come in handy in various situations, so it's wise to keep one nearby at all times.
Solar Powered Lights
If you're all about being environmentally sustainable, you can use the power of the sun to light things up. Apart from being the eco-friendliest of the bunch, solar LEDs bring several other benefits to the table.
First, they offer unrivalled flexibility, allowing you to go off the grid with peace of mind. They're ultralightweight and portable so you can take them or hang them virtually anywhere. The iffy weather got you worried? Some of these lights can generate power even on cloudy days, so you won't have to worry even if the weather turns.
It's also worth mentioning that they're completely silent and don't generate heat or pollutants which makes them one of the safest options around, something you should keep in mind if you're travelling with little children.
Closing Thoughts
If you take the time to plan the lighting for your next camping trip, you'll save yourself from various undesirable situations. Sometimes it can be a minor inconvenience like being unable to enjoy a book before going to bed, but other times it can be a life-or-death matter. Don't risk finding yourself in pitch-black darkness during emergency, rescue, or vehicle recovery, make the lights a top priority.
With that being said, you can now explore some of the outdoor LEDs Australia has to offer and prepare to shine a bright light on your next trip. And while you're at it, don't forget to double down, two is always better than one.