Gone are the days of boring ties and generic gadgets that gather dust on the shelf. Instead, when selecting the perfect gift for a man in your life, go with a practical approach. Whether it's for your father, husband, brother, or friend, you need to strike a balance between a gift that tugs at the heartstrings and one that's useful. So, let's explore some practical gift ideas for men that go beyond the ordinary.
Premium Men's Leather Belt
While it might seem to you like a simple choice, a premium mens belt for sale is a fantastic gift for any guy. This practical, stylish, and versatile accessory has a timeless appeal that never goes out of fashion. You can opt for a classic, sleek design that pairs perfectly with dress pants and a crisp shirt. They're built tough to withstand everyday wear and tear. The first-grade leather in these men's belts not only looks fantastic but also stands up to the test of time, unlike the flimsy, unreliable faux leather that gives out when you least expect it. 
Whether the giftee is into classic, timeless fashion or something a bit more adventurous, you'll easily find a mens belt for sale that fits their needs and preferences. From sleek, minimalist belts that go well with a suit to distressed options that add a touch of edge to a jeans-and-tee combo, there's a design out there for every taste. 
How Do I Choose the Right Belt Size?
Selecting the right size as a gift is a bit tricky, but don't worry. If you have the chance, sneak a peek at the recipient's current belts. Men's leather belts typically have their size imprinted somewhere on the inside, near the buckle. That's a goldmine of information right there. If that's not an option, you can always check their pants size. Belt sizes often correlate with pant sizes, so it's a handy reference point.
If you can't find any sizing info and you're in a bit of a bind, go for a model that's a couple of inches larger than their pant size. This gives some room for adjustments and ensures it won't be too tight. If all else fails, consider one with an adjustable buckle. These usually come in a range of sizes, so it's more likely that you'll get a good fit.
Multi-Tool
For the guy that would appreciate having a toolbox in the palm of his hand, I recommend that you buy a durable multi tool. They're usually built from stainless steel, so they can handle some rough handling without giving up. They're also compact, sleek, and packed with many handy tools that can come to the rescue in all sorts of situations. Whether it's opening a bottle, tightening a screw, or even cutting through something, these gadgets are game changers.
A high-quality multi tool isn't just for outdoor enthusiasts or handymen. It's for anyone who likes to prepare themselves for life's little challenges. The giftee could be on a camping trip, fixing something around the house, or just out and about, and these tools will have their back. Most designs have tools that fold out easily, so they won't struggle to get to the one they need.
Every time your guy reaches for it, he'll remember the thoughtful gift you gave him. It's a symbol of your care and consideration, and that makes it even more special. Imagine he's out with friends and someone needs a quick fix. He whips out his multi-tool, and there's this sense of satisfaction, not just in being able to help, but also in knowing that you were the one who made it possible.
The popular multi-tools from brands like Leatherman, Victorinox, or Gerber, to name a few, aren't just tools; they're companions for life's adventures. They lend a hand when you need one, and they're built to last through the years.
So, if you're on the hunt for a gift that combines practicality, versatility, and a touch of sentiment, consider a multi-tool from a reputable brand. Whether the gift recipient is an outdoor enthusiast, a DIY handyman, or simply someone who appreciates a versatile gadget, these tools are worth checking out. It's a reliable sidekick for the man in your life, always ready to tackle whatever challenges come his way.
Backpack or Messenger Bag
Whether they go on daily commutes, travel adventures, or simply go about town, any man appreciates a good backpack. It keeps their hands free, distributes weight evenly, and can carry a surprising amount of stuff. Plus, there's something inherently cool about slinging a backpack over your shoulder, isn't there?
On the other hand, the messenger bag is a fantastic choice if you're looking for a more urban and professional vibe. It's sleek, it's stylish, and it exudes that "I mean business" attitude. Messenger bags are perfect for carrying laptops, documents, and essentials, making them ideal for work or meetings. You can go for a classic leather look that oozes sophistication or a rugged canvas for a more casual feel. There are minimalist designs and bags with a multitude of pockets for the ultra-organised folks.
Travel Mug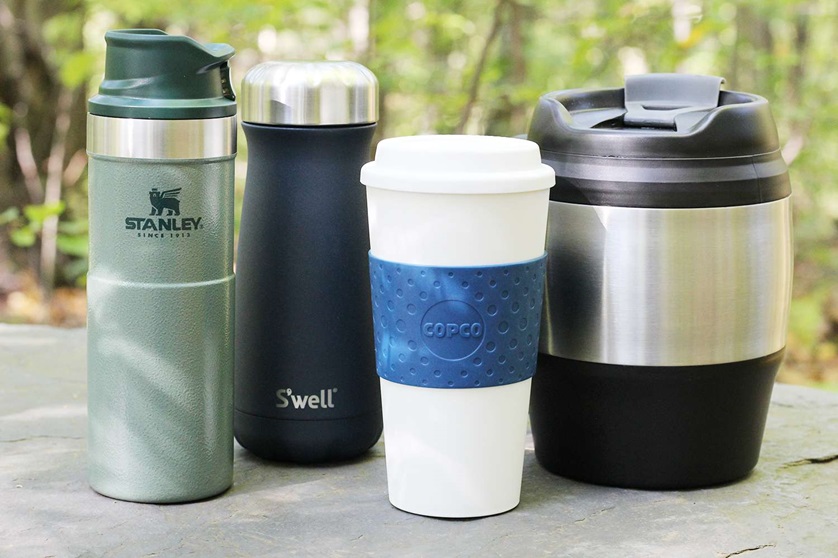 Whether your gift recipient is into coffee, tea, or a morning smoothie, a travel mug keeps his favourite beverage hot (or cold) and ready to enjoy for hours. If he's rushing to work or navigating a crowded subway, a travel mug is spill-resistant, so he won't end up wearing his coffee on his shirt. Plus, the lid keeps his drink secure while he's on the move.
Travel mugs come in a dazzling array of styles and sizes. There are sleek stainless-steel ones for a modern look, or eco-friendly options made from sustainable materials. You can even find mugs with clever features like leak-proof lids, built-in tea infusers, and custom designs.