While the bathroom might seem the least of your decorating problems, it's an intimate room and one that you will use regularly. Moreover, unlike the bedroom which you can keep hidden behind closed doors, your quests are almost sure to use this room every time they pay you a visit. Therefore, you need to make sure your bathroom is clean 24/7 and well-stocked with useful and beautiful bath products. Here are a few simple tweaks to help you create an efficient yet attractive bathroom setting.
Spend on Splendour
One of the advantages of a tiny room such as the bathroom is that it needs fewer furniture elements. Since you need so little of them, you can get away with higher priced items. For instance, a marble sink will withstand the years of washing soap and toothpaste down it, is less prone to breaking unlike ceramic ones, and will always retain its clean, luxurious look.
Concerning the bathtub or shower, the material choice is endless ranging from porcelain to acrylic, glass, copper and even stone or wood which all have a special kind of beauty. Whichever material you choose, make sure the tub is double-walled to help retain heat. If you picked a coloured material for all the large bathroom pieces, the colour and style of the rest of the bath products should complement it for a more harmonious ambience.
Show off Your Vanity
The colour choice for your vanity should differ from the one on the walls, otherwise it can visually sink in. The popular white and beige vanities work beautifully together with coloured walls, while a bathroom that has a white backdrop can be made more interesting with the classic charm of a wooden vanity. Consider mirrored cabinets which can be a space saver and eliminate the need to add a mirror.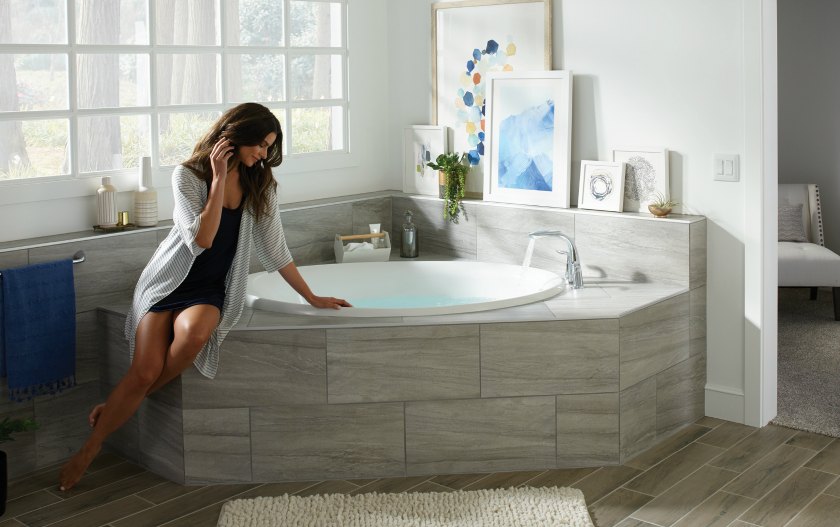 Impress with a Great Shower Curtain
This is one utilitarian bathroom product since it keeps the floor dry when you're using the shower or bathtub. Moreover, it can quickly conceal any mess you might have left in the tub. But have you considered how a shower curtain is also the best way to give the space its personal character – when everything else is neutral and safe, the fresh colours and interesting patterns on the curtain can make a quite a big statement. The shower curtain can also be the base for establishing a colour theme which you can follow through with some smaller bath products such as a toilet brush, floor mat or towel racks.
A Charming Set of White Towels
White is a timeless colour for bath towels, for it gives a sense of cleanliness and freshness. Moreover, white towels never fade and remind you when they need replacement which we sometimes tend to forget or intentionally skip with the coloured options. If you think that having a monochromatic set of towels will result in mix-ups, try to engraving your names in a charming font on them or label your towel rack.