If you were to ask people which vehicles are able to take you everywhere without any issues they are going to tell you it's pickup trucks. Trucks, in general, are made with a lot more power than your usual sedans, since they are a lot heavier. But that heaviness is what gives them the ability to get you to your destination through almost any terrain. Pickup trucks are suitable for both on-road and off-road conditions, especially when you turn on their 4×4 capabilities. All trucks come with a version of 4×4, and while some have it as an option, others come equipped with it from the get-go.
Trucks are also spacious, meaning you can bring more friends and more equipment with you. Trucks are safer than most vehicles as well since you sit higher up. This keeps you safe from the impact when you hit a tree or any other obstacle. While trucks excel in some aspects, in others they can lack a bit of form. This is why side steps or running boards, as they call them, are one of many must-have 4×4 accessories every truck owner should consider.
Benefits of Installing Side Steps on Your Truck
Protection
Although not everyone sees it from the start, 4×4 side steps provide excellent protection for your truck. They sit or hang lower than the floor of your truck, so they are able to keep the undercarriage protected from flying stones and debris. Step running boards for trucks can also keep the undercarriage from getting scratched and dirtied. A scratched undercarriage can easily form rust, as the exposed areas are not protected from the elements. This can lead to corrosion and far greater issues which will require you to spend a lot of time and money to fix.
Entering/Exiting
The primary use of vehicle running boards is to make it easy to hop in and out of your truck. You might be short, or you might want to take your children or grandparents for a ride. No matter the case, it won't be a mission to get in and get out of your truck.
Cleanliness
Another benefit you'll see from 4×4 side steps is that they can help keep the floor of your truck clean. By stepping on a clean surface before entering your vehicle, you won't leave mud marks or make the floor of your truck wet every time you enter. You can just scrape your feet from the steps or board and enter your truck without worrying about getting things dirty.
How to Clean Aluminium Side Steps
1. Talking about keeping things clean, you also need to consider cleaning aluminium step running boards for trucks. The simplest way to do this is to use some water to rid them of loose dirt and dust.
2. After rinsing them, make sure to let them dry a bit and spray them with an aluminium cleaner. Make sure it's a non-acidic cleaner. Once you apply the cleaner, you need to use a wheel brush with soft bristles to clean the steps. Let the steps dry completely, and then use a microfiber cloth to clean them up.
How to Install Side Steps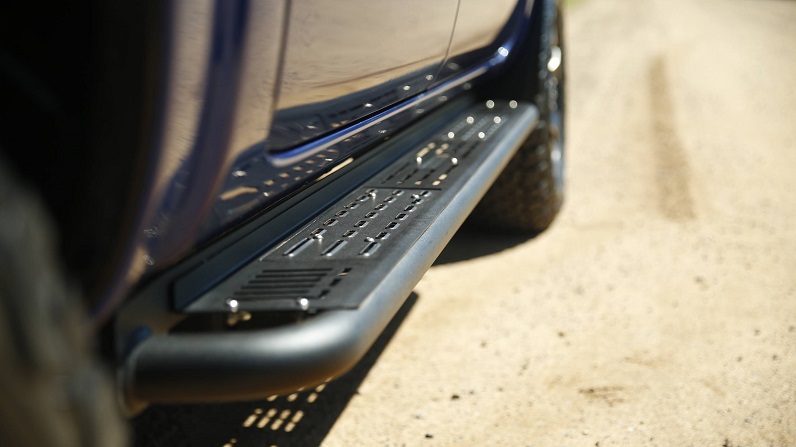 1. To install 4×4 side steps on your truck you'll need box end wrenches, a ratchet and socket set, safety gloves and glasses, and an optional tool called a creeper. Usually, the first step of installing side steps is to install the bolt plate into the factory holes of your truck. This plate allows the brackets to be fastened in a safe manner without drilling.
2. Then, you need to attach the front brackets together with its hardware. Make sure to leave the brackets finger-tight since they will require you to adjust them later on. Once that's done, just do the same exact thing for both the rear and centre brackets. Remember, the number of brackets needed for your side steps may vary.
3. When installing the side steps or vehicle running boards, you should have the threaded portion facing downwards when you have the board or steps on the brackets. When placing the board or steps on the bracket(s), make sure to align their bolts with the bracket slots. 
4. After that, you need to feed the bolts through the slots on the brackets. This needs to be done for every bracket. Then, attach the board or side steps together with the provided hardware. Again, make sure you leave them finger-tight so you can adjust things before you tighten up everything.
5. When you have the side steps/board positioned properly, tighten the bolts on the brackets and the side steps/board. Do this for the other side of your truck and you're done. Remember to check the hardware from time to time and re-tighten it if necessary so the board or side steps don't end up falling off.