Mountain biking is one of the most exciting sports you can take up, but it can be dangerous as well, especially if you don't take the right safety precautions. One of the most important things you should do is pick the right bike helmet to protect your head from injury. In addition to always wearing a helmet, there are some other items you should consider buying, including the riding apparel that best suits your needs.
If you've ever been looking for bike rear shock absorbers, you know that not all bikes are the same. A mountain bike looks different from a road bike, so if you want to enjoy time on your mountain bike, make sure you invest in the right clothing that fits what, how and where you ride.
Mountain bike shorts are baggy shorts that are designed with off-road cycling in mind. They look cool and perform well on the bike. Some look like shorts you might wear anywhere, but most importantly they keep you comfortable on long biked rides.
Are Mountain Bike Shorts Worth It?
Mountain bikers have a uniform like all outdoor sports do, and for most that are baggy shorts and a loose-fitting riding jersey. And when it comes to a uniform, it needs to be comfortable. That being said, you can choose from a wide range of mountain bike shorts and enjoy the benefits they offer in the aspect of performance. They are less restrictive, hardwearing and very practical.
While most are purely over-shorts, some come supplied with separate padded liner shorts. A liner is an inner short that's shorter in the leg and being underneath another layer, it's usually made from a lightweight and breathable mesh material. Made from high-tech fabrics, MTB shorts can help with heat management, water runoff, wicking, to improve the fit and guarantee complete comfort.
Tips on How to Choose the Perfect Pair for You
MTB shorts offer stretch for easy leg movement like their road counterparts, and a padded crotch liner to reduce wick moisture and friction. Most of them have sturdy fabrics and a lot of pockets. As your need for abrasion increases, the weight of the fabric and the length of the shorts should, too. Downhill riding shorts should be thicker and longer than shorts for other riding styles.
Padding
Integrated padding in mountain biking shorts can be thinner than in road shorts because the rider sits more upright and the riding position varies between seated and standing all the time. Most liners are removable, so you can choose separate bike underwear or padded liner shorts.
Padding in the seating area is the most important feature of MTB shorts. It makes the whole difference between a comfortable and painful ride. Padding in the crotch area is most often made of chamois or synthetic fabric.
For beginners, the most padding possible is highly recommendable. When you are just starting, your body is not used to the rigours of sitting on a hard seat for hours, so you need to ensure optimal comfort, so it's a good idea to opt for thicker padding.
Fabric
Keep in mind that bike shorts are designed to be worn without undergarments. The fabric keeps the sweat off your body and prevents bacteria from growing. That process is most effective when there is no extra material between you and the shorts. Look for shorts made of breathable materials to ensure enjoyable rides.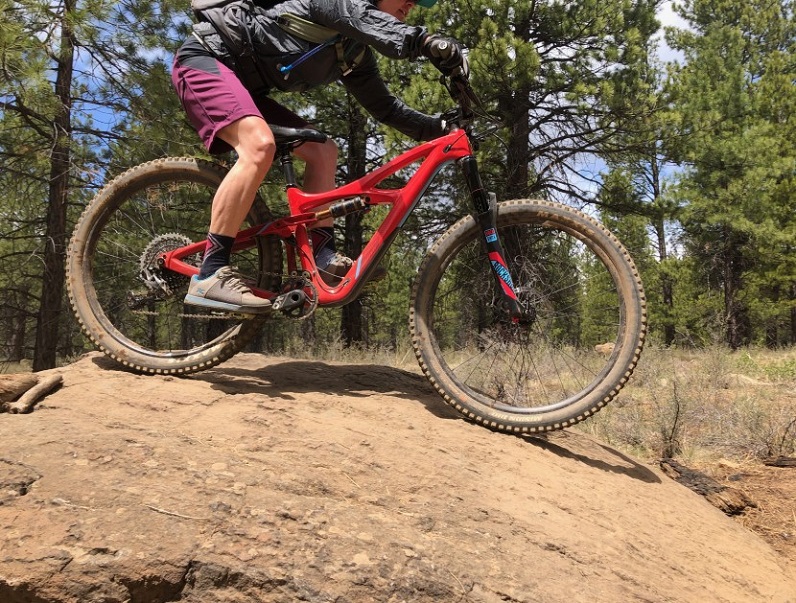 Tightness
Some bike shorts are skin-tight to provide a great aerodynamic outfit. Professional cyclists and racers prefer this style as it lends some extra speed. But for mountain bike rides, you may consider looser fitting shorts, also referred to as transition shorts sometimes.
Hip Pockets
These are not essential, but they are great for keeping your car keys or phone.
Cargo Pockets
They may seem like a good idea for carrying extra clobber, but cargo pockets put all your gear in the worst place for an accident and the content are more likely to bang against your thigh while pedalling.
Length
The longer the leg, the more protection it provides. Also, a longer leg is less liable to ride up when wearing kneepads.
Fit
Bike shorts should fit tight when you put them on for the first time, but not so tight that you are cutting off circulation. The most important thing is that your shorts are snug enough and remain in place when you ride your bike. As you move, they will stretch slightly, so keep that in mind and don't let it disturb your ride.
Elasticity
Standard bike shorts require elastic to hold them up and most manufacturers make the band wide enough, so it doesn't pinch you.
Adjustable Waist
Velcro tags on the waist allow you to tweak the fit of the short. The ones that are inside are neater, but the Velcro can scuff your skin. While the ones on the outside can catch on jerseys and passing foliage.
Fly
To prevent the waist from popping open accidentally, there should be a press-stud fixing. Extra studs and/or a small strip of Velcro offer additional security. If there are no waist adjusters, then belt loops are a good idea.
DWR Coating
This is a water repellent treatment that is applied to new fabric. After some time, it can lose its effectiveness and wear against the saddle and may need renewing.