When the weather warms up, one of the best ways to enjoy the great outdoors is to gather your friends and family and prepare a delicious meal over a hot grill. All through rotisseries, infrared burners, BTUs, and hundreds of additional features you've never heard of, determining which one is best for you is a never-ending hunt. So if you're seeking to buy your first one, how do you choose the ideal barbecue grill for your porch?
Consider the Number of Burners
The number of burners is a widely touted feature that buyers consider when purchasing a barbecue. While having more burners can be beneficial, the burner you choose will depend on your requirements. Do you want a portable grill for a smaller outdoor space or to go camping? Or perhaps you're looking for a model that you can cook for your whole group of friends for the next Aussie BBQ.
The most significant difference between 4-burner and, say, 6-burner grills is the amount of cooking area you are dealing with. A 5- or 6-burner barbecue will often provide greater space than a 4-burner grill. So the most important factor to consider is how many mouths you are going to feed on a regular basis.
A 4-burner barbecue would be enough if you only require a mid-sized grill to accommodate an average gathering.
However, if you plan on cooking steaks and burgers for a large group, a 6-burner grill will be more than adequate. So, if you have a large group of people coming over for a backyard barbecue, a 6-burner grill, or even a 5-burner grill, will have ample space for all the food you need.

Featuring LED control knobs, electric ignition, anti-flare technology, and much more, buying a 6 burner barbecue will not only allow you to cook delicacies for a large group of people but will also complement any outdoor kitchen of yours and create that perfect Alfresco dining setup.

Another difference between a 4 burner and a 6 burner is the amount of temperature control it offers. Temperature settings on gas grills allow you to set high temperatures for searing and moderate levels for indirect cooking, used to smoke, steam, rotisserie and even bake. If you have more burners you can create additional heat zones because you can separately control the temperatures of them. The number of burners might also have an impact on this. The greater the number of burners, the more dishes you can cook at the same time.

A 6-burner grill will provide you with the extra room you need. Since the temperature of each burner can be set individually, you would have greater freedom so that every meat or side dish would be cooked to perfection. As a result, having a 6 burner barbecue would make it much easier to prepare a four-course meal in no time.
What's the Best Fuel?
There are hundreds of grills available, and narrowing down your choices might be difficult. Identifying the best fuel for your fire is a good place to start. What type of grill is best for you? The answer is dependent on the type of cooking you do and the amount of convenience you want from your grill. Each variety has advantages and disadvantages, so understanding their major traits will set you well on your way to a barbeque match made in heaven.
Gas Grills: Natural vs Propane Gas
Gas grills are one of the most popular types of fuel. Gas grills, which are cart-styled, use either an attachable liquid propane tank or natural gas via a conversion kit that connects the grill to your home's natural gas supply line.

While they are more expensive to install, natural gas barbecues have cheaper long-term fuel expenditures. Food preparation on a natural gas grill is a two-step procedure. The natural gas is first burnt to heat the coal or porcelain briquettes. The heat is subsequently transmitted to the grill's cooking surface. A natural gas grill's utility goes beyond that of a standard grill; they even include capabilities that allow you to roast, braise, bake, and fry.

Liquid propane grills, on the other hand, are simple to use and require far less clean up than other types. Simply crank the knobs and click a button to get started. Propane is fantastic for impatient grillers who prefer thoroughly cooked food but don't care about the charcoal flavour that other grills offer. In addition, you can quickly convert your propane grill to use natural gas and have access to options such as side burners and infrared burners.

Charcoal Grills
Charcoal grills provide the classic smokiness that most people associate with grilled meat. Charcoal grills, on the other hand, have their eccentricities, so be prepared to put in some effort if you choose this type of grill. Charcoal grills use charcoal briquettes or lumps of charcoal for fuel, so the smokey taste comes from this.
When compared to a gas grill, you'll need to spend a bit more time igniting the briquettes and preheating the grill.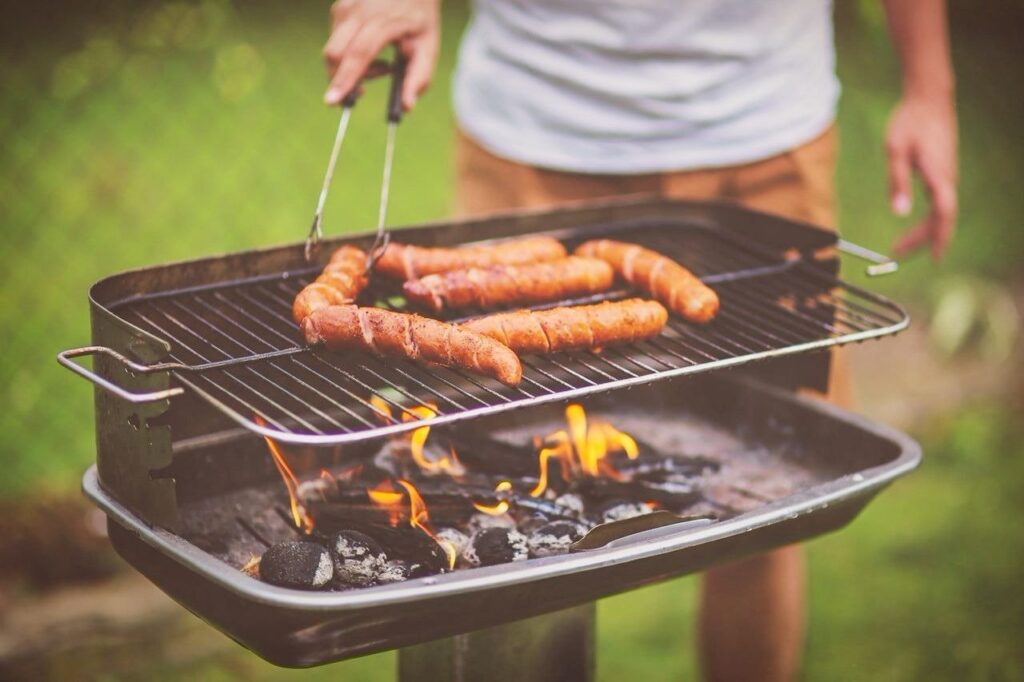 When you're through cooking, you'll also need to clean the grill and dispose of the charcoal ash. When it comes to cooking, charcoal grills may not be as easy to operate or adaptable as gas grills, but they offer a unique taste and are the cheapest alternative.
Pellet Grills
Pellet grills are becoming increasingly popular, despite the fact that many people haven't heard of them. These types of grills use small wood pellets in a variety of "flavours" such as hickory, mesquite, and oak to add fuel and flavour to the food. Pellet grills have grown in popularity since they are both energy-efficient and environmentally friendly. Natural wood smoke-flavoured pellets are simple to use, completely natural, and manufactured from 100 per cent of the wood specified. Some pellet grills come with a dual-fuel device that can switch to gas, which may achieve greater temperatures than pellets. These versions increasingly contain microprocessor-based circuit boards that control the whole functioning of the grill,