Airbags have been installed on every conceivable type of wheeled vehicle for over a century. And no, we're not talking about the kind that pops out of your steering wheel or dashboard in the event of an accident. We're talking about the air ride type as in pneumatic suspension to the purists.
We're talking about the kind of bags that help level out your jeep when you're towing a heavy trailer, and the kind that give your 4WD an extra bit of stability when you're rock crawling. Yes, even the kind you use under your daily driver when you're tossing it around the racetrack on weekends.
In each of these cases, the airbags themselves are the centres of all the suspension system's attention. But let's take a moment to see where even more practicality can be incorporated into some of the suspension system's other components as well.
Going beyond airbags
When it comes to the very delicate art of suspension tuning, it's easy to overlook just how many components make up a pneumatic system. Or how practically they can be employed. Airbag selections are massive, and drivers have a wealth of options to choose from. However, when those options are backed up with well-thought-out onboard air and airbag control kit selections drivers are guaranteed to pick up a load of advantages that would otherwise be left on the side of the road if they hadn't.
Although these kits serve different functions, it makes sense that they would share some common equipment. Air tanks and air compressors are mostly universal pieces of gear and little more than the capacities and cycles ever change between them. The various kits and components they work with, however, provide the uniqueness that allows drivers to look beyond just their airbags.
There's a world of difference between the airbags and pneumatic accessories installed on an off roader and ones installed on a supreme-handling sports car, so let's look at some of these systems and see where that uniqueness comes out.
Onboard air systems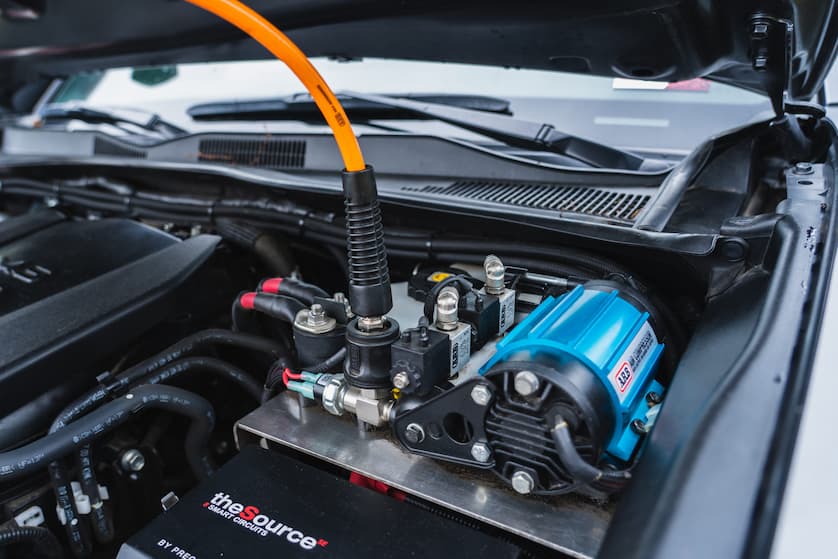 Onboard air systems are designed to provide drivers with an air source that'll maintain their suspension setup while ensuring there's sufficient air volume on hand to run a host of additional pneumatic accessories and systems.
Considering again that there's a wide range of air tank capacities and compressor duty cycles available to choose from, an onboard air compressor kit is the equivalent of having an auxiliary air compressor – but without the extra weight. High quality kits are going to have all the standard hardware that you'd expect to support a pure pneumatic spring setup to have, including:
· A 12V air compressor(s) with momentary switching;
· Suitable-sized and ported aluminium air tank; and,
· A 12V electric solenoid switch.
The onboard air system's customization, however, comes from the inclusion of all the air lines, valves, connectors, and fittings needed to round an as-needed air supply package with components like:
· Multi-port manifolds;
· 12V momentary actuating switches; and
· Dash-mounted, psi-rated needle gauges.
For 4WD and ute owners who regularly spend time off roading, it means not having to purchase a ton of extra equipment to have air for any of the other pneumatic gear they typically travel with, aside from the suspension itself. That's a readily-available air supply for:
· Setting up air locker differentials;
· Operating small portable air tools;
· Powering air horns;
· Powering pneumatic jacks and tire pumps; and,
· Inflating camping gear.
Airbag control systems
Even while the onboard air system is pumping out the added air volume to keep all the pneumatic accessories going, there's still a need to have hardware to manage the airbags themselves. This is where a high-quality airbag control system steps up to do its part in the pneumatic system.
These can also consist of the same air tank/air compressor/solenoid combination that's found on onboard air kits, but they'll include equipment that's meant exclusively to regulate the performance, and supply of air to the airbags. Along with all the necessary connectors and fittings, look for a two-airbag control kit to contain:
· 12V actuating valves;
· Either twin analog or digital, psi-rated display gauges (including gauge panel); and,
· Independent left and right switches for up and down functions.
Airbag kits can also come in wireless variations that, with inline four-channel remote controllers and handheld remote controls, allow a driver to control suspensions from either inside or outside the vehicle. For the ultimate in customization for either off roading or high performance, these systems are ideal for:
· Optimizing load assist and load levelling equipment when towing, or when heavily loaded;
· Performing rolling sport suspension adjustments to improve traction and downdraft; and,
· Raising or lowering vehicles to avoid body damage from on-road obstacles and low overhangs.
The final word
At the end of the day, it's important to realize that pneumatic suspensions aren't standalone systems. You don't have to simply purchase a set of airbags, set them up, and then forget about them. At least, that's not what you'd do if you want to get the most value out of the entire system.
The various types of onboard air and airbag control kit solutions, show how easy it is to combine multiple components to make the entire system perform better. After all, there's a reason that so many OEMs install them. And it's not strictly because of the ride.
If you're thinking about installing an air suspension setup in your vehicle, think about purchasing a scalable solution that's going to allow you to do more than just soften your ride. It's performance that's practical, and it doesn't get any better than that.