"Shoes are the quickest way for women to achieve instant metamorphosis" – Manolo Blahnik. If you've ever watched the Sex and the City TV series or were a fan of it, you've probably noticed how many times Carrie Bradshaw mentioned his footwear brand. She was literally obsessed with buying Manolo Blahnik and shoes in general and I don't think there is a woman out there who can not at least to some degree recognize herself in her character.
Every woman loves shopping, in particular, shopping for shoes. We can spend literally hours of our valuable time searching for the right model, size, and design that matches perfectly our unique style and personality. For many women, one of the most preferred shoe choices is dress sandals. But do you have any idea why they are actually called dress sandals?
They certainly don't have the shape of a dress, but instead, they got their name based on the purpose of the diverse dress occasions they can be worn at. They are an open type of shoes that can feature a flat sole or higher and ticker sole. Those with a ticker sole are often known by the name platform shoes.
Reasons to Love Dress Sandals
Dress Sandals Make Us More in Touch With Our Feminine Side
There is no better way to enhance our unique natural feminine side than by choosing the right outfit and pairing shoes. Although most times we got used to wearing casual, loose clothes that best fit with sneakers there are moments when we just want to slip into something that will make us feel sexy, confident, and ready to take on the world. For this purpose wearing high heel sandals can seem like the perfect choice.
They Allow Freedom in Style
Besides, they are totally versatile, and today's trends allow a variety of freedom so you can wear them on various occasions. For instance, nowadays, we've seen lots of kitten-heeled designs, which kind of got fashionable and stylish footwear choices for many women. They feature a short stiletto heel with a slightly tapered curve. They were first introduced for young adolescents in the late 1950s as formal fashion attire for young girls as higher heels have been considered inappropriate for their age.
With so many amazing designs available on the market today who can blame us for wanting and needing more of them. Plus we live in an age when we're constantly being bombarded with the newest fashion trends from famous Instagrammers and fashion bloggers rocking the coolest trendy pieces of clothing, including shoes.
Features to Consider Before Choosing the Right Pair of Drees Sandals
When it comes to picking a pair of dress sandals, it's very easy to get overwhelmed. Therefore it's good to follow some tips which mostly involve considering some important aspects such as shopping for the right occasion, finding the right fit and size that feels most comfortable to your feet, and of course considering your budget.
Consider the Type of Occasion
Whenever we pick a pair of sandals we usually know the type of purpose we are buying them for. If you choose to buy them as part of your formal workwear or just need a new catchy design for your friend's upcoming wedding, finding a matching design that suits well a certain type of occasion is of major importance. Some types of dress sandals are perfectly suitable to be worn during certain types of occasions such as weddings, or other types of ceremonies that require more fancy outfit choices.
Choose from the Variety of Designs
Thankfully there is a wide variety of designs that women can pick from, including pumps, strappy, open-toe, chunky heeled, etc. For instance, you can pick a nice pair of pumps and choose to match them with a good pair of ripped boyfriends jeans for a more urban look or decide to wear them with a nice elegant lady-like dress to show off your femininity.
Pay Attention to the Comfort Level
Many women can sacrifice their comfort for the sake of looking good and fashionable, but is this really worth it? Are wearing uncomfortable shoes for the sake of appearing trendy reasonable choice? I think there is no greater feeling of discomfort than wearing an unfitting shoe design. Therefore, it's wise to invest in your health and comfort and choose a design that isn't only visually appealing, but also comfortable to wear.
After all who want to attend a wedding or some type of ceremony, standing all day on your feet, or giving a presentation at work while you feel excruciating pain in your ankles or toes because of the bad shoe size that fits too snuggly or the cheap brand design.
Pick the Right Size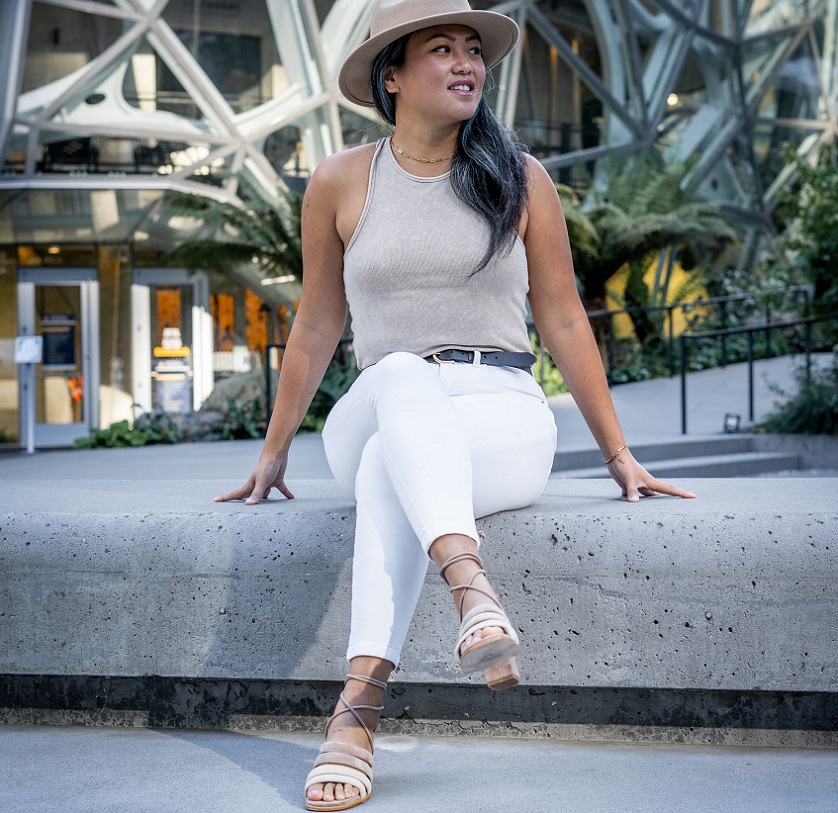 Speaking of sizes, different brands can manufacture designs that vary in size and can feature one size or half size up or below. Therefore buying sandals online maybe not be the perfect choice for some women, as sometimes the shoe size you ordered can turn out to be not the right fit for you. Therefore, it's good to look at some of the charts they offer on their online websites stores, properly measure your foot length, so you can avoid making any mistakes when it comes to picking the correct size.
Consider Your Budget
When shopping for women's dress sandals it all comes down to how much you are willing to spend, which usually involves considering your budget. This factor is mostly dependent on the type of material, or the brand name design you choose to buy from, which all play a major role in dictating the price.
There is a famous saying that goes something like this: "If you don't know what is good, then buy what is expensive". Even though many people may not agree with this saying, as this isn't always the case, usually higher prices indicate that the shoes were made from high-quality materials, were handcrafted, or had received great customer reviews by people who already bought them and were satisfied with their choice.