Reading is like diving into a whole new world – a truly marvellous experience that enriches your soul. Whether you're a fan of fiction novels, poetry books, or informative nonfiction, you've probably already realized that reading is an intensely personal activity, one that requires intimacy and some level of comfort. And that's precisely why you should be looking to create a cosy reading nook in your home.
Pick a Spot
When it comes to reserving a peaceful spot in your living room or bedroom for reading books, writing, drawing, and/or listening to music (yes, reading nooks aren't just for reading), many professional interior designers believe that corners, alcoves, and boxes can be easily transformed into comfortable and quiet places. If you're having a hard time finding such a spot, you might want to consider rearranging your furniture. This can open up more space for creating great potential nooks.
In case you can't seem to make up your mind about the location, I advise you to decide on the quietest spot. Radio and TV noises can easily disturb and even ruin your enjoyable getaway. Two of the most popular and smartest choices are your lounge room/bedroom corners and spaces near windows. Bathing in natural light while reading sounds wonderful, doesn't it? However, incorporating a quality LED reading lamp into your nook is a step that can take your reading experience to a different level. I'll talk more about this below.
Find the Right Furniture
The perfect furniture pieces for your reading nook are the ones that'll provide you with comfort and translate your personality into the space at the same time. Your nook should represent who you are as a person to be able to invite you to crack open a favorite read or work through a stack of magazines.
If your goal is to create a space where you'll not only read, but also take notes, work on your own writings, draw, paint, and/or make weekly plans, opting for a desk/chair combo is ideal for you. Sleek wooden desks in light brown and white are beautiful additions to modern and minimalist living rooms/bedrooms, whereas pedestal desks are more traditional. The chair you choose should complement the desk as well as the entire room's décor.
In case the sole purpose of your nook will be to serve as a place for reading, the seating you decide on will set the tone for the whole space. That's exactly why you need to give it some thought before you hit the furniture stores. An elegant and soft upholstered armchair, a big fluffy chair in whose layers of comfort you could sink, a woven bench, or a bunch of pillows on the floor – it's entirely up to you. You can even opt for a lounge chair (ideal for reading and taking naps afterwards) or a loveseat (this one's for those of you who love reading in the company of your significant others and/or your furry family members).
Don't forget to invest in a side table or a nightstand for your artificial lighting product(s) if you decide to exclude desks.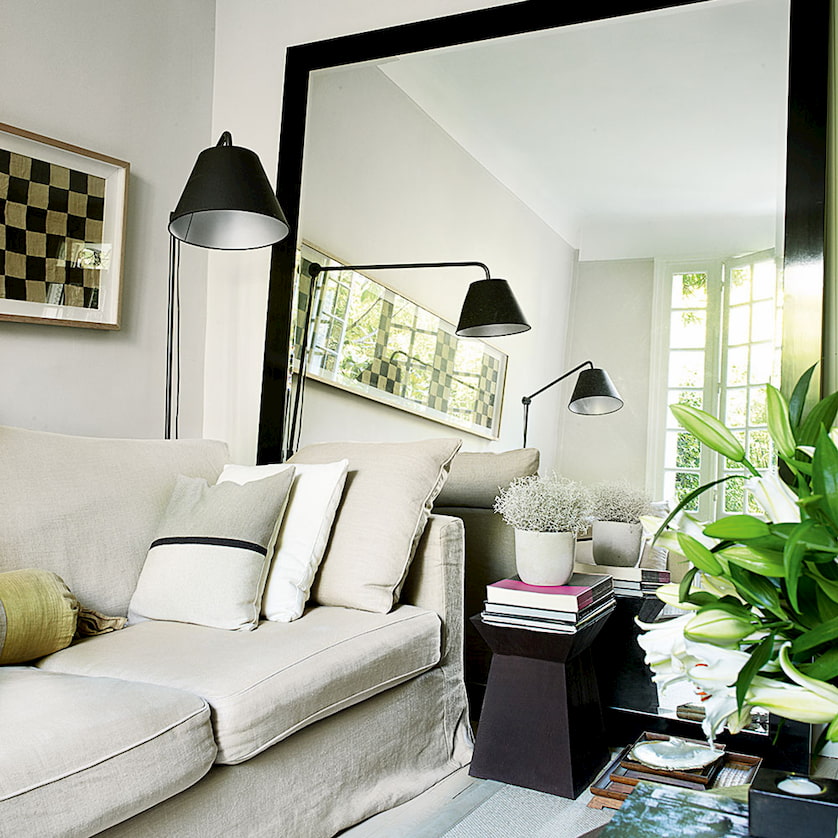 Light It Up
Unless you intend to retreat to this sanctuary of yours only during the daytime, adding artificial lighting to the equation is a must. According to numerous home décor experts, LED lights should be at the top of your to-consider list. A high-quality adjustable LED desk lamp can light up your reading nook and allow you to unwind with the help of a good book after a long day.
LED reading lamps or LED lights, in general, are powerful, energy-efficient, and long-lasting lighting products. They have ample energy and use up to 90% less power than incandescent light bulbs. This means that by choosing LED lighting, you'll have the chance to save money on your electricity bills.
Another strong reason to opt for LEDs is their longevity. Unlike incandescent bulbs, LEDs can last over 7 years of constant use before needing a replacement. This means that your maintenance and operating costs will reduce drastically. In addition to this, LEDs are sturdy and safe. Since LED lamps generate almost no warmth and are cool to touch, you can leave yours on for hours without fearing something bad will happen. They are also considered eco-friendly because they're recyclable.
Today, finding a LED desk lamp that can fit flawlessly into a reading nook isn't a difficult task. Black LED study lamps are the traditional option, whereas gold and grey minimal ones can add a touch of modern charm to your space.
If you're into ambient lighting, you'll be glad to learn that there are a lot of aesthetically appealing dimmable LED table lights. With the touch of a button, you can adjust their brightness and create the desired atmosphere and make sure you have the right amount of light for a comfortable read. Please keep in mind that an unnecessary flood of light can hurt your eyes and thus completely ruin your experience.
Aside from desk lamps, you can also consider purchasing a floor lamp or hanging a globe light above your reading nook. Overhead sconces can do the trick as well.
The Devil Is In the Details
More often than not, the little things can breathe new life into the whole. Reading nooks are no exception to this. A stunning set of throw pillows, a handwoven blanket you found on Etsy and fell in love with, a fluffy rug, and a cute, small table for your books and flowers – these are all amazing finishing touches. Just think about the things that bring you joy and find a way to implement them into your nook. When it comes to colors, patterns, and textures, use ones that make you feel safe and soothed.
Welcoming houseplants, family photos, wall art, and other treasures that make you smile is a delightful way to cheer up your nook. A pop of green can boost your mood instantly, whereas a gallery wall that includes your precious pieces gives your mind the opportunity to wander for a while after you put down a book.
For the ultimate reading experience, make sure you have healthy and yummy snacks nearby. Popcorn, seasonal fruits, and hummus with veggie sticks can become your best friends during your reading sessions. You can also light up a season-themed candle or two and take things to a whole new level of intimacy and relaxation. Oh, one more thing: don't introduce electronics to this haven of yours. Not even your phone. You can thank me later.
Optional
Some of you might find this unnecessary and even a bit extreme, but some of you might realize it's precisely what they need. I'm talking about secluding your nook from the rest of the room. This can be done by simply putting a dresser or a large, lush houseplant on one wall to give the impression of division. This is the least expensive and easiest option. Creating a canopy nook by hanging curtains around the space is ideal for those of you who don't live alone and want to keep others from invading your privacy. Fellow introverts, you know what I mean.