Dance costumes are such an important part of every dancing team. They help bring to life the choreographer's vision that dancers work so hard to show on stage. They also accentuate the dancer's body movements by making them look more flowing and elaborate. And having the proper costume is also crucial for the dancer's comfort and ability to easily move without being restricted.
But dancers know that transporting their costumes around with them for classes and rehearsals can be problematic. How many times have you had trouble finding all your valuable pieces of gear so you ended up late for your dance class? This is one of the reasons why having a good quality dancer suit garment bag is a must-have piece of equipment for every aspiring dancer.
For those of you who have never heard about it, garment bags for dancers' costumes are specially designed pieces of luggage that help neatly transport and store all your valuable costumes and dance accessories.
Features to Consider Before Purchasing a Garment Bag
Whether you are heading to your weekly dance classes or performing on stage, having the right garment bag can save you valuable time. However, buying a suit garment bag requires considering some important factors such as picking the right design, size, brand, or defining your particular purpose. So, let's have a look at each of these features separately so you can pick a dress bag that matches your unique style and needs.
Brand
When it comes to picking the right design, you'll need to think in terms of size, quality of materials, purpose, and brands. With so many different brands on the marketplace, it can be hard to decide which dress bag will suit your individual needs. The following brands are some of the most famous and popular on the market, including Bloch (Australia), Dream Duffel(USA), Horizon Dance(USA) Sassi ( Japan), Capezio (USA), Studio 7, and many more. Most of them operate all over the world and have their online website shops so you can buy your favourite suit bag online and have it delivered to your country and home address.
Size Matters
Another important factor that you need to think of is choosing the right dimension and size of your carry bag. For this matter, you need to consider how many pieces of dance costumes, shoes, and other types of accessories you want to store, and pick accordingly the right bag size. Most of them feature enough space so they can safely store several pairs of shoes and costumes or other types of accessories that dancers need.
Pick a Stylish Design
Some types of garment bags are especially focused on the design which can add some extra pleasure when you carry them with you. They most often feature an ergonomic design including different pockets and sections for dance shoes, costumes, accessories, etc. Some are handcrafted, featuring some elaborate fancy elements and patterns by mixing different types of fabrics.
Consider Your Purpose
Besides picking a stylish design, you'll most likely want to consider their purpose. Whether you need them for a ballroom lesson, a dance performance rehearsal or you need to carry them with you for an international dance competition, picking the right design that isn't only eye appealing but also comfortable is of major importance.
Comfortability
When it comes to the level of comfortability, you should pick one that features enough compartments, that you can use to organize and separate all your dance equipment, so you can easily find what you are looking for. This feature makes them flexible and adaptive to accommodate all the contents you plan to store.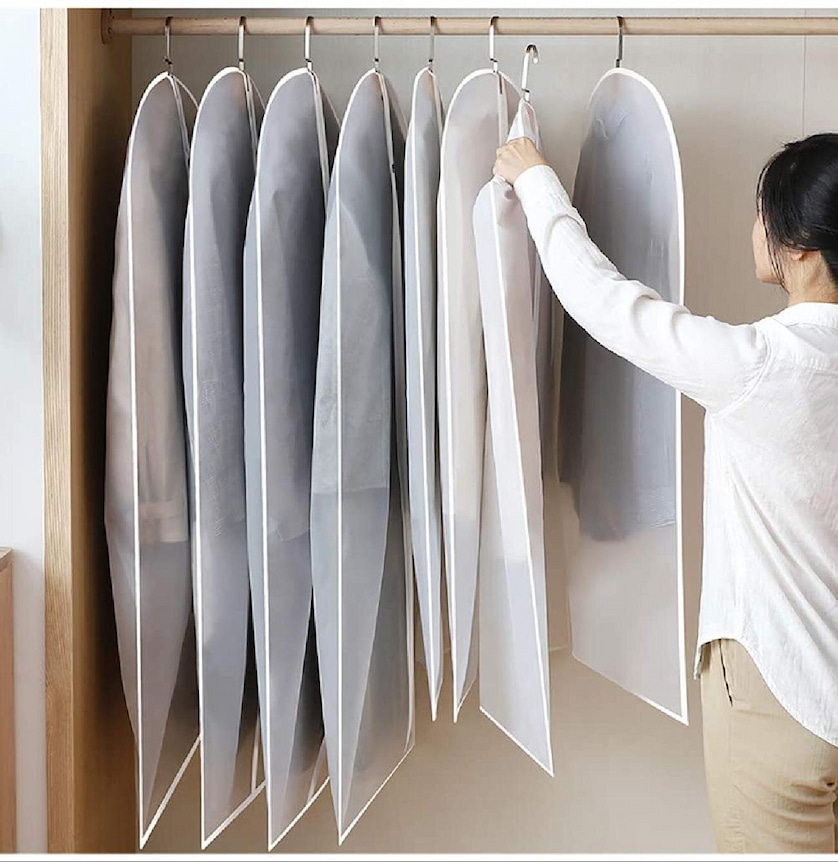 Best Dance Garment Bags
Some of the best dance garments bags are made from durable and sturdy materials, feature high-quality fasteners and zips, organizations sections for drinks and bottles, and dance shoes. This feature helps you organize all your important stuff without wasting time rummaging around, searching for a particular item.
As we already mentioned, there are many different brands that are specially dedicated to manufacturing dance garment bags. To help you narrow down your decision we've made a selection of some of the best dance suit garment bags, that should help you get better informed before you decide to purchase one.
The Dream Duffel Tutu Large Garment Bag
Not all tutu bags are made the same, as they mostly differ in their size which is defined in how many items of dance costume pieces you can place inside them. The Dream Duffel brand offers a variety of diverse bags sizes, including small, medium, and large. The Dream Duffel Tutu is a large garment bag that features enough space that allows you to carefully hang your tutu to prevent it from getting dirty or damaged. It features an interior ribbon to prevent movement of the tutu within the bag, as well as a transport strap with snap to affix to your Dream Duffel.
Ecogear 28″Dream Dance Garment Bag
Another innovative design from Dream Duffel Brands is the Ecogear 28″ Wheeled duffel. This suit garment bag includes a garment rack that can instantly convert into a mini closet, which allows you to keep all your outfits wrinkle-free and organized during all your travels. It's made from strong and lightweight Ripstop polyester fabric that is very durable. Being reinforced with EVA side panels, it's also very stable which allows it to self stand even when fully packed. Moreover, this specific bag features a large pocket that can hold a small folding stool, which is a convenient accessory for dressing rooms.
Studio 7 Dancewear Mini Duffel Bag
The Studio 7 Mini Garment Bag is perfect for storing all those small costumes and items for your little dancer at home. This stylish and popular dance bag features a ventilated shoe compartment, drink bottle holder, and phone and accessories pocket. Moreover, it's eco-friendly, being made from recycled plastics. This mini Duffel suit garment bag it's available in new stylish colours including fairy floss, and rainbow.