The concept of remote control has existed for over a century, but it wasn't until the 1950s that we saw remotes appearing in common consumer electronics, most notably TVs. Since then, the tech has evolved and remotes today are seen in things as diverse as drones, cars and RC vehicles, gate doors and controlling machinery and equipment in large-scale industrial applications.
Basics of Remote Control
Remotes use infrared or radio waves at a set frequency to communicate with another device. Basically, the remote is a transmitter, and the controlled device, appliance, or machine is fitted with a receiver that can interpret a set of commands. This is the simple definition, but remotes today have become complex pieces of engineering that also deploy among other things encrypting technology to ensure no interference.
This has extended the scope of remotes beyond homes and consumer tech, and they're now a safe and effective way to safeguard businesses and control complex hardware. A key player in remote and wireless technologies is Sydney-based firm Elsema (or Electronic Service and Manufacture). The company has been in business for over five decades and is at the forefront of developing innovative products and solutions utilising licence-free and automation technology based around remote and wireless communication.
Today you'll see their products in automated gate kits for domestic, commercial and industrial premises, remote controls and key fobs with one to 16 buttons, a range of receivers and transmitters, automated gate and garage door accessories, antennas, power supplies, and more. Quite an encompassing list for a small company with 40 employees.
Range of Products
GLT Series 433MHz Gigalink® Transmitters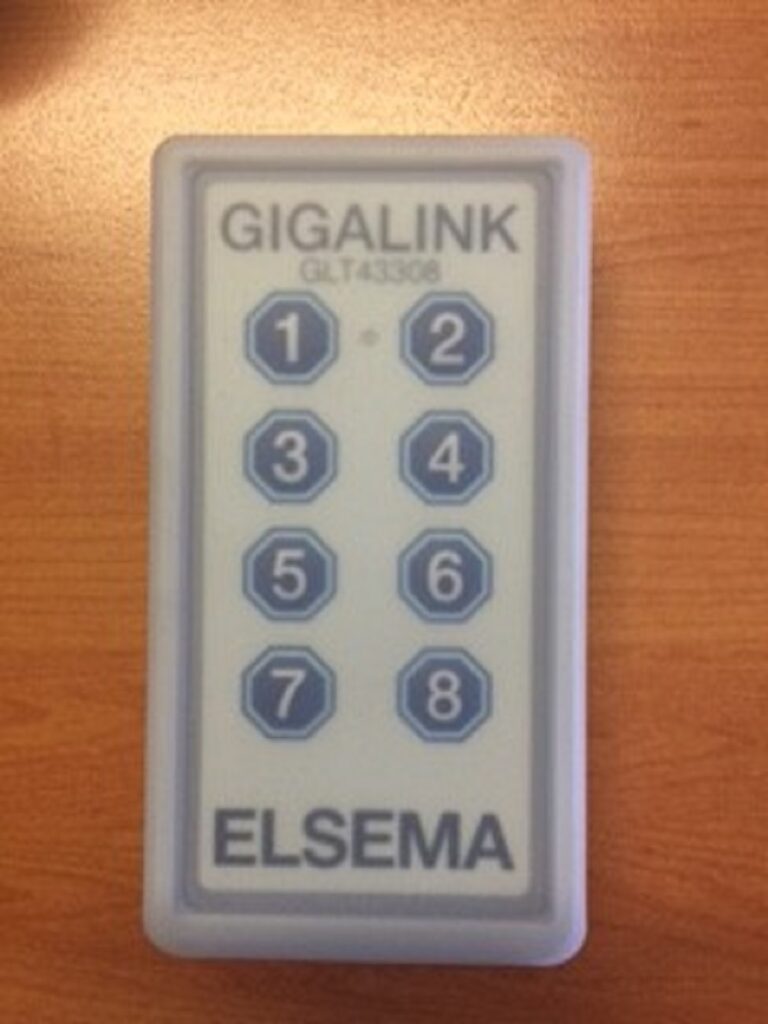 The Gigalink® range of hand-held Elsema transmitter products uses the licence free 433 MHz frequency to communicate with compatible Gigalink® receivers in things like garage doors, automated gates, remotely operated cranes and cement trucks, and more. The range comes in 1,2,4 and 8 channels to allow the control of up to eight different receivers with a single transmitter to a range of 350 metres. Safety and security are provided with simple encryption and up to four billion codes. And power comes from a 9-volt battery.
GLR Series 433MHz Gigalink® Receivers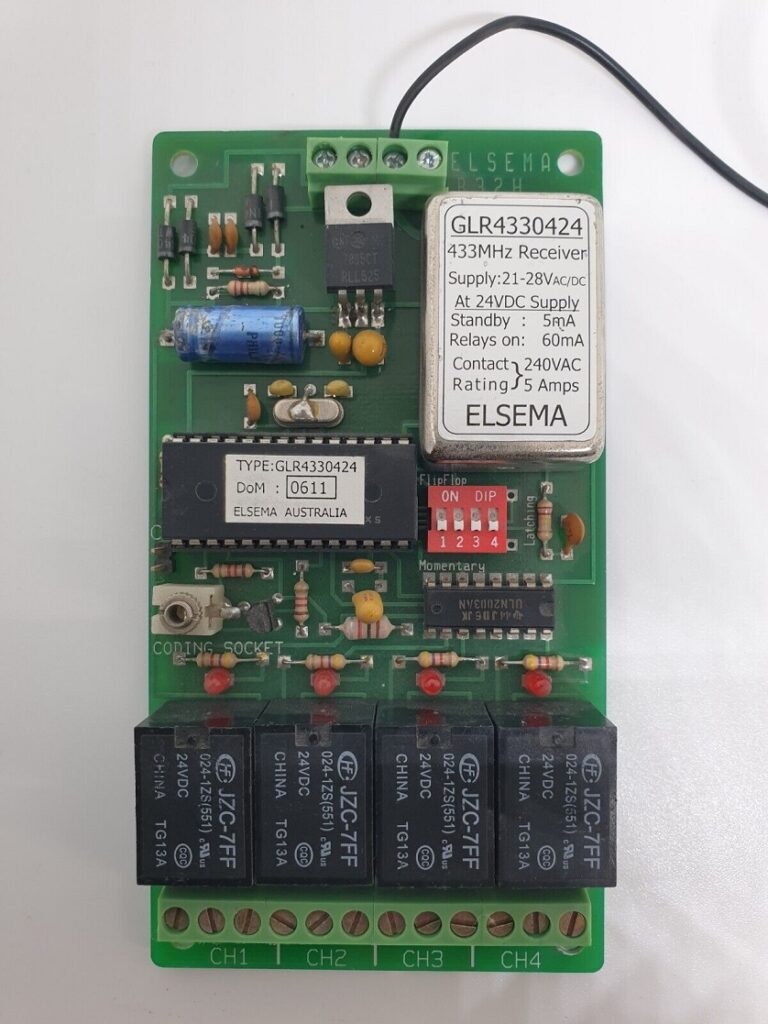 These are installed at the receiving end of signals sent from Elsema Gigalink® transmitters. And here, there are countless options to suit different applications. Receivers can have between one and eight outputs, either with relay, open collector, or positive switching, meaning a single receiver can be operated by an unlimited number of transmitters or remotes, and there is a minimised likelihood of electrical faults. This is enabled by the high-sensitivity internal microcontroller that uses encrypted 32-bit digital code.
The accessories list for any of the Gigalink® Elsema receiver products is rich. There is a range of 433MHz antennas (micro, mini, helical whip, and high gain) for improved reception and countering obstacles, standard or IP66-rated enclosures, as well as mounting plates in varying sizes. And there's versatility with powering sources, with the series able to be battery-powered or connected to a 240V mains supply.
MCT/MCR Series 915MHz Transmitters and Receivers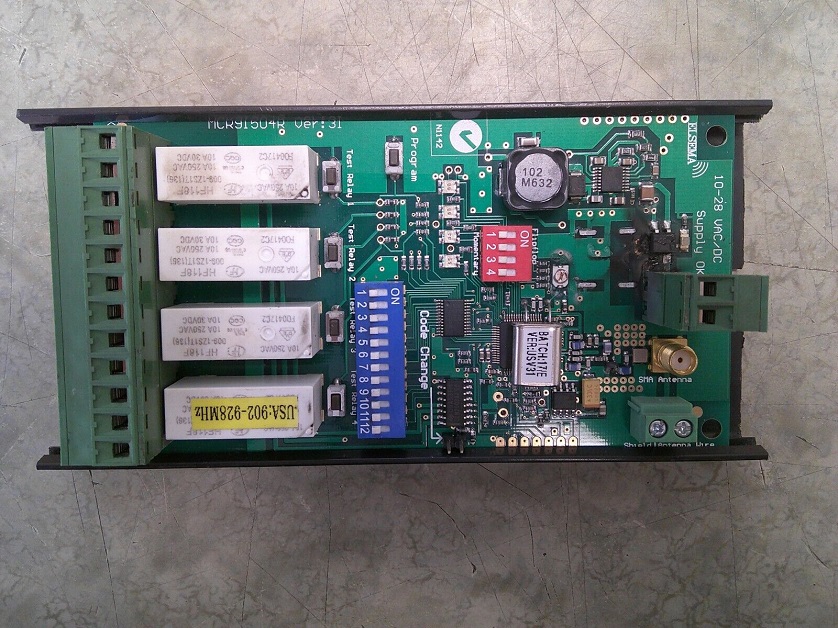 Multicode transmitters and receivers made by Elsema are available in up to 16 separate channels and supplied with 'fast frequency hopping' to prevent instances of jamming or interference, as well as ensure the highest security. This comes by way of a 12-way dipswitch offering 4096 codes, or with digital encryption and 16 million codes.
Transmitters and receivers in the multicode range are ideally used for commercial or industrial applications, such as gated doors, and heavy equipment operation. The operating range is 400 metres, with all transmitters being battery-powered, while receivers can both be supplied with both DC and AC power where needed.
Domestic and Industrial Sliding Gate Kits
The company also offers complete packages for operating sliding gates in any setting. This includes domestic gates weighing up to 900 kilos, operated by a single motor, as well as industrial gates up to three tonnes, powered by single or dual motors and with higher gate speeds. Similarly, anyone relying on single or double swing gates can find innovative and reliable solutions.
All gated systems can also be adapted to work with solar for higher efficiency. Kits include the company's proprietary PentaFOB® or PentaCODE® remotes operating on five secure channels with frequency hopping, Elsema's own controller for smooth and effortless gate and door operation, and a range of technologies such as safety beam detectors for pedestrians.
Gated systems can additionally be fitted with wireless keypads, as well as vehicle loop detectors to automatically open and close when vehicles are in the vicinity. Anyone transitioning to solar should have a look at dedicated solar kits with a 24V panel and included MPPT controller, as well as the range of PentaFOB® remotes. This is equipped with Bluetooth smarts to display things like battery status, charging current, and voltage.
Additional Products
The items above are the core of Elsema's business but their product range doesn't end there. The company supplies transmitter and receiver kits in the FMT 151MHZ range, with operating ranges of up to 5000 metres, a line of signal boosters for optimal signal reception, hardwired transmitters, and the PentaFOB® programmer to add, edit and delete transmitters.
Moreover, there's careful attention to build, with waterproofed and IP66-rated products well suited to heavy-duty use both in and outdoors. Products are also covered with warranties and free servicing for declared periods.