Curtains do so much more for a room than just block out the sun – drapery that hangs from the ceiling to the floor makes the room look more grandiose than it actually is and draws the eye up. Plus, drapery offers an opportunity to add texture and colour to a space, add more drama if needed or to tone down the colours in the interior design scheme. Dark curtains are the trend that never goes out of style as it has the power to lend a dose of elegance and contrast to a room if used appropriately.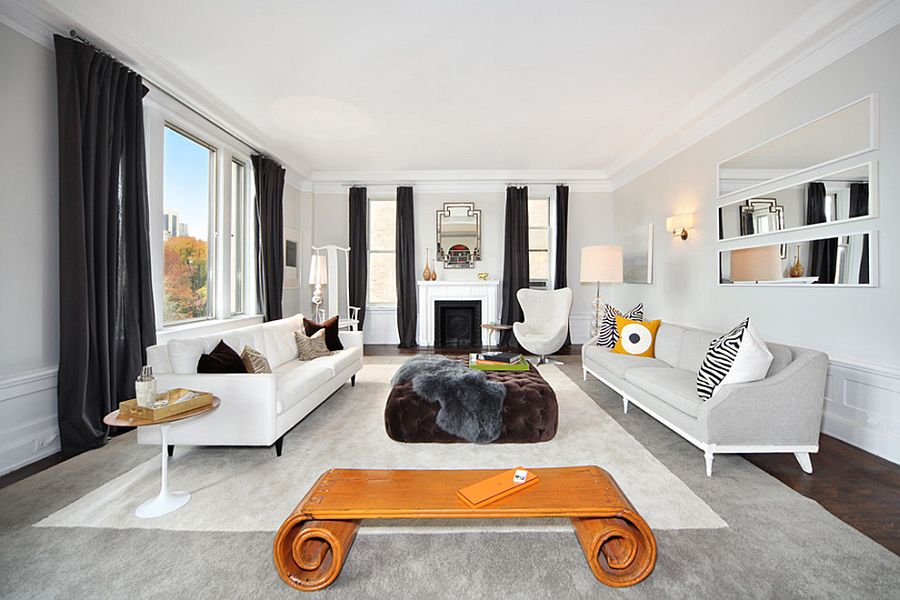 Beside the space considerations in terms of width and length, there are certain other aspects that you will need to bear in mind regardless whether you choose to buy curtains online or from brick and mortar stores. Let's take a tour.
Use dark curtains in rooms that have high ceilings in order to visually shrink the space and give it a cozier vibe. There is a difference between dramatic drapery and ones that look like they are misplaced. Therefore, for the sake of creating a visual harmony and a more appealing look, repeat the colour of the curtains somewhere else in the room as well.
The best base for dark curtains are light coloured walls. If you think that dark colours go well together, think twice about it in this case. Dark curtains on a dark wall will create a movie theatre effect which can create a gloomy atmosphere and will feel oppressive.
If you don't want to buy entirely dark curtains, go with a darker printed fabric that is mostly dark but has some lighter colours on it as well. At first glance the curtains contrast the walls, but after closer inspection, you'll realize that the print brings more interest and pattern to the room and blends with the rest of the interior. Do not exclude dark curtains totally just because you're into more airy interiors, find a way to make their presence complementing to the ambiance.
For light filtering options, as well as to create a sophisticated look that will resemble a modern five-star-hotel appeal, pair sheer white curtains with a solid drape in a colour that will complement your interior design.
Window walls are the ultimate sophistication in the world of modern architecture, but as much as these look stunningly beautiful and provide light to the space, people living in this type of homes do need their privacy as well. In this case, go with simple tailored drapes to keep the intrusion to a minimum. When open, they don't get in the way, and when closed, they offer the needed level of privacy.
Bottom line is, curtains can form the basis of the entire look and ambiance of a room. So when you sit back in the comfort of your home staring at the dullness of your bare windows, do what's right – browse the vast palette of choices and decide whether you want to buy curtains online or walk around the stores to find the suitable match for your interior. In this case it is pretty obvious what most would choose – the online market is huge and finding the perfect fit should be a piece of cake. Happy shopping!