Taking care of your body is a holy ritual. It's not only a way to keep your skin and hair clean and in good condition, but it's also a way to pamper yourself and get some time off in the privacy of your bathroom.
Unfortunately, while personal care can indeed have soothing effects, we live in times when we are bombarded by billions of products for hair, face, body, hands. The choice is so vast that at times we can't even know which one option is really worth our money. All that cute packaging, gentle scents may affect your final choice, but the most important thing is to choose products that work well for your skin and hair type and will do nothing but good.
One of the most skin-friendly beauty brands you can't go wrong with is A'kin. This Australian brand was founded in 1987 when its co-founder, botanical chemist Will Evans, realised there was a gap in the market for pure and high-quality and natural beauty products. Seven years later in 1994, Al'chemy was launched and offered mainly natural hair care products. Since 2002 the brand offered natural skincare products, using the same pioneering technologies. So, if you are into natural skincare and hair care products that are free from harmful chemicals, here are some great Akin products to try.
A'kin Products – Get the Best from Nature
Shampoo
It's important to read the ingredients of the shampoo you use as some ingredients like silicones and parabens can dry out the scalp and make the hair brittle. Even though most people don't understand the ingredient list, it's a good sign if the first ingredient on the list is water (Aqua). The range of Akin shampoo contains purified Australian water, so you can rest assured that the base is excellent.
It's really worth investing in a shampoo that is good for your hair and scalp such as the silicone-free Akin shampoo. Its unique natural formula will make your hair shiny and smooth without looking greasy or drying out the scalp. And your hair will smell amazing too! The Akin hair care is a line that is enriched with Rosemary, Cedarwood and organic lavender oil that will clean your hair and scalp, leaving your hair smelling and looking great.
Facial Cream & Under Eye Cream
The skin on your face is the most fragile skin on your body as it's exposed to UV rays, makeup and environmental pollutants. Give it some love by treating it with a rich and nourishing face cream. A'kin cosmetics has a great offer of such creams. For instance, you can choose from day and night creams that contain Vitamin C, Echium Oil and Camu Camu which are a great combination for brightening and evening the skin tone, hydrating it and smoothing the fine lines and age spots.
And don't forget your eye area either! The skin under your eyes is far thinner than the skin on the rest of your face. This is why it is prone to dehydration much more than the rest of your face. The cream you use for this area is always different from your day or night cream and should be a lot more hydrating and containing wrinkle-preventing ingredients such as hyaluronic acid, Q10 or collagen.
Hand Cream
Nourish and protect your hand's skin with a suitable hydrating hand cream. Our hands are the most exposed to various surfaces we touch, but also to different soaps and water. During the pandemic, we all use hand sanitisers that additionally dry out the skin on our hands. Choose Akin hand cream enriched with organic lavender, shea butter and jojoba oil to keep your hands soft, and your nails protected. This combination will soothe and moisturise dry and damaged hand skin. The great thing is that this cream absorbs super fast and leaves a layer of protective moisture. It's also free of parabens and sulphates!
Determine Your Hair Type
Oily
Oily hair can be a real challenge. People with oily hair tend to wash it more frequently, which can be a problem, since this way they contribute to the problem. If the scalp is oily, people will wash it on daily basis. This isn't quite a recommendable thing, but some people still do it. Your shampoo should be the right type so you don't affect your scalp skin. The more you wash it, the more the scalp gets dry and to protect itself, the skin pumps more oil. Besides you have to reduce the number of times you wash your hair, you should choose a shampoo that is mild for your scalp and that contributes to its hydration.
Dry
Dry hair doesn't indicate that you have a health problem. It could be dry because of frequent use of hair strengtheners or curlers, poor diet and not drinking enough water. Besides enriching your diet with omega-3 fatty acids and vitamins, you should trim your hair regularly and avoid washing your hair every day. Make sure to get a suitable shampoo that contains ingredients that won't add to the drying. Avoid products that contain alcohol in them, as they will dry even more.
Determine Your Skin Type
While Akin is a company that goes out of the way to make sure that their range doesn't irritate anyone's skin, when purchasing your skincare products, it's important to know what kind of skin type you have in order to get the most benefits. Many women have a combination of dry and oily skin. Not all parts on your face are the same; the T-zone may produce more oil, while the cheeks may be dry.
Dry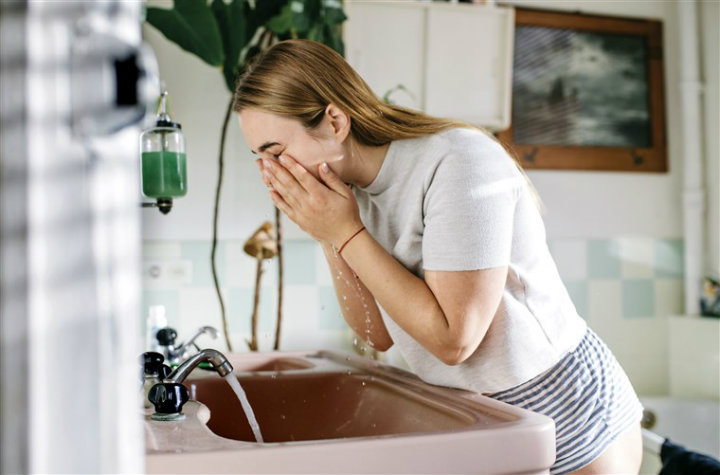 Dry skin requires extra hydration and products that will keep it moistured for most of the day. Dry skin produces less sebum than normal and acks the lipids that retain moisture and build a protective shield against external influences.
Combination
The T-zone is oily and the cheeks are dry – these are the main characteristics of the combination skin. The cheeks might be normal to dry, while the T-zone has enlarged pores and acne. The oily parts are caused by excessive production of sebum while the dry parts are dry because they lack sebum.
Oily
This type of skin is the one that has an extra sebum production also known as seborrhea. It can be genetic, but also a result of stress, taking certain medication, or hormonal disbalance. This type of skin often gets shiny and people with this type of skin may be prone to acne. This type of skin requires proper care that will keep the skin matte but also hydrated. Oily skin is dehydrated skin, so besides suitable care, you should drink enough liquids during the day.