Cats require a lot of care, specific playtime and special toys – just like dogs love their toys so do cats. They need their own space where they can relax, take a nap and not be bothered. They need specific beds, litter boxes and places to climb. So, if you're ready to provide all of this, roll up your sleeves and let's make your home more cat friendly.
Scratch Posts
Your carpets, furniture, and wallpaper may get damaged if you don't provide a suitable scratching space for your cat. Once it discovers its ideal scratching location, it will never leave it. This is where scratching posts come in very handy. They come in various forms and sizes and are a must-have for every home. They can have platforms, beds, hiding boxes, dangling toys for the more active cats, and upright wooden poles coated in thick sisal thread or carpet.
Before choosing the right post for your cat make sure that it's sturdy because cats require resistance when scratching to do their thing. Make sure it's tall enough for your cat to scratch with its claws fully extended. If you buy a cat scratch pole for your kitten, you'll have to replace it as it grows older. Make sure your cat has access to both horizontal and vertical scratching surfaces.
Vertical cat scratch posts are tall with a wide base for stability. They are wrapped in sisal and are great for older and longer cats that like to stretch, and younger and more active ones that want to play. Horizontal cat scratchers are perfect for older cats that have trouble standing for a longer time. They can simply stretch a little and reach the low horizontal sisal-wrapped pole for their comfort. The angled type has different levels of incline and works great for cats that like to stretch from different positions.
The hanging cat scratch pole is a great source of happiness for young and agile kittens. You can hang it on the doorknob or secure it to the wall with some tape. Some people even attach it to the floor so the cat can take a nap on it. Whichever you buy, make sure you put it in a place where the cat feels comfortable and safe.
Cat Trees

Cats feel safer when they're off the ground, in higher places, even if there isn't an obvious threat. That's the way they hunt, and it comes naturally to them. Cat trees provide this security and give the animal a safe place to jump, scratch, climb, stretch, relax and lounge. It's essential cat furniture that you must have in your home.
If you have more than one cat, make sure that the tree has an entry and an exit that are not close by. Many cats can get in a fight because of the same territory, so they may want to buy multiple cat trees if the space allows it. If your cat is a scratcher, look for trees that have a bigger sisal covered area, so they can scratch in any position.
Some cats like to get higher, and some like staying closer to the ground. Know your cat and choose the suitable height of the tree. Don't make your cat go higher than it likes. If you know your cat, it will enjoy even the shortest cat tree there is. The size of the tree also depends on the cat's age and activity level. Older cats don't like to jump high or can't do it. Younger and more active cats can reach the top in just a few seconds. Cats that like to play on their own will enjoy this tree more than anything. You can even attach some other toys to the tree and watch your darling play all day.
Keep an eye on the suitable materials that are cat-friendly such as sisal, faux fur, faux fleece or carpet. All of them are claw-safe and won't hurt your cat. Buying a cat tree may seem like a significant investment, but it's worth it at the end of the day. Just make sure it's sturdy and high-quality, and you'll have a whole new entertaining area.
Cat Bed
It can be challenging to figure out how to pick the best cat bed. After all, who's to say they won't just go somewhere else to sleep? Your bed, for example. While many cat owners are happy to do this, it isn't always the best option.
Size
People often make the same mistake and buy a bed that's too small for their cat. Cats curl up and stretch during their sleep, so it's important for them to have enough space for all of this. If you need to, measure your cat and look for a suitable sized cat bed. The shape matters as well. Flat beds and wicker baskets are very traditional, but in recent years different styles, shapes and sizes appeared, to give you a wider choice. However, there are numerous types to pick from.
Material
Cats are prone to allergies, so pick a bed made from natural materials such as cotton, bamboo or wool. They are comfortable, breathable, won't absorb moisture and don't hold odours and moisture. Also, make sure the bed doesn't detach and disassemble easily because the cat might swallow a piece.
Washable
Because your clean cat will be spending a lot of time in it, you should make it as simple to clean as possible. Check to see if it can be washed in the machine. This will save you a lot of time and effort, and your cat will be able to sleep in a clean environment. Even if you want to choose something more visually appealing for whatever reason, you'll quickly come to regret your choice if you end up spending an awful lot of time cleaning it.
Litter Box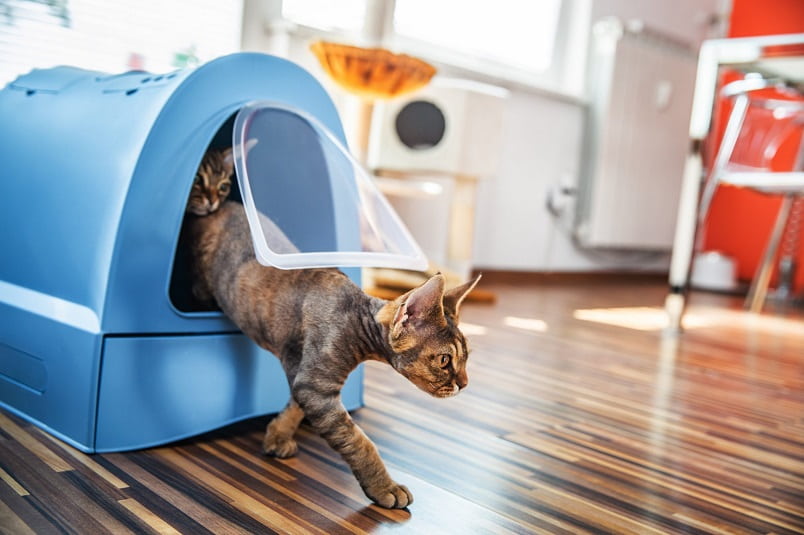 Cats are very clean and self-aware creatures so choosing the right litter box is very important. First, consider the size. A larger cat will want to go in a bigger litter box and vice versa. It should be big enough for the cat to turn and fit the whole body. Second, check the wall height, shorter boxes for small kittens and disabled cats, and higher walls for adult cats with normal bodily functions.
Some cats like soft surfaces like blankets and rugs and some like harder surfaces like tiles. If your cat doesn't use the litter box think about replacing the inside surface. Always put the litter box in an active area of the house, but not near strong sound sources such as washing machines. The hallway or the bathroom would be a perfect option. Don't place it near the food and water bowls because they are very clean animals. Try different locations and different types of litter and you'll get the right combination to make your cat happy.
In Summary

Before buying or adopting a cat, think about everything cats need. Do you have enough space, can you take care of it? If you're not financially and mentally ready to take care of an animal, don't consider owning one. Make sure you're all set before embarking on that adventure.