The Toyota Hilux is the best-selling truck in the world, with over 18 million units sold. It's also one of the most versatile vehicles on Earth because it can be used for anything from hauling cargo to exploring new terrain as an off-road vehicle. As such, there is a wide range of aftermarket accessories that complement it perfectly. These include:
Hilux Canopies, for additional storage space and cargo capacity;
A front bull bar to prevent damage in collisions;
Side step bars, which make it easier to get into the cabin; and
A tow bar that connects your vehicle to other vehicles or heavy loads.
This list is not exhaustive because there are many more accessories available. However, the ones mentioned above are among the most popular because they provide ample benefits without costing too much.
Toyota Hilux Canopies for Storage
With Hilux canopies, for example, you get a tough and durable hard canopy that can be installed quickly. It's made from durable materials such as aluminium alloy and stainless steel, so it will last for years to come with little or no maintenance required. Its design also prevents sunlight from damaging your cargo while driving or being exposed to UV rays through windows. This versatile storage and protection solution will make your Hilux more versatile and functional, no matter whether you use it for camping or as a workhorse.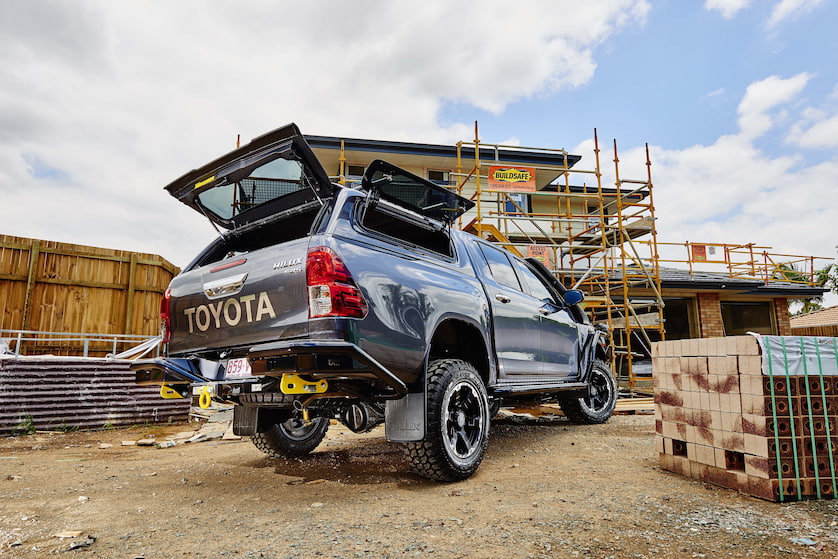 There are three types of canopies, including tray canopies, window canopies and non-window canopies. The first type has a tray that allows you to store cargo, while the second type comes with windows that allow sunlight inside while giving passengers a clear view of their surroundings. The third type is for trucks without any windows; it only features an opening at the back for loading items.
Bull Bars for Protection
Hilux bull bars, on the other hand, will protect your vehicle from collisions. While they're not as strong as the bars found on 4x4s, these accessories will still offer additional protection in case of an accident. Their designs are also sleek and stylish so you get a lot of bang for your buck. Additionally, you can use bull bars as a mounting platform for other accessories, such as winches, spotlights or GPS devices.
There are different types of bull bars, such as straight and curved ones. Moreover, they can be built using steel or aluminium. Steel bull bars are more durable but heavier than their aluminium counterparts. Meanwhile, the latter are lighter yet less sturdy. This is why it's best to choose one that suits your needs and budget. Depending on your needs, you can choose which one is best for you. Some models even come with a winch installed so they're ready to use right out of the box. Make sure the bull bar is ADR-compliant before you purchase it.
Step Bars for Convenience
Step bars are also great additions to Hilux because they make it easier for you to get into the cabin and load cargo. They're made from durable materials such as stainless steel, aluminium alloy and even carbon fibre in some cases. These accessories will not only withstand harsh weather conditions but also resist dents and rusting that would otherwise compromise their functionality. You'll never have to worry about getting inside your vehicle again with these step bars installed on your Hilux.
Tow Bars
Lastly, a tow bar is an excellent addition to your vehicle if you need to tow heavy loads. It connects your Hilux to trailers, campers and other vehicles without any problems. The tow bar is compatible with most vehicles that have a tow hitch and will work well in all kinds of environments. You'll also get a variety of features with it, such as LED lights for night driving and high-quality materials that resist wear and tear.
When choosing a tow bar, consider its weight and durability. The last thing you want is to have your vehicle towed, so make sure that the tow bar you're buying can withstand heavy loads without problems. It's also a good idea to check its compatibility with Hilux because some models are not compatible with certain vehicles.
Teh Final Word
When buying any Hilux accessories, it's important to know that they come with a limited warranty. This means that the manufacturer will provide you with free repairs or replacements if your accessories fail to function properly within the specified timeframe. 
You'll find Hilux accessories in most major auto parts stores nationwide. However, some of them may not have all the available models for sale. If this is the case, look for other outlets and dealers that can cater to your needs. Look for Australian-made Hilux accessories that are made to withstand harsh environments. These products are sold everywhere in Australia, so finding them should not be a problem.