No one was born to serve, however, we can learn to be the best. Each dinner party is a beautiful dance of decoration, service and taste. Talk about a lot of work. How can you create your go-to pieces of serveware that you know won't fail you? Let's examine the different materials and what will best impress your guest.
Resin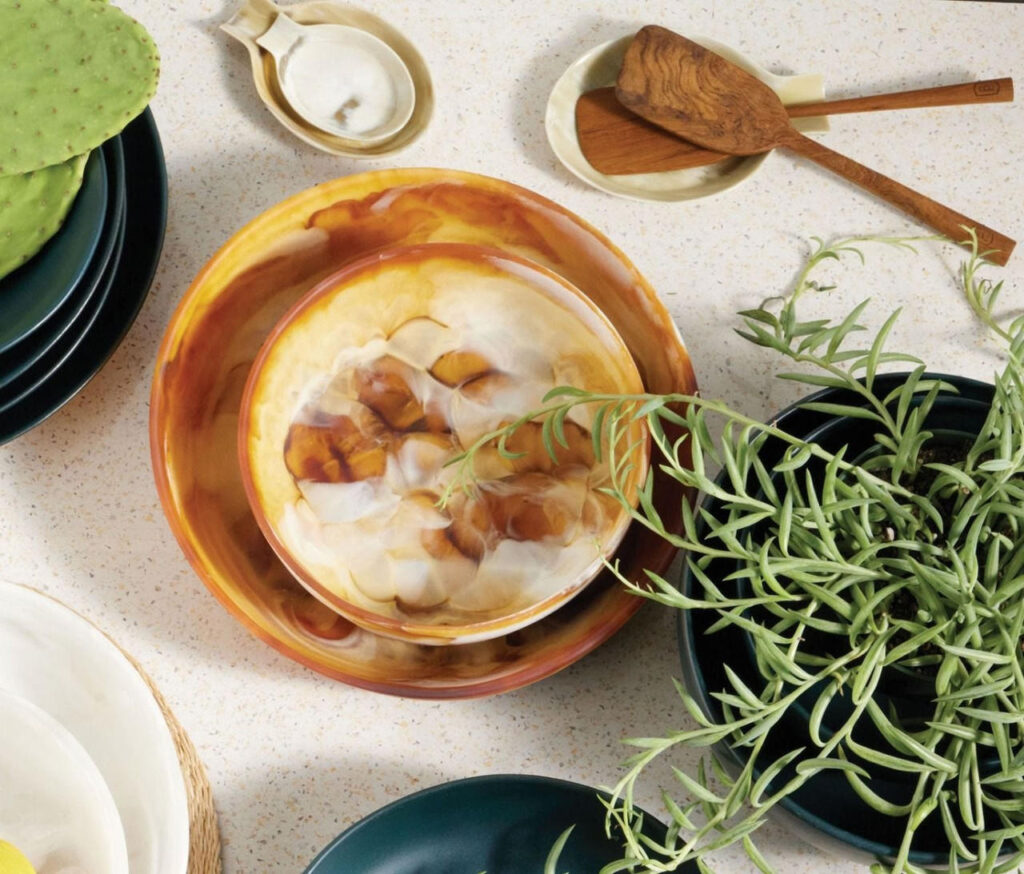 Imagine this, you are set to serve dinner with your colleagues, including your boss and his wife. Suddenly you remember you have only the old beat-up serveware from 20-30 years ago. I know the feeling, yikes. How can we fix this conundrum?
Resin designer serveware is what you need to truly leave a lasting impression as it's a material that can become whatever you want it to be without the chance for repeating the same swirls twice. Take the example of a unique designer serving platter as a piece that stands out. It comes in a variety of colour options that can't be replicated.
It's also a piece that's perfect for displaying cheeses, olives, dried fruits and curated meats. These all come together to create the perfect charcuterie board. This unique one-of-a-kind designer serving platter comes in colours you can't create by chance such as rose swirl, coral swirl, coral pop and lagoon. I love how the lagoon colour can look like you're in the ocean for a perfect nautical-themed dinner.
There are still more serveware options with resin, more than you could even imagine in fact. A temple dish is a smaller round designer serving plate that can be used to serve smaller cold foods you may want to serve on a platter but keep separate, like a thick sauce or jam. In addition, because the resin can become any shape you want it to be, including leaf bowls, you can choose a unique resin-made piece to serve your holy guacamole and sauces too.
There's more, such as a resin stone cheese knife. It comes in such vibrant colours of swirls that I would be careful someone might walk away with it at the end of the party. The last piece I would love to tell you about is a large spoon you can use to serve anything cold from salad to beans to all that's in between.
How to Maintain
Keep in mind resin is a designer serveware, so it should be treated with delicacy. Stick to cold things as you serve your next delicious starter food or dessert. Keep your resin clean and dry with mild detergent and mild water.
Bamboo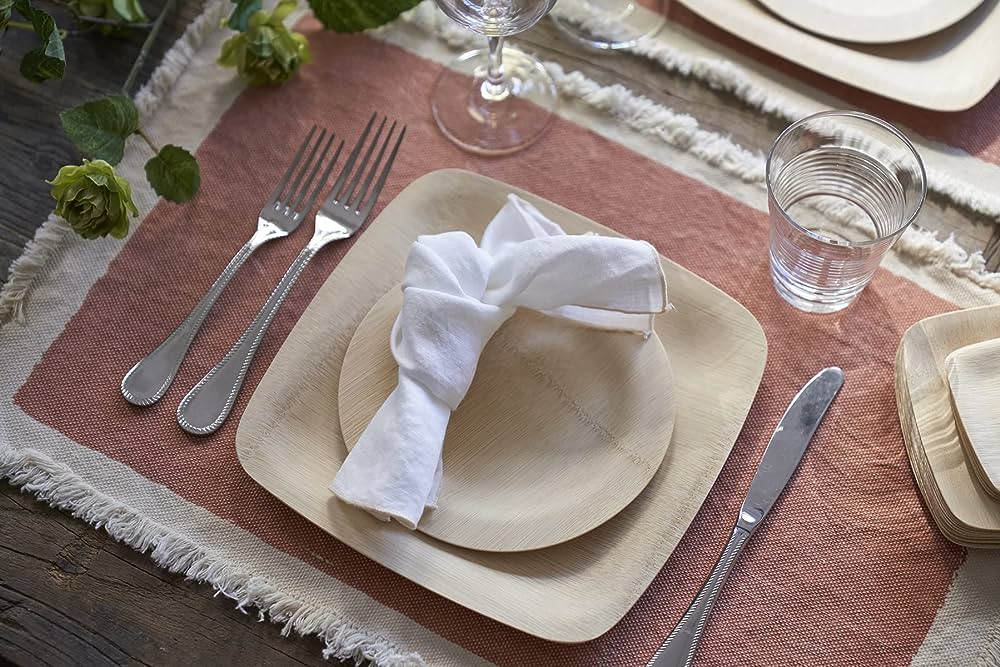 Bamboo is more than a tasty treat for a little panda. Bamboo is a new designer serveware with strength and endless possibilities. For starters, a bamboo cutting board can be handcrafted into any shape and size to use serving. Throw your cheese, meats, olives and even fruits on your new bamboo serving board.
Bamboo salad bowls are beautiful to the eye yet are still very practical. As serveware why not use a bamboo bowl and a designer resin spoon, maybe one in a pink guava colour? The smaller bamboo bowls can easily serve to contain your condiments and sauces. Maybe you want to have shrimp and cocktails, use your bamboo serveware for an elegant night. An added plus to bamboo serv ware is that is it sustainable, meaning its good for the environment and thus good for you. Bamboo trays and boards keep you hip and up with the times.
How To Maintain
To keep your bamboo nice and polished, use a finishing oil after events that will allow you to keep it intact. Avoid submerging bamboo in water and keep it dry. Don't forget, bamboo should never be used inside a microwave.
Enamel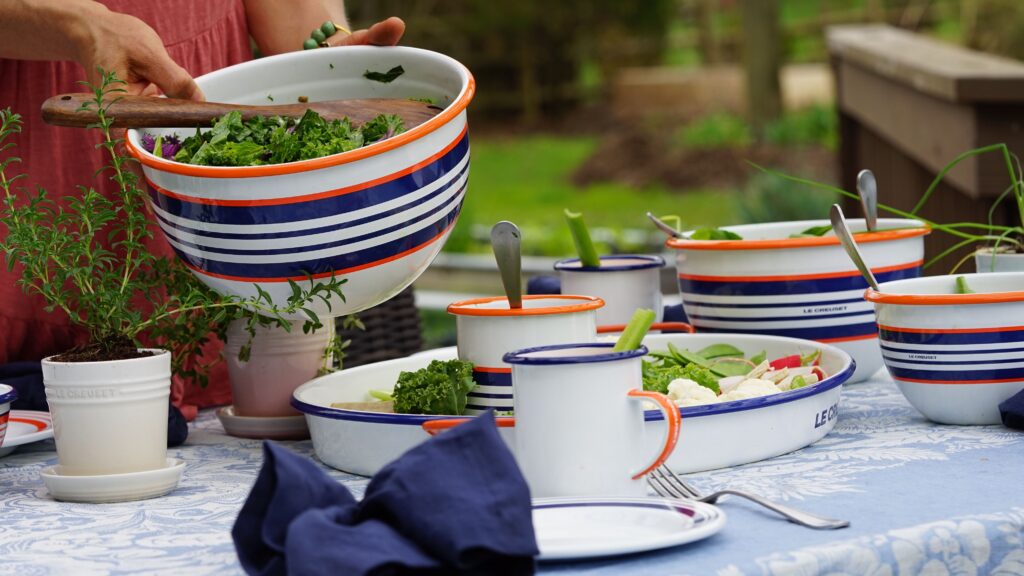 Have you thought of enamel as a designer luxury serveware? Enamel is often mixed with other precious metals such as silver. For example, for a luxury dinner party try a silver enamel boudoir tray. You can use this precious serving tray as a way to present desserts, teas or coffee for your guest to impress.
I love enamel because you can present it from oven to table such as an enamel casserole dish. They come in a variety of exuberant colours that will shake your wildest imagination. Yet, still has a classic vintage element. Enamel serveware can also give you a mid-century modern aesthetic. Who doesn't like to combine centuries?
Many enamel dishes come in hand-painted designs such as a figure of women, a child or floral elements. In addition, touches of gold around the border make for a statement piece your guest won't forget. The reality is the beauty of your enamel designer serveware can last for generations to come.
How to Maintain
Unlike the others mentioned this is the only option that can sustain heat and hot foods to serve. In addition, its scratch resistant. The durability of this material proves itself over time. As a naturally nonstick material, enamel is easy to clean with soap and water. Should you need to use a rougher scrubber for those baked on stains, it can take it.
It's Time for a Feast
So now you have the best three materials for serverware, but there's more. I love the idea to combine enamel tea trays with resin bowls, and bamboo cutting boards. All of these materials are unique and personal to your taste. I know you will be a great host. The more prepared you are the less of a busy bee you need to be. Thus you can enjoy your guest. Enjoy your feast.