Working with hospitality, you know the secret to success largely depends on the impression you leave to customers. Being welcoming, and friendly isn't enough to convince them that you're all about professionalism – there's also the fact the uniform has a say in that.
Whether you serve or prepare food, and drinks, or wash dishes, the most common piece of cloth that's part of the hospitality uniform is the apron. What do we know about aprons exactly? First of all, the name comes from the French word "naperon" which means napkin, and it has the function of serving as a protective layer, keeping clothes clean from dirt.
Since the industrial revolution, the aprons have underwent considerable changes, something that happens to this day, explaining why we have so many types and styles of hospitality aprons: from server, bib, tuxedo, bistro, and dishwasher, to traditional aprons, and cross back aprons for sale as a fashion forward alternative.
In other words, there's the right one for everyone, and best thing about most of them is one size fits all, thanks to their adjustable features (e.g. drawstrings).
What's important for professional look is how clean the uniform is, and that's exactly what the apron provides, but not only. Staying sanitary is first and foremost, yet wearing an apron also gives that sharp look, making staff feel part of the team.
Besides, when you buy uniforms with different features, specific for every separate team, it makes it easier to identify the teams altogether – something that's essential when more people work in the kitchen, for instance.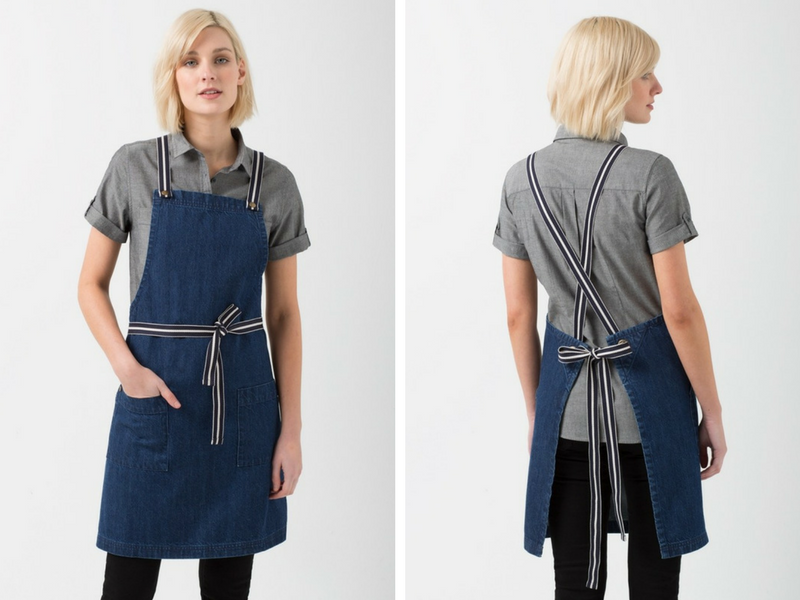 Along with the versatility of aprons in styles, one can also count on the different options for tying them, starting from the cross back aprons for sale, as we can understand by the name, they provide the cross back style, then you can tie them with a simple knot around the waist, or a double knot, at the back, at front, at the sides, so basically you can come up with your own signature tying.
Other differences are the materials they can be made of, like denim, linen, or vinyl (water-resistant for dishwashing), the colours, and even the lengths. Though it may seem like aprons are rather simple uniform pieces, they still give the opportunity for customising, whether it's in the form of embroidery, or print (e.g. the name of the hospitality company, or personal names of employees).
There are many patches, pins, and badges that can be added too, which makes the look all the more fun and unique.