When preparing for their first baby, it's common for parents not to know what to add to their to-do list. At the same time, the last thing you want is to overlook something important that will make taking care of your newborn more difficult, like a nursing cover.
When your baby is hungry, he/she will let you know instantly and at this point, you will need to be ready to breastfeed, be it at home or on-the-go. While you'll be eager to nurse your little one, you'll also be thinking about your privacy and how to get it right so that both of you and the baby are most comfortable. A breastfeeding cover really comes in handy at those times.
What Is a Nursing Cover?
Basically, nursing covers are just a fabric that you use to hide your breasts while nursing your baby or pumping milk in public. If you plan to breastfeed, you might think you won't mind if people catch a glimpse of your breasts in the process. But imagining that in your mind is a lot different than when the reality comes.
Many mums ask: Do I need a nursing cover? Is it really necessary? Although the right to breastfeed in public is protected by law in Australia, a cover can help you feel more comfortable when doing so. You can take it with you on the go, and use it when you don't want to deal with the distraction of other people. Plus, babies tend to feel better under nursing covers as they are less distracted by the surrounding sounds and light.
What Is the Best Nursing Cover?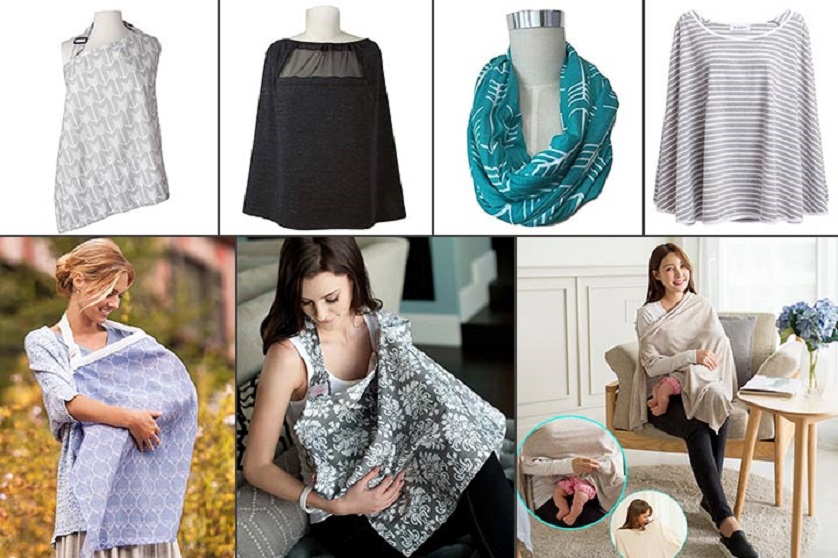 Due to the privacy and comfort that breastfeeding covers provide, they've become quite popular among mums. Nowadays, you can find a nursing cover available in a range of designs to suit your style and preference. Not only is there a range of cute patterns to choose from, but there are also several different types of covers, each with its pros and cons.
Apron Style
This is the most popular nursing cover style. It's a large rectangle fabric that covers your chest and that features straps that you place around your neck to hold it in place (like an apron). With this cover style, both nursing and pumping can be done easily in complete privacy. Easy and quick to put on whenever you need, most apron nursing covers use a wire to create a firm neckline that holds the fabric out enough to allow you to see your baby. This really helps with latching.
Infinity Scarf
If you are a big fan of scarves, the infinity scarf breastfeeding cover can be both a fashionable and functional accessory. It is a long circular scarf model that you can wear wrapped around your head twice as an infinity scarf or once around your shoulder as a nursing cover. You can find infinity scarves in many neutral patterns that work with most outfits so that you can wear them as a regular scarf and then transition to a nursing cover when you need it.
Infinity scarves provide great coverage when nursing, especially because they cover your back in addition to your front. However, depending on how you wear it, it can be a bit more challenging to see your baby. Pumping is also more challenging with this scarf style, but as you get used to it, you can make it work.
Poncho
If your main concern is modesty, then this option may be the best one for you. That is because breastfeeding cover ponchos provide coverage around your entire body. The other styles can slip off to the side while you're nursing or pumping, something that won't happen with a poncho. Plus, sometimes, when you pull your shirt up to nurse or pump. your back can be exposed. A poncho will cover that up.
However, ponchos don't have a rigid neckline with a wire, so depending on how it's draped, it can be a bit difficult to see your baby or your pumping gear. When choosing a poncho, make sure you go for one that is light and breathable. You won't want to wear a heavy poncho when you nurse your baby outside and it's 40 degrees and sunny.
Important Things to Consider
Nursing covers touch both the mother and the baby's skin, so the feel of the fabric is important to ensure comfort. Softness, breathability and stretch matter. If the fabric is too heavy, things could get stuffy under the cover pretty quickly. You will also want to make sure that the nursing cover that you choose is easy to wash. Dribbles and burps will happen and that is pretty normal. Check the care instruction of the nursing you're considering to find out is caring requirements.
One of the greatest advantages of using a breastfeeding cover is the freedom it provides you, allowing you to get out and about without worrying about nursing when you're away from home. You and your baby will be free to take a longer stroll, to meet with friends while knowing that if nursing is necessary, the cover is there to provide you with the privacy you want and need at any time.