The Isuzu D-Max is considered the best turbo diesel dual cab in Australia, and for all the right reasons. It's used by tradies and off-roaders alike, as it has all the storage space you need as a tradie, and all the durability you need as an off-roader. Whether you're packing tonnes of tools or off-road equipment, you can rest assured you'll have sufficient space with the D-Max. But as great as the Isuzu D-Max is, off-roaders often modify it to further improve its durability and driveability off the beaten trail. One of the most common modifications done to the D-Max is installing an aftermarket Isuzu Dmax exhaust system.
Aftermarket exhaust systems are one of the most popular modifications for a couple of reasons. They're not that expensive, yet they provide a wide range of benefits, including improved engine performance, reduced fuel usage, and a myriad of other advantages based on the type of aftermarket Isuzu Dmax exhaust system you choose to install. Let's go into more detail about the types of aftermarket systems.
Types of Exhaust Systems
Exhaust systems can be categorised in different ways, such as the materials they're made of, the number of parts they replace on your stock exhaust, and the type of bends they feature.
Exhaust Materials
Your stock exhaust system is probably made of mild steel. Mild steel, while a decent material, doesn't have the necessary properties to handle rough, off-road environments. For that reason, most aftermarket Isuzu Dmax exhaust system kits are made using aluminised or stainless steel. Aluminised steel is a lightweight, yet durable material. Due to their lightweight nature, aluminised steel exhaust systems provide the most fuel consumption benefits. While aluminised steel is durable and resistant to the elements by itself, it is often powder coated to further enhance those characteristics. Stainless steel, on the other hand, is heavier than aluminised steel, but it's far more durable, resistant to corrosion, as well as the elements. Most stainless steel exhaust system upgrades are a one-and-done deal. This is because they're extremely durable and long-lasting, so they will probably outlast the lifespan of your vehicle.
Types of Exhaust Kits
Based on the number of parts aftermarket exhaust systems replace, they are separated into three categories – axle-back, cat-back and header-back exhaust systems. Axle-back exhaust systems replace the fewest parts (everything from the rear-axle to the exhaust tip). That being said, they're the most affordable solution, but don't provide as many benefits as other types of exhaust kits. Axle-back exhaust upgrades are generally performed for aesthetic purposes, and they're easy to install, even if you're not the handiest gearhead. Cat-back exhaust systems replace everything from the catalytic converter to the exhaust tip. As a result, they offer moderate benefits, are slightly more expensive than axle-back kits, and are slightly more difficult to install. Lastly, header-back exhaust systems replace the entire stock system, and they offer the most benefits in terms of performance and fuel consumption. Header-back exhaust systems are the most difficult to install and nine times out of ten will require professional installation.
Type of Pipe Bends
The method used to bend the exhaust pipes plays a huge role in how well the entire exhaust system performs. Most stock exhaust systems are made using crush or wrinkle bending. While you get a working product using these bending techniques, they're restrictive. The reason manufacturers use these techniques is because they're economic, and with the competitive automotive market today, manufacturers are looking to cut costs. Aftermarket exhaust system manufacturers, on the other hand, employ a technique known as mandrel bending. Mandrel bending includes using a mandrel on top of the die and shoe used in other bending techniques, to ensure the pipes don't come with any profile or diameter changes when bent. This provides more room for air to go in and out of the engine, allowing for optimum performance.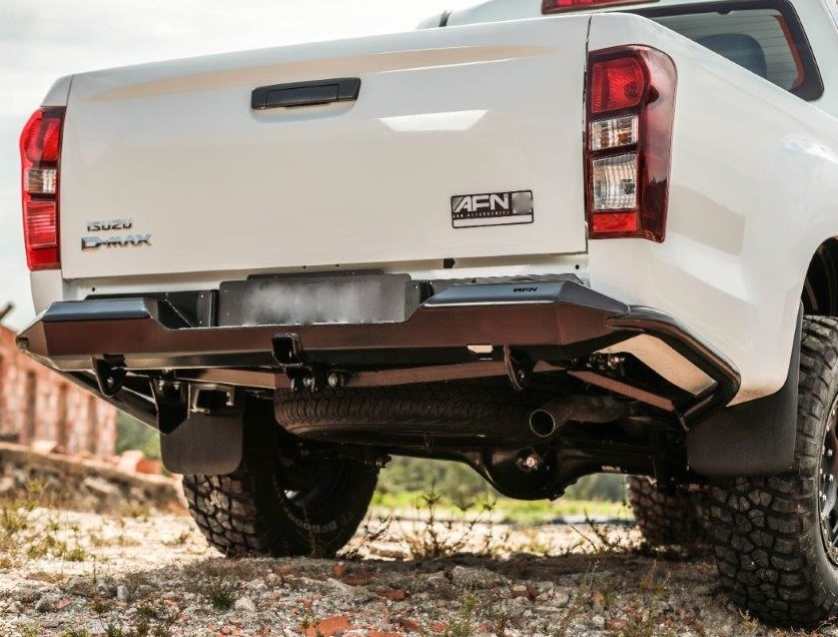 Other Considerations
Clearance and Fit
Even when looking at Isuzu Dmax-specific exhaust systems, you have to make sure the exhaust is made for your make and year. This is to ensure a proper and seamless installation and fit. Otherwise, you risk clearance issues, and you might need to modify your Isuzu more than you'd like. Due to the popularity of the Dmax, aftermarket exhaust systems made specifically for it are widely available. There are some great universal kits as well, but they should be your last-resort option.
Budget
It goes without saying that you get what you pay for. For that reason, have a budget in mind beforehand, and look for an exhaust upgrade within that range. As briefly aforementioned, axle-back and cat-back kits are on the more affordable side, but they won't provide as many benefits as header-back exhausts. Aluminised steel is also more affordable than stainless steel, but it's less durable and resistant to the elements.