There are many big decisions to be made when renovating a home, or furnishing a new one. During the whole process of selecting tiles, furniture, appliances, lighting and paint colours, we may overlook some details. For instance, did you know that choosing the right handles for your drawers and cabinets can make a serious visual impact? They can elevate any room in a seemingly effortless way, and since we use them on a daily basis, they are well worth the investment.
So, if you're building a new kitchen, remodeling a bathroom or looking to freshen up the look of an already existing furniture, here are some things to consider when buying the perfect drawer and cupboard handles for your living space.
Different Types of Handles
Bow Handles – Suitable for both traditional and contemporary style, this type of handle features a curved, slimline design that gives a more elegant look to your space.
Knob Handles – If you're going for a more classic design, these are a perfect choice. They can be seen in traditional and contemporary interiors as well, so you can easily experiment with style if you wish.
Cup Handles – This type of handle is often found in traditional styles. They can offer a timeless elegance to your home, no matter if it's vintage or industrial.
Bar Handles – Whether your home is more minimalist oriented or traditional, bar handles allow you to mix practicality and aesthetics. They're streamlined, elegant and easy to use.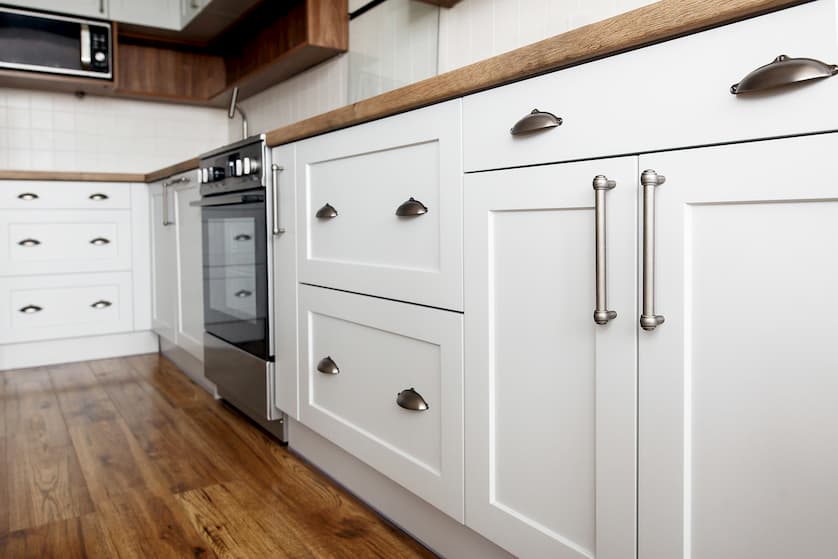 Finally, there is no need to limit yourself to one type of handle. There are no strict rules that knobs must be used for cabinets and pulls for drawers. Many interior designers prefer to use horizontal handles on cabinets and knobs on drawers. Mixing materials, colours and patterns is also recommended for creating a specific, extraordinary look.
Most Popular Styles of Handles
You should choose your drawer and cabinet handles carefully as they are accent pieces that can give a unique look to the room. These are some of the trendiest styles used lately that can help you make your final decision.
Glass and Porcelain – Glass and porcelain knobs and pulls were very popular many years ago and they're slowly gaining their popularity back. They're versatile and elegant and can give an opulent approach to your décor.
Gold – Many people choose gold coloured drawer and cabinet handles because of the warming effect they provide. And they can certainly make your kitchen or bathroom look more luxurious.
Copper – Similar to gold, copper has a warm and rich tone, but with a more informal look. It goes perfectly in rustic and country style designs.
Brass or Chrome – For homes with a more classic or traditional look, polished brass or chrome handles are the best choice. They provide a sense of timeless elegance and a variety of colours you can choose from.
Flat Black Finishes – If you're looking for something modern and elegant, handles with black finishes will meet your expectations. They have a high impact against light colour cabinets and are increasing in popularity in the last period.
Oversized Drawer Pulls – They might seem huge, but they certainly make a statement on oversized drawers and tall pantry doors.
Exposed Screws – Drawer and cabinet handle with exposed screws are great for achieving an industrial or retro look, embraced by many these days.
The Finish Matters
There are numerous finishes available to add interest to your home interior. Traditional handles come in a wide range of finishes, from stainless steel to brass, while polished chrome designs are more contemporary. Brushed stainless steel handles, on the other hand, offer a very sleek and modern appearance.To put it simply, warmer toned spaces with brass cabinetry offer a more vintage feel, while cooler tones with darker cabinetry appear more modern, and chic.
How to Choose Cabinet and Drawer Handles for Different Rooms of Your Home
Kitchen – Look for durable solutions as the kitchen is one of the highest traffic areas in a home. Materials like metal are the perfect choice for cupboard handles (high quality and long lasting), but also you can choose materials with a rough finish and avoid dealing with fingerprints and dirt buildup.
Bathroom – The bathroom is also one of the most frequent areas in a house, but compared to the kitchen, there are fewer cabinets and drawers. For the choice of your bathroom cabinet and drawer handles you can easily play with different materials, as long as you keep in mind style and functionality.
Bedroom – For a room that requires an ultimate feeling of relaxation, warm and dark colours are great choices. Also, bronze could fit nicely, however, you can choose from a variety of colours and shapes that will work perfectly with your bedroom's overall look.
Consider Size and Position
Some handles are available in different lengths and it's a matter of personal choice and taste whether or not you should mix handle lengths or use the same length throughout the room. Mixing the handle lengths right can create an exceptional look of your space, while using the same length handle can create a more casual and consistent appearance in your home interior.
When it comes to positioning, you can try out different positions and heights. Some people follow the general rule that handles should be placed horizontally on pull-out drawers and vertically on doors. But you can always experiment, so if you're aiming for a more streamlined look, you can consider placing the handles horizontally on doors, just make sure to try out the feel first. If it feels natural, you can go ahead and install the handle.
Most importantly, you need to ensure that the handles will be placed in a position where they won't hit each other when you open the cabinets.
Tips for Installing Handles
First and foremost, make sure to choose the right holes. Apply masking tape, use a pencil or an awl to mark the holes and then poke through only where needed. Attach temporarily first, so you get a chance to see if there is any obstruction when the door is open or if it's too high for comfortable use. If everything is good, mark the location and identify the most suitable holes to use. You can use a template as it will make the job easier and faster.
Also, cover unused holes with tape and hide the old holes with black plates. Then you can take your drill and drill bit, just pick the right sized drill bit for your screws. Drill through the marks you've made, check for any misalignment and apply regular touch-ups if needed.