Electric tools are a necessity not only for people whose jobs require them but also for doing house projects such as assembling furniture, putting up shelves and so on. If you're looking to buy suitable drills that will help you finish the tasks at home or work, Dewalt has a plethora of high-quality products. It's a brand that takes pride in creating professional workhorse solutions such as tools, accessories, and services. Here are the things you should consider before buying your Dewalt drill.
Types of Drills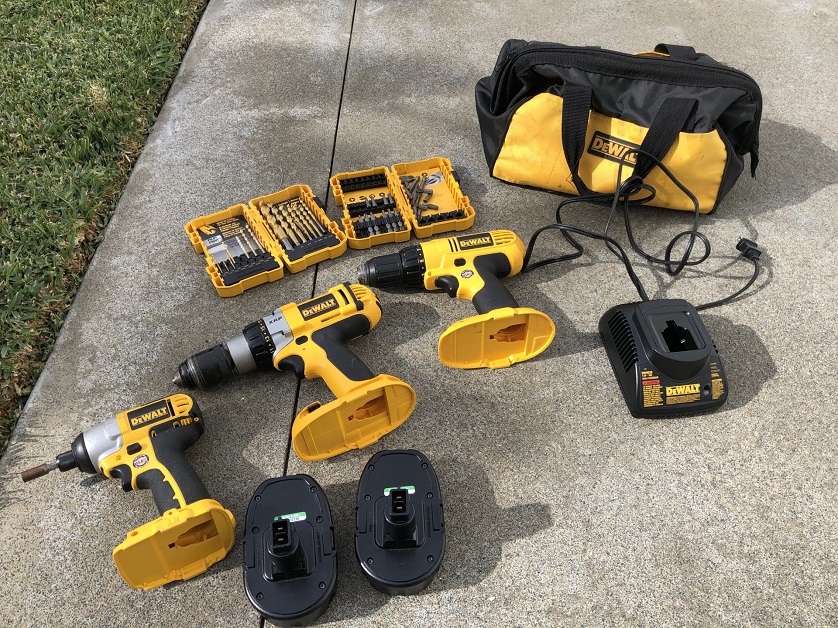 Not all drills are the same and different tasks require different models. For small holes in wood or plasterboard, and occasionally masonry work, it's best to go with a drill with a hammer action. You can choose a model with an 18V battery. The diameter of the drill should be up to 13mm. However, if you need more from your drill, seek other models. Here are some crucial features of each type that will help you do your job right.
Power Screwdrivers
A power screwdriver is a lightweight and cordless drill that is perfect for screwdriving tasks around the house. The fact that it's cordless allows you to move freely and use it for various projects even for assembling flat-pack furniture. Such screwdrivers are handy, convenient, and easy to use, but can't drill holes.
Drill Drivers
One of the best choices that will allow you to do various small jobs at home is drill drivers. Check the versatile Dewalt drill options and get a model that will help you drill holes into wood and metal. These also work as drivers, so you can tighten or screw things by using various screwdrivers and drill parts. They're perfect for hanging pictures, putting up shelves and assembling flat-pack furniture.
Combination Drills
These offer the same features as the previous but have additional hammer-action features. It makes them ideal for drilling into brick and masonry. These drills are excellent not only for occasional home use but also for people whose jobs require such tools (construction workers for example).
Impact Driver
This is a heavy-duty screwdriver used for repetitive or big screwdriving projects. An impact driver uses an impact mechanism that helps reduce the force on your wrist when you do more of the hard work. These are great for tightening bolt heads and nuts, but also for drilling into metal because of their high torque capacity. Impact drivers are a bit more compact and lightweight than drill drivers.
Hammer Drill
If you're going for a hammer drill (also known as impact or percussion drill) you'll get a powerful tool suitable for drilling hard surfaces like masonry or concrete. These are ideal for heavy-duty jobs you do around your house such as securing gutters in place or putting up shelves. Hammer drills don't always come with a reverse screwdriving function.
Corded or Cordless?
And now the dilemma is whether to get corded or cordless Dewalt drill. The corded drills are lighter than their cordless counterparts since they don't have to carry a heavy battery pack. If you choose a corded design, you will have to get an extension lead.  The cordless models won't limit your movements and you can easily take them anywhere you go. However, these are usually pricier than the corded drills.
For instance, the cordless drills use a rechargeable Lithium-ion battery. It can be fully charged in less than one hour and holds its power for much longer. You can also use the same battery with other power Dewalt tools. This way you can save money on batteries. Corded power drills are rated in watts and typically range from 450 watts for the basic models to about 1500 watts for the more powerful tools such as hammer drills.
Getting a Dewalt drill with higher wattage is better if you need to use it for masonry. Lower wattage is a better option for drilling into softer surfaces such as plasterboard. Most DIY projects can be done with a 550-watt drill. The cordless models are measured in volts, so the higher the voltage, the more powerful the drill will be. Batteries size usually range from 12V to 20V.
Consider the Surface You Will Drill Into
If you're a person who does various tasks around your home, you'll need to drill into masonry at least once. It's best to do that will a drill hammer. Larger diameter holes in masonry are better done with a corded drill at a low speed. On the other hand, drilling into wood, metal or plastic is better done with a drill that has multiple-speed features.
Explanation of Drill Features
Depth Stop
This one is placed to the side of the drill and can be adjusted to make sure the hole you're drilling won't exceed the wanted depth. This feature will give you a consistent depth when making several holes.
Trigger-activated LED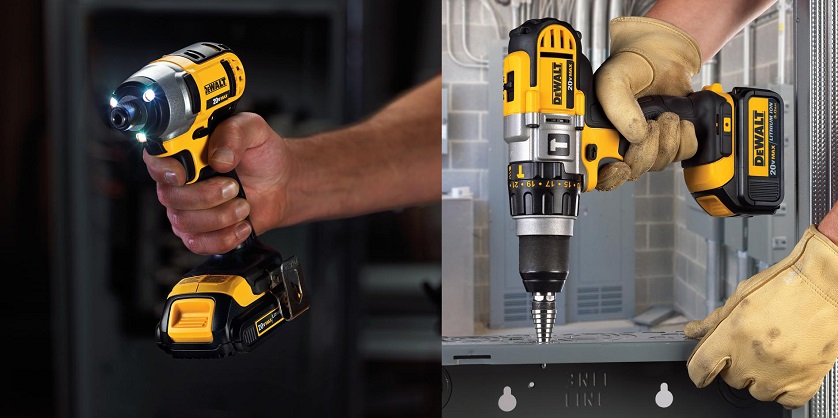 This is a very helpful feature, especially when you have to finish the job in dark conditions. The trigger-activated LED light will automatically turn on when you start the drill. Once you release the trigger, the light will automatically switch off.
Auxiliary Handle
Most heavy-duty drills and drivers (corded or cordless) come with an auxiliary handle. This handle improves safety, control, and accuracy during the drilling process. It can be positioned on either side of the drill and helps you improve your force and control.