There's no happier feeling in life than finding out you're about to become a parent. But after the initial excitement, you'll realise there's a lot to prepare for and you only got a limited amount time. So, better start now! As a new parent, one of the first things on your mind will probably be the nursery.
When you're designing your baby's nursery, everyone is going to voice their opinions (just like with pregnancy and child rearing in general). However, it's important to remember that there's no right or wrong way and it's really all up to you. With that in mind, what you should really strive to achieve is a healthy and safe place that can inspire growth and creativity.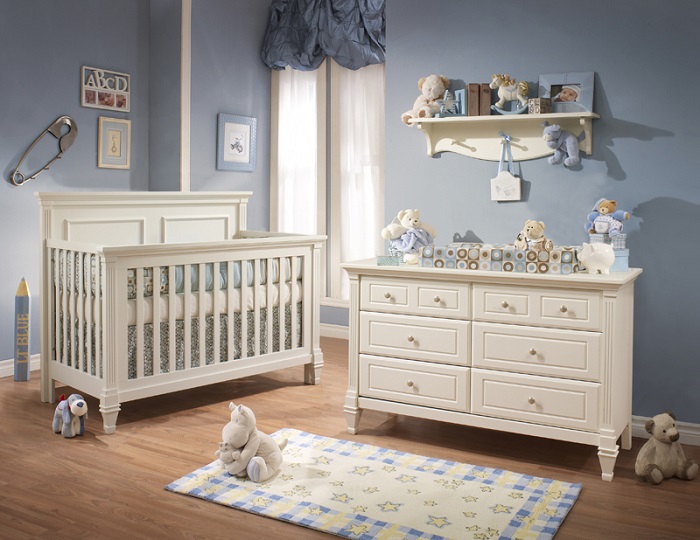 Pay Attention to What the Furniture Is Made of
The first few years, babies will spend most of their time in the nursery, sleeping. So naturally, you should provide the cleanest, safest, and healthiest environment for your little angel to grow in. Many of the chemicals found in regular furniture can harm your baby with long term exposure. Some of the most toxic materials, plastics and vinyl can release harmful phthalates and BPA, while many fabrics are treated with harsh chemicals and dangerous flame retardants.
Luckily, in light of this, manufacturers of nursery products have responded with making chemical-free cribs, organic mattresses and sheets, which feel better, smell better, and most importantly keep your child healthy. To find non-toxic nursery furniture, make sure that it's made of solid wood and uses paints which are water-based, without solvents and free of any volatile organic compounds (VOC).
A Crib that Grows with Your Child
As for the crib, check whether it has at least two adjustable mattress heights. After the first few months of lying, little rascals will use every opportunity to sit up or stand in the crib. When you notice your baby is doing this, you can simply lower the mattress and ensure that there's no way he/she can fall off the crib.
Also, think long-term as babies won't always be babies. Before you know it, you'll have a toddler on your hands. And when that happens, you'll realize that a convertible crib is totally worth your money. Of course, this kind of crib is more expensive than regular ones, but consider this: you can simply remove one side and make it transition to a toddler bed. Quite convenient!
A Few Helpful Tips
To make sure you won't bring in any toxic chemicals with the new nursery furniture, let it sit outside or in a well ventilated garage for a month before you use it. This way, if you're unsure about the furniture's finish, potentially harmful chemicals can off-gas outside the nursery. For extra safety, wash everything from crib to changing pads, curtains, and bumper padding with a cup or a cup and a half of vinegar in order to remove residues of flame-retardant chemicals.