There is no denying that the floor is the foundation that sets the tone in a space. It has the power to make a room look warmer and cozier, or to make it more sleek and contemporary. And just like there are many different styles and décor directions you could go in, there are also different flooring solutions that complement each one of them. To help you out in your choice to find the perfect flooring that will bring your interior design to a superior level, let's take a look at the three most popular and quality flooring solutions and outline their pros and cons.
Flooring Types: Pros & Cons
Hardwood Flooring
Even though today there are far more affordable options on the market, hardwood still remains the favourite choice for many homeowners. If you want to add more warmth and a feeling of aristocracy to a room, hardwood is the way to do it. Its organic and non-electromagnetic structure harbours less dust than carpets or artificial floors. Maybe it's a bit on the expensive side, but hardwood is the ultimate winner when durability is concerned. With the proper care, it can last for years and even be resold. On the other hand, if you are looking for a less expensive hardwood alternative, there are reclaimed timber flooring solutions with a natural warmth enhanced by a rustic aesthetic that could fit in your space.
Laminate Flooring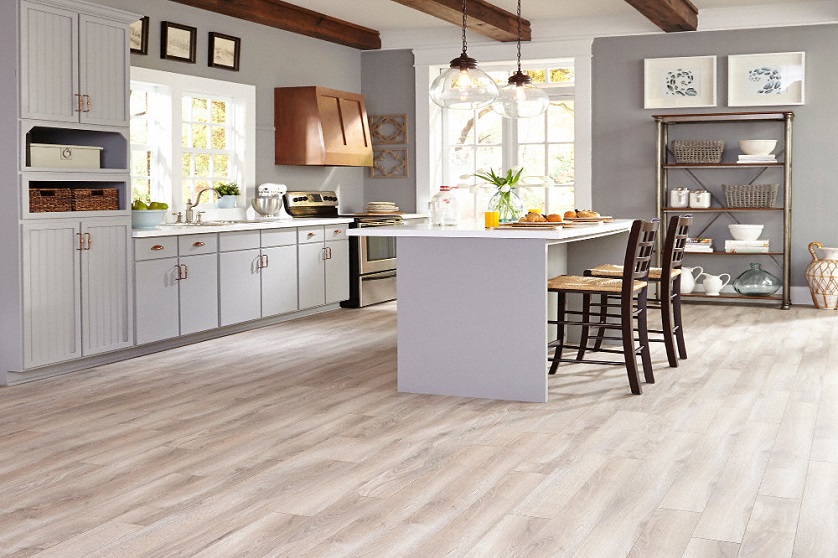 Laminate floors have progressed a lot in terms of looks. The latest manufacturing technology has designed some laminate types that are almost indistinguishable from real wood. This means that today you can get the look of wood for only a fraction of its price. Installing laminate is very easy, and if you are skillful enough, you can do it yourself. Moreover, laminate is incredibly easy to maintain – all you will need to do is occasionally wipe it with a damp mop. This makes it a very convenient flooring solution for homes with a lot of foot traffic, pets and children running around, as it is durable enough and quite easy to clean.
Vinyl Flooring
Vinyl is one of the latest additions to the flooring market. It's made out of PVC with a vinyl core and it can blend in basically any room design as it has a wide range of looks such as stone, ceramic, wood or slate. It is very flexible and easy to install it yourself, plus, it is soft to the feet. Moreover, it is water resistant and excellent for rooms with high humidity levels, such as bathrooms and kitchens. It is actually unbelievable that it has so many great features, taking into account the fact that vinyl is one of the less expensive flooring solutions today. However, it has its downsides too. In terms of durability, vinyl won't last you many years, and eventually it will crack under the pressure and will need to be replaced. So if you don't bother frequently changing your floors, this may be just the right solution for your home.